Indian Domestic IT Services Market Grows by 8.1% in 2022 as Enterprises Continue Investing in Digital Transformation, Amidst Macroeconomic Uncertainties, IDC Reports
In 2022, the Indian domestic IT & Business Services market was valued at USD 13.87 Billion and recorded a 7.4% year-over-year (YoY) growth as compared to 7.2% in 2021, according to the International Data Corporation 's (IDC) Worldwide Semi-annual Services Tracker. The rise in growth rate is due to the digital transformation initiatives among enterprises in the country.
"The Indian IT services market remained resilient, with enterprises investing in digital transformation amidst macroeconomic uncertainties like the war in Ukraine, high-interest rates, inflation, etc. Cloud, analytics, AI/ML, and security continued to be key technology investment areas as enterprises focused on enhancing customer experience, improving operational efficiency and agility, etc., and will continue to do so in the upcoming years. Factors like chances of an impending recession, high inflation, etc., are not expected to cause a significant impact on the Indian information technology services market in the near term. However, there will be a slight slowdown due to cutbacks in discretionary spending, delayed decision-making, etc., in some segments," said Harish Krishnakumar, Senior Market Analyst, Information Technology Services, IDC India.
Of the Information Technology & Business Services market, the Information Technology Services market contributed 78.1% and grew by 8.1% in 2022 compared to the 7.9% growth in 2021. IT & Business Services market is projected to grow at a CAGR of 8.0% between 2022-2027 and reach US$ 20.42 billion by the end of 2027.
IDC classifies the IT & Business Services market into three primary markets – Project-Oriented, Managed Services, and Support Services. For 2022, project-oriented services registered the highest growth rate at 8.0%, followed by managed services at 7.2%, and support services at 6.4% respectively.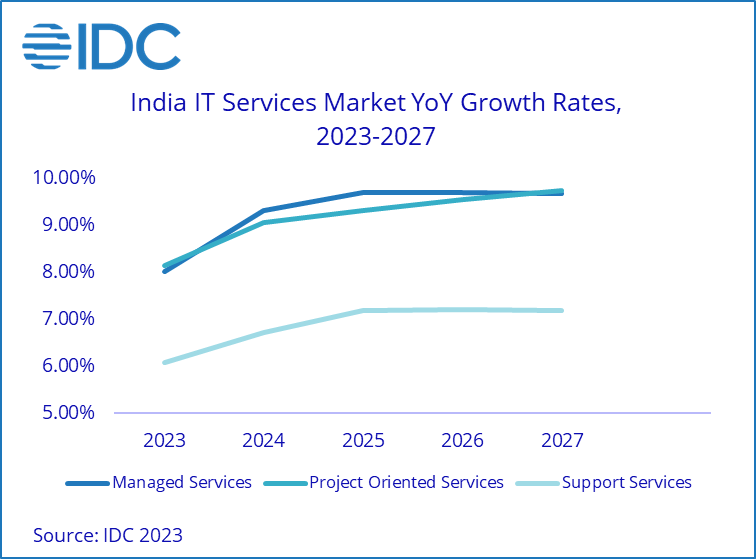 Hosted application management and hosted infrastructure services continued to witness higher growth as many enterprises continued engaging with Information Technology service providers for managed cloud services and increasingly availing hosting services. There was also an increased demand for network consulting and integration services as enterprises focused on accelerating network transformation by upgrading to more efficient networking technologies. Growth in the system integration segment was driven by the increased adoption of technologies like cloud, AI/ML, analytics, etc.
"India's economy has demonstrated resilience amidst major macroeconomic factors, yet the impact of inflation on Information Technology spending has spurred a renewed focus on investment optimization to achieve optimal return on investment (ROI) of various IT services initiatives. As organizations seek to efficiently manage their hybrid infrastructures, we foresee a substantial increase in the adoption of cloud services, fueled by the benefits of agile and scalable pricing structures like consumption-based and outcome-based pricing models," said Neha Gupta, Senior Research Manager, Software and Information Technology Services Market, IDC India.
Also read: Practical application of Artificial Intelligence in Healthcare
Do Follow: CIO News LinkedIn Account | CIO News Facebook | CIO News Youtube | CIO News Twitter
About us:
CIO News, a proprietary of Mercadeo, produces award-winning content and resources for IT leaders across any industry through print articles and recorded video interviews on topics in the technology sector such as Digital Transformation, Artificial Intelligence (AI), Machine Learning (ML), Cloud, Robotics, Cyber-security, Data, Analytics, SOC, SASE, among other technology topics