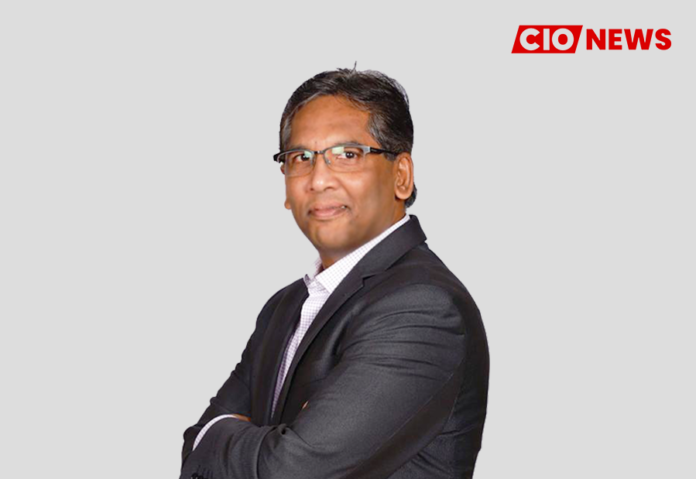 This is an exclusive interview conducted by the Editor Team of CIO News with Rafee Mohamed, Cloud Customer Experience Leader – Industry Retail at Google
How did you plan your career path to be a successful technology leader?
My friend drove all the way to my house back in 1998 and offered me 30,000 Indian rupees ($600 at that time). Little did I know this small gesture would change my life and career.
Despite being a mechanical engineer, I had always been interested in computer programming and had a passion for technology.  I believed that combining my domain experience with exposure to ERP software could lead to opportunities in technology.  Thanks to my friend's generosity, I was able to pursue my passion. I quit my job as a mechanical engineer and got trained in ERP (SAP) and entered the technology industry. This experience taught me an important lesson: to have a successful career in technology, one must step out of the comfort zone and take calculated risks.
Over the past two decades, I have led many large teams, delivered several large technology transformation programs, and led many large customer relationships globally. Customers don't buy services, they buy experiences. The coaching I had from the CEO from my previous job reiterated the importance of building trust and relationships and how they can enable delivering complex technology transformation programs. This learning further got shaped into my own strategy, which I call "CICD" and it stands for: Customer obsession, Immense value creation, Contextual knowledge and Delivering excellence. I practice it every day.
Flexibility and the passion for continuously learning are two other keys to success that I have learned throughout my career.  I have often been called a "firefighter" due to my willingness to be highly flexible in meeting organization needs. Over the past two decades, I have been assigned to projects or customer relationships that had rocky starts with the mandate to set things right. I am proud to say that every project I led was successfully delivered, on time, on cost, and with high customer satisfaction. I am a passionate learner and have never lost my love to continuously learn.  It started when I decided to pursue my career in technology. My pursuit of technology began with a master's degree in Software Systems. Recently I completed an Executive Leadership Education program at Stanford GSB, and I am humbled to be a "Distinguished Scholar" of Stanford LEAD.
In summary, stepping out of one's comfort zone, taking calculated risks, building trust and relationships, demonstrating flexibility, and having the passion for continuously learning have all been instrumental in shaping my career as a successful technology leader.
What challenges have you faced in your career path and how did you overcome them?
I attribute my ability to face challenges head-on and provide exceptional customer experience to my perseverance. Throughout my career, I have successfully led numerous large-scale technology transformation programs and managed many large customer relationships globally. Despite facing obstacles such as uncertainty around technology, project timelines, contracts, and talents, I never backed down from any engagement. One such example was when I was leading a technology transformation program for a large construction company in the U.K. At first, I believed that a leading ERP suite of applications would meet the customer's workforce scheduling needs. However, I later discovered it would not meet the requirements. Through perseverance and willingness to explore alternate solutions, I was able to overcome the challenge and deliver a successful solution. As a result, the first-time customer not only released the press statement praising the program's success but also became a long-term repeat customer of my previous organization.
Unwavering ability and relentless passion to learn are other qualities that helped me overcome challenges. The world has seen immense technological advancement over the past two decades. Helping my customers succeed has meant learning and relearning new technologies. This passion to learn was instrumental in me overcoming challenges and achieving great success as a technology leader.
One of my biggest strengths as a technology leader is to build and lead a high-performing team. I prioritize and primarily look for five key qualities from my team; positive attitude, flexibility, commitment and energy and passion for learning.  I strongly believe that with these four qualities, anyone can learn technology and deliver. Throughout my career, I have successfully delivered many technology programs and I attribute this success to my team. By fostering a culture of positivity, adaptability, dedication, and passion for learning, I have been able to overcome challenges and deliver exceptional customer experiences.
What are the challenges faced by technology leaders today while implementing digital technologies?
The world is being transformed by new technologies, which are redefining customer expectations, enabling businesses to meet these new expectations, and changing the way people live and work. Digital transformation is crucial yet complex, and while it is a cornerstone of many organization strategies, many technology leaders and IT decision-makers face challenges that impact progress and execution.
Industry research (reference1 and reference2) shows that 80% of the organizations experience skill gaps and face a shortage of talent that's slowing down their transformation initiatives, which translates into only 6% of them being satisfied with the company's transformation pace. Close to 40% of the organization faces challenges due to the misalignment of IT and business objectives, and 32% of the organization feels they wasted money on the digital transformation initiatives.
How can technology leaders overcome the challenges they face?
Digital transformation is complex, and to accelerate its implementation and adoption, technology leaders and IT decision-makers are learning to work in new ways and bringing in changes to the culture of their organizations.
These include:
Enabling a continuous learning culture within the organization and within the team, building the training plan by role, and setting learning goals, incentivizing teams to achieve them, and tracking progress towards the learning goals.
Establishing effective governance by aligning internal teams on a common vision for business and innovation strategies, building out a stakeholder and champion network to ensure necessary sponsorships for the transformation initiatives, establishing regular touchpoints, and expanding and iterating on the model
Focus on understanding the current technology estate and strategy and working on crafting an architecture and roadmap to empower the business.
Streamlining cost management by focusing on cost resilience, value realization, and partnership models to accelerate and sustain digital transformation
Any best practices, industry trends, or advice you would like to suggest to fellow technology leaders for their successful professional journeys?
Gartner). Cloud is the powerhouse that drives today's digital organization, and it's predicted that the proportion of IT spending that is being allocated to cloud will continue to accelerate even further and be expected to reach $1.1 trillion by 2026.
Organizations across the globe are adopting a "cloud smart" approach that balances cloud adoption with the organization's goals and business value. This cloud shift represents both a risk and an opportunity for the technology leaders, and it will increasingly dominate enterprise IT decisions. Technology leaders need to be ready and prepared to embrace dynamic, cloud-based operating models for increased competitiveness in the rapidly changing business environment. Technology leaders should not only recognize the short-term benefits but also be ready with their organizations and position themselves to be the early adopters of the disruptive innovations that will define the future.
Any other points that you would like to highlight?
The world is being transformed by new technologies, which are redefining customer expectations, enabling businesses to meet these new expectations, and changing the way people live and work. Organizations are looking at Innovation and digital transformations as an approach to differentiate itself from competition.  . While the transformation is a cornerstone of many organization strategies, it's critical that technology leaders and IT business heads apply the People, Architecture, Routine and Culture (PARC)  framework by hiring and retaining high-performing talent, eliminating internal barriers and silos, and building high-performing organization routines, values, and a culture of innovation.
Also read: Technology continues to scale faster than most people realise
Do Follow: CIO News LinkedIn Account | CIO News Facebook | CIO News Youtube | CIO News Twitter
About us:
CIO News, a proprietary of Mercadeo, produces award-winning content and resources for IT leaders across any industry through print articles and recorded video interviews on topics in the technology sector such as Digital Transformation, Artificial Intelligence (AI), Machine Learning (ML), Cloud, Robotics, Cyber-security, Data, Analytics, SOC, SASE, among other technology topics