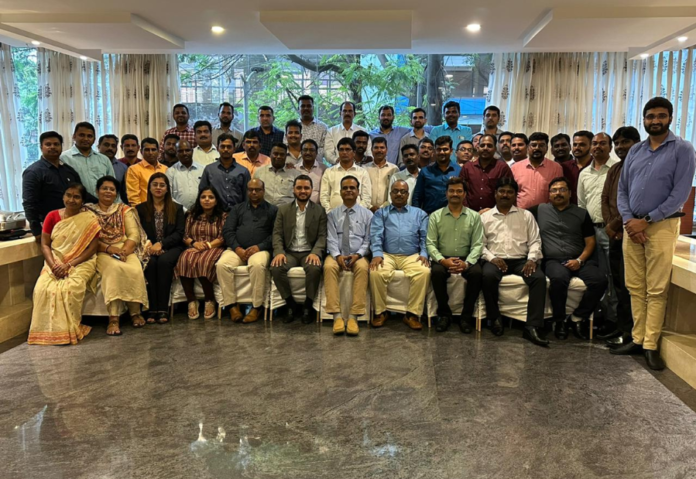 AASOKA Version 2.0, powered by cutting-edge AI technology, offers an array of benefits that promise to transform education in India.
New Delhi, September 21, 2023: AASOKA, India's leading blended learning solution, has initiated comprehensive 4-day training sessions tailored for over 200 educators across India. The programme is designed to prepare educators for a smooth transition to AASOKA Version 2.0, powered by AI. Training sessions are being held in Tier 1 and Tier 2 cities, including Bhopal, Kolkata, Jalandhar, Bangalore, and Delhi. These trainers will be training the teachers of 1900+ schools that AASOKA has partnered with to offer a transformative learning and teaching solution. The training aims at bringing all teachers to the required standards for effective integration of technology in the classroom and encouraging them to adopt technology in their delivery of lessons.
The training curriculum will encompass diverse topics, including app usage, curriculum integration, and platform navigation. It aims to empower trainers with the skills and knowledge needed to make the most of AASOKA Version 2.0's capabilities. This proactive initiative reveals AASOKA's dedication to fostering enhanced learning environments in K–12 schools. AASOKA Version 2.0 represents a significant leap forward in educational technology. Loaded with fresh features, upgraded interfaces, and enriched user experiences, it aims to transform how teachers interact with students and curriculum. The training session's core objective is to enable educators to maximise this innovative platform's potential.
With a vision to empower educators and improve the quality of education, Managing Director of MBD Group and AASOKA, Ms. Monica Malhotra Kandhari, stated, "The majority of teachers and instructors are not conversant or comfortable with using gadgets and the internet effectively. With the 4-day in-person training sessions, we intend to provide teachers with the knowledge they need to deliver the optimum learning experience for their students. Considering the instrumental role educators play in shaping students' learning journeys, we have immaculately designed AASOKA's Version 2.0 to provide teachers with the essential tools they need to adapt themselves to the modern educational landscape effectively".
AASOKA Version 2.0, powered by cutting-edge AI technology, offers an array of benefits that promise to transform education in India. It provides a seamless means to track the academic progress of students at an individual level, within a class, or across different subjects. The EdTech platform's AI-powered analytics go further by delivering forecasts regarding each student's growth trajectory. These predictions are based on real-time performance analysis and a deep understanding of each student's unique learning abilities.
The features of AASOKA Version 2.0 are tailored to enrich the educational journey for all stakeholders, including students, teachers, and parents. Some of its noteworthy offerings are curriculum-aligned digital and physical textbooks and workbooks, comprehensive teacher manuals, adaptive assessment tools, multimedia resources, homework/exam/assessment creation and scheduling tools, content creation tools, holiday homework management, a dynamic question repository, in-depth analytics, fee and transport reports, expense tracking, notifications, and a dedicated gallery for sharing school-related experiences.
Also read: Trends of the latest technologies
Do Follow: CIO News LinkedIn Account | CIO News Facebook | CIO News Youtube | CIO News Twitter
About us:
CIO News, a proprietary of Mercadeo, produces award-winning content and resources for IT leaders across any industry through print articles and recorded video interviews on topics in the technology sector such as Digital Transformation, Artificial Intelligence (AI), Machine Learning (ML), Cloud, Robotics, Cyber-security, Data, Analytics, SOC, SASE, among other technology topics.