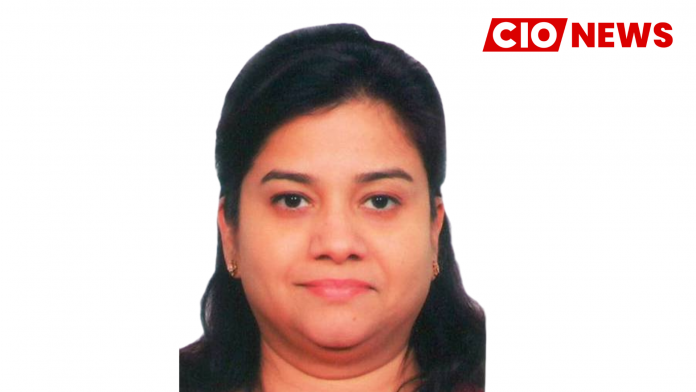 I always started thinking of long-term goals and set the roadmap accordingly. I was reporting to the CIO, which helped me take my managerial skills to next level by observing his way of working and facts to consider while decision-making
This is an exclusive interview conducted by Santosh Vaswani, Content Writer & Editor at CIO News with Manisha Hombalkar, Chief Information Officer (CIO) at Jaysynth Dyestuff India Ltd., on her Professional Journey as a CIO
When asked how she planned her career path to be a successful CIO, Manisha Hombalkar, Chief Information Officer (CIO) at Jaysynth Dyestuff India Ltd., in an exclusive interview with CIO News, said, "Very frankly I did not plan, but it just happened. I always believed to work out of my comfort zone, right from the beginning of my career". I did my diploma in computer studies in 1989 from National Computing Centre UK. This course was conducted by Apple Leasing Industries. Those were the times when the IT industry was growing and was in the very initial stage. Same as my other batch mates; I did try to get into companies like PCS. But now I thank God that I did not get through. I started doing freelancing. I use to take all sorts of computer-related jobs along with computer tuitions.
My husband was in IT Hardware & Networking business. We had a large data entry set-up. We use to run this set-up in two shifts to fulfill the requirements of our customers like Datamatics, Punjab National Bank, GrandJurix (Legal Software).
Our combination was perfect for the companies that needed migrating to computerization. So they had a one-stop solution with us. This is when I got introduced to Sandoz IT Team through a friend who was working with Sandoz, where I got to work with the highly motivated team to do the IT Set-up. I learned Multinational work culture there. Around 1995 demerger was announced with Sandoz and I got associated with Clariant India Ltd. I started working as a full-time consultant for them. At that time Lotus Notes and Microsoft office was the main system used for global reporting. Eventually, I got mastery in these systems and I had an opportunity to work closely with Mr. Prakash Rastogi CMD of Clariant then, for 10 years of my career. I started developing workflows as per his requirements, which helped them to have clarity of business to help them decide at right time. I still remember the project we worked on is CRM & Business Planning that was designed & developed in-house. This helped the management to analyse and make decisions as the data was real-time data. At that time there was dial-up network connectivity. I still remember the sound of the connection. We use to do dial-up connections with our PAN India branches for replicating the data. This module was very much appreciated at the global office too. I worked with every department to help them in setting up processes.
Meanwhile, in 2007, I got an opportunity to work for D-Link, where they wanted to implement ERP and take care of IT. I spoke with many IT heads before making a decision. I strongly came across one common factor in all these people while making a decision and that was a "My Company" feeling. There was a strong sense of belonging. It changed my perspective to look at things differently while making decisions. I always started thinking of long-term goals and set the roadmap accordingly. I was reporting to the CIO, which helped me take my managerial skills to next level by observing his way of working and facts to consider while decision-making.
All this experience made me land at Jaysyth Group as the CIO for the SAP implementation project and to lead the IT.
When asked about challenges she faced in her career path and how she overcame them, she said, while grooving my career path I came across various challenges like Team Management, Budget restrictions. As a leader, you need to deal with various personalities and yes if you are a woman then sometimes you need to deal with ego problems too. You need to act as per the situation demands. I made it a point to meet and talk to Business Heads regarding the challenges they face while decision-making and how IT can help to ease and resolve it. When it was about Budget I had to spread my expenses on a priority basis. I planned all the purchases well in advance, struck good deals with vendors for hardware-related purchases, and cut down on the operational & maintenance cost by adopting rental and subscription-based deals. I believe in spending minimum on IT manpower by adopting the right and effective Components, Utilities, and IT Policies. This will ensure the security of the data as well.
When asked about challenges faced by CIOs today in a similar industry while implementing digital technologies, she said, "The digital technology is the mainstream of the marketing and fast-evolving". At the same time, it is a difficult task to refrain from the misuse of the same. Data Security plays a major role, so you need to carefully choose the platform and the partners.
When asked how CIOs can overcome the challenges, she said, the best way for CIOs is to go with reputed partners when it comes to space sharing or cloud hosting. No one can give you a 100% guarantee but at least you have the satisfaction that your data is safe with a reputed partner.
When asked about best practices/industry trends/advice she would like to suggest to fellow CIOs for their successful professional journeys, she said, I always follow the documentation of each and everything. My IT policies are very well designed and followed. As a CIO you should always be open to new technology, try & test it. Use it if it suits your business process. Last and not least "Give an ear to the young generation to keep you up to date with the latest technology".
Also read: CIO News interviews Shri Wangki Lowang, Minister (IT) of Arunachal Pradesh
Do Follow: CIO News LinkedIn Account | CIO News Facebook | CIO News Youtube | CIO News Twitter
About us:
CIO News, a proprietary of Mercadeo, produces award-winning content and resources for IT leaders across any industry through print articles and recorded video interviews on topics in the technology sector such as Digital Transformation, Artificial Intelligence (AI), Machine Learning (ML), Cloud, Robotics, Cyber-security, Data, Analytics, SOC, SASE, among other technology topics