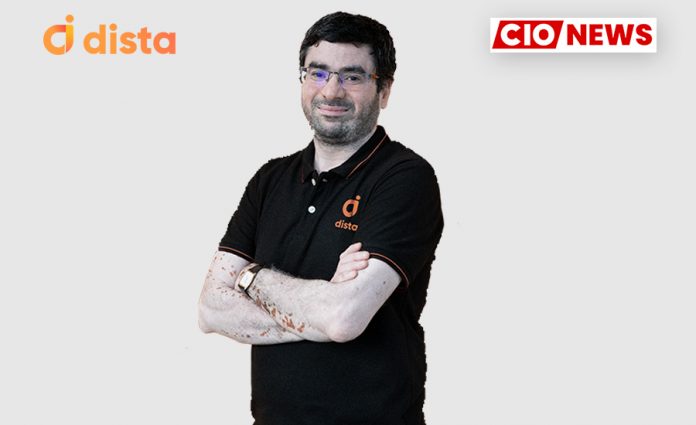 The real value a technologist can bring is alignment of technology with actual business needs
When asked how he planned his career path to be a successful technology leader, Deepak Garg, Co-Founder and Chief Technology Officer (CTO) at Dista, in an exclusive interview with CIO News, said, "I guess it's a mix of desire, opportunities, and a bit of serendipity." First, I was very sure from the start of my career that I wanted to be technical and be hands-on my entire career. For nearly half of their careers, many software engineers are unsure of which path to take, and jumping between streams leads nowhere.
So, that really helped me. With that set in stone, all that remains is finding opportunities to help you keep learning and growing in the tech stream. One thing that didn't work a lot for me was getting very good tech mentors. My learning has been 'on the field, make mistakes, learn and improve' sort of learning.
But I have been very fortunate to get very good business mentors and exposure to lots and lots of prospects. This helped me understand business needs and considerations very well and provide technical solutions which businesses love to use.
When asked about challenges he faced in his career path and how he overcame them, he said the biggest challenge was not getting tech mentors. Architects groomed by senior architects and enterprise architects are the most effective.
As an alternative, I had to be self-taught. I made mistakes along the way. What worked for me was to study the published architecture of a lot of systems. That gave me a very good idea of the considerations, thought process, and technological pieces used by other systems.
When asked about challenges faced by technology leaders today while implementing digital technologies, he said, below are a few challenges:
Abundance of choices creates more confusion. Firstly, there is cloud choice, and then within that cloud, there are multiple tech product choices.
Having a clear objective list while designing systems is crucial. Should have both short-term and long-term objectives. Vague objectives make technical choices much more difficult.
A thorough study of possible tech products.
Security concerns are more important than ever before for all technology leaders.
Regulatory needs and adherence to the same.
Staying ahead in terms of innovation.
Extraneous conditions, such as a business model pivot in the face of a crisis, such as COVID
Adapting to changing customer expectations.
When asked how technology leaders can overcome the challenges they face, he said:
Clear short-term and long-term objectives-enabled shortening of tech choices.
Keep one abreast of available tech products and studying various successful architectures.
Keeping security at the forefront of technology decisions and not overlooking any aspect of technology from this standpoint.
Having the support system of other tech leaders and bouncing off ideas.
Being aware of the regulatory needs (both in spirit and in the written word) and considering them while making decisions.
Rather than resisting, adapting to new trends.
No way can an organisation have all the expertise in-house. Leaders should be open to having the right technology partners.
When asked about best practices, industry trends, or advice he would like to suggest to fellow technology leaders for their successful professional journeys, he said:
Being close to customers and business is key. There shouldn't be a separation between business and technology. Technologists have the mind-set of sitting in silos and designing a perfect system or a system that is not useful to business. The real value a technologist can bring is alignment of technology with actual business needs. You don't need a rocket to power a rickshaw. Grooming a few people who can bridge this divide with a holistic approach is required.
Grooming Technologists: In most service companies, there is a mind-set to push people into project management and non-tech roles in the name of career advancement. Hence, very few technologists emerge. Companies have to create a clear career path and not pull people away from technology.
Risk-taking: Not only in making technology choices, but also career choices. A tech career might mean smaller teams and in-depth, not so glamorous work.
Question everything: Industry is continuously evolving, government counterparts are open to suggestions, and the way things happen is open for disruption. We, as industry leaders, will drive the next generation of changes.
Keep in touch with the latest architectural concepts: A lot of very big tech companies publish thought pieces from time to time, and those are very educational.
Keeping an open mind: Tech leaders can play it safe and choose a stack that is used by others, or try out new things.
Consider compliance in advance and incorporate it into technology decisions. With information security gaining relevance in government, a lot of tech compliance requirements can be expected.
Trust your employees and your gut.
Evolving a company culture of innovation and calculated risk-taking.
Not compromising on information security.
Also read: Taking a proper decision for new technology and implementation of time is a core value
Do Follow: CIO News LinkedIn Account | CIO News Facebook | CIO News Youtube | CIO News Twitter
About us:
CIO News, a proprietary of Mercadeo, produces award-winning content and resources for IT leaders across any industry through print articles and recorded video interviews on topics in the technology sector such as Digital Transformation, Artificial Intelligence (AI), Machine Learning (ML), Cloud, Robotics, Cyber-security, Data, Analytics, SOC, SASE, among other technology topics