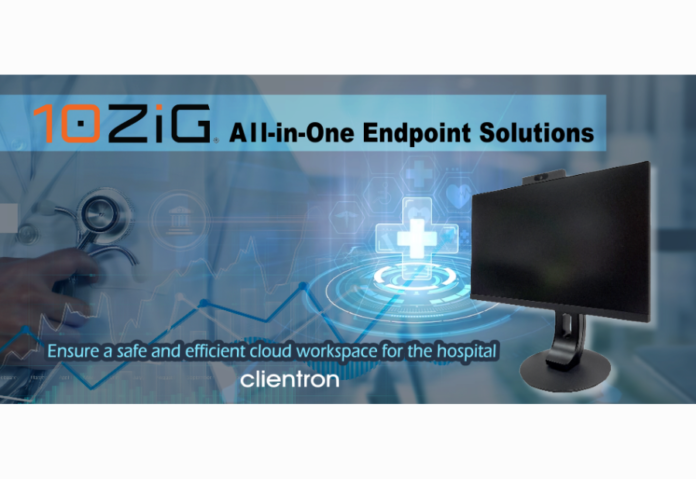 The 10ZiG endpoint solution gives medical staff quick and easy access to virtual desktops that are hosted on servers or in the cloud
NEW TAIPEI CITY, TAIWAN, September 6, 2023/EINPresswire.com/: The widespread adoption of digitalized medical records increases the enormous volume of healthcare data and allows medical staff to access the data through VDI (virtual desktop infrastructure), DaaS (desktop-as-a-service), and cloud workspaces. Clientron introduces the 10ZiG hardware/software endpoint solution, which solely focuses on the cutting-edge VDI/DaaS application to help healthcare institutions establish a safe and efficient cloud workspace.

For endpoint devices, the requirement for computing power is becoming minor in VDI/DaaS since most data is stored and processed on the server, so replacing the traditional desktop with the efficient thin client is applicable for healthcare institutions. 10ZiG All-in-One thin client, 7900q series, equipped with a 23.8″ full HD monitor, features a highly versatile stand allowing height, tilt, pivot, and swivel adjustment that is convertible to a vertical position to display X-ray images and medical records. Also, it is capable of connecting two external monitors for showing multiple types of information, such as video, images, and analytics reports, at the same time. Moreover, the 7900q series is powered by an Intel® quad-core processor with a built-in 5 million-pixel camera and dual digital microphones, which provide high-quality video conference and telehealth services. Also, the power consumption of 7900q is significantly lower than traditional PCs, which saves on electricity for operating expenses.
7900q-features

The 10ZiG 7900q series is optioned to bundle with the 10ZiG's operating system (NOS or PeakOS) or Windows 10 IoT, depending on the requirements of VDI or cloud applications. The design of NOS and PeakOS allows IT admins to set up the virtual desktop connection in only three steps, and medical staff can immediately log in to the VDI/DaaS service once booting up the 10ZiG device. As for managing the endpoint device, 10ZiG Manager is the free centralised management software to manage all 10ZiG endpoint devices, which enables IT managers to assign specific functions to different roles of IT employees and manage tens of thousands of distributed 10ZiG devices remotely. 10ZiG Manager also features several useful features, such as visualised graphic reports, instant or scheduled firmware updates, and remote troubleshooting, which make the management process efficient and effective.

The 10ZiG endpoint solution gives medical staff quick and easy access to virtual desktops that are hosted on servers or in the cloud. 10ZiG Manager is always free with no user or device limit, so IT managers can easily handle thousands of endpoint devices without additional licence fees, which assists the IT department in establishing a secure and reliable cloud workspace in healthcare institutions.
Also read: Addressing Security Challenges Beyond 2023: Recommendations for CIOs and Technology Leaders
Do Follow: CIO News LinkedIn Account | CIO News Facebook | CIO News Youtube | CIO News Twitter
About us:
CIO News, a proprietary of Mercadeo, produces award-winning content and resources for IT leaders across any industry through print articles and recorded video interviews on topics in the technology sector such as Digital Transformation, Artificial Intelligence (AI), Machine Learning (ML), Cloud, Robotics, Cyber-security, Data, Analytics, SOC, SASE, among other technology topics