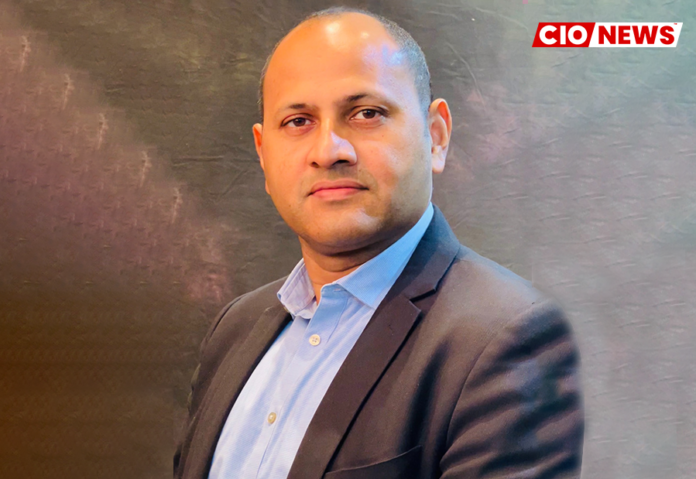 The future indeed holds promise, and with mindful leadership, it will be a future where technology acts as the great enabler and equalizer.
This is an exclusive interview conducted by the Editor Team of CIO News with Prince Joseph, Group CIO at SFO Technologies.
When reflecting on the technological metamorphosis over the last 25 years, the landscape stands almost unrecognizable from what it once was. From rudimentary terminals and the privilege of expensive internet connectivity measured in kilobits to today's swift gigabit connections, the journey has been transformative, especially in shaping leadership in the tech domain.
From Primitive Beginnings to Digital Prowess
In yesteryear, the excitement surrounding terminals, despite their bulky demeanors, was palpable. They were the pioneers of personal computing, setting the stage for what was to come. Internet access, once a luxury reserved for a select few, gradually transitioned from being an expensive novelty to a ubiquitous tool, indispensable for daily operations. Today's reality, where gigabit connections are the norm rather than the exception, showcases the unprecedented pace of technological advancements.
Quantum Leaps in Hardware
The hardware revolution is a testament to human ingenuity. What began as large, cumbersome machines with limited capabilities has been miniaturized into powerful devices that fit in our pockets. The exponential increase in memory capacities, coupled with the decreasing cost of chipsets, has set the scene for groundbreaking innovations. As we now embark on the era of quantum computing, we find ourselves on the cusp of another monumental leap in technological capabilities.
The Internet's Democratizing Power
The democratizing effect of the internet has been profound. It has reshaped societies, bridged divides, and granted a voice to those who were once voiceless. The proliferation of smartphones and the resultant 'app economy' have further revolutionized our way of life. From communication to commerce, there's an app for virtually everything, underscoring the transformative power of technology.
A Closer Look at Digitally Transformed Industries
The digital transformation wave hasn't left any industry untouched. Some sectors I've witnessed undergo significant change include:
Airlines: Beyond the simplicity of online ticketing, digital boarding passes, and Digi-Yatra, airlines are now leveraging data analytics to offer tailor-made experiences. Predictive maintenance, leveraging augmented reality for staff training, and employing digital twins have reshaped the aviation landscape.
Logistics: The sector has been transformed with real-time tracking, AI-driven route optimization, and even drone-based deliveries. Today's logistics solutions prioritize transparency and speed, driven by digital innovation.
Manufacturing: Industry 4.0 heralds a new era where factories are smart, utilizing IoT and AI to optimize production processes, ensure quality, and drastically reduce waste.
Travel and Tourism: This industry has witnessed a shift from conventional agency-based bookings to virtual reality explorations and AI-curated travel experiences. The emphasis is now on personalization and immersion.
Hospitality: The sector has embraced digital with open arms, from smart room controls and AI-driven concierges to data analytics predicting guest preferences, elevating the guest experience to new heights.
The digital-first approach adopted by these sectors underscores the importance and inevitability of embracing technology in today's age.
Cyber Resilience: The New Imperative
With the increasing footprint of technology, vulnerabilities and threats have also grown. Protecting vast digital assets and ensuring cyber resilience has become the need of the hour. Every new innovation, while bringing benefits, also introduces potential risks that necessitate robust digital defense strategies.
The Gen Z Influence and The New Wave of Leadership
Born-in-the-cloud companies are now the frontrunners of the tech industry, driven by a generation that grew up in a digitally abundant world. Their capacity to innovate, influence, and seamlessly merge technology into every facet of life signifies a dynamic shift in tech leadership. However, amid this rapid pace, the importance of a holistic technological education, emphasizing not just skills but ethics and societal implications, remains paramount.
In Closing
The digital era, characterized by its rapid advancements and transformative power, offers myriad opportunities and challenges. As technology leaders, our role extends beyond mere adaptation. We are the stewards of a future that hinges on digital empowerment, and our responsibility is to ensure that this empowerment is accessible, ethical, and beneficial for all.
The future indeed holds promise, and with mindful leadership, it will be a future where technology acts as the great enabler and equalizer.
Also read: Leaders must consider sustainability in tech decisions, says Vishal Saini, CTO at Salontym
Do Follow: CIO News LinkedIn Account | CIO News Facebook | CIO News Youtube | CIO News Twitter 
About us:
CIO News, a proprietary of Mercadeo, produces award-winning content and resources for IT leaders across any industry through print articles and recorded video interviews on topics in the technology sector such as Digital Transformation, Artificial Intelligence (AI), Machine Learning (ML), Cloud, Robotics, Cyber-security, Data, Analytics, SOC, SASE, among other technology topics.