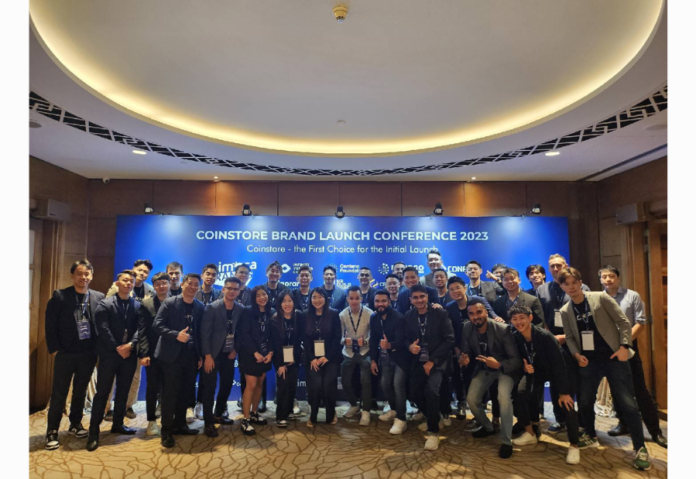 Coinstore will give an exclusive preview of the EARN feature at Token2049, Asia's largest Web3 event.
Singapore, September 12, 2023: Global crypto exchange Coinstore announced today the launch of its wealth management solution 'EARN' for users across the globe. Coinstore EARN provides a lucrative opportunity for users and institutions to earn passive income from their digital assets by providing high annual percentage yields. EARN is developed by Coinstore's expert quant team and is seamlessly integrated into the Coinstore ecosystem, providing a wider range of token application scenarios.
The launch event was successfully conducted on September 12, 2023, at The Fullerton Hotel, Singapore, in the presence of:
James Toh, Global Head of Business Development, Coinstore
Manfred Chew, Business Development Associate Director, Coinstore
Jide Fashola, Head of Technical Integrations at the Cardano Foundation
Daniel Oon, Head of DeFi at Algoland Foundation
Liu Yang, founder of MetaTrust Labs
More than 100 venture investors, over 50 well-known companies, and a total of more than 400 crypto enthusiasts gathered to witness Coinstore's brand milestone.
The EARN feature empowers users to make the most of their digital assets by investing them for a fixed tenure to earn guaranteed returns. The users can lock in their digital asset for a tenure of their choice and redeem the invested amount along with interest at the end of the tenure. The EARN feature also offers a variety of Web3 functions, such as powerful NFT wallets, smooth management of assets on-chain, and impeccable security, to provide a holistic Web3 experience to users.
Commenting on the development Jennifer Lu, co-founder at Coinstore, said, "Coinstore's brand revamp is aimed at becoming a one-stop solution for crypto enthusiasts by providing a range of digital asset services under one roof. We are thrilled to introduce our EARN feature at Token2049, where the global crypto community will get exclusive access to our latest product. Coinstore plans to launch spot trading, futures trading, and derivatives trading soon to provide an enhanced user experience".
Coinstore continuously rolls out financial innovations with the aim of offering more inclusive digital financial services to its global user base. In March 2022, Coinstore launched Web 3.0, utilising wallets as a gateway to bridge the gap between centralised and decentralised exchanges, thereby offering users a one-stop solution for digital asset management. Coinstore will continue to build a Web3 security ecosystem, adhere to technological product innovation under the premise of legal compliance and controllable risks, create a new secure digital world, and promote the application of Web3 and other technological innovations.
Attendees at Token2049 are cordially invited to visit Coinstore's Token 2049 booth on the 4th floor (P124) and 5th floor (P19) of the main exhibition areas on September 13–14, 2023. Additionally, on September 13th at 7PM, Coinstore will be hosting the "Coinstore Gamefi night" at The Spot Singapore.
Also read: India's data center sector is experiencing vigorous growth due to digitization, says Mohammed Atif, Director, Business Development India, Park Place Technologies
Do Follow: CIO News LinkedIn Account | CIO News Facebook | CIO News Youtube | CIO News Twitter
About us:
CIO News, a proprietary of Mercadeo, produces award-winning content and resources for IT leaders across any industry through print articles and recorded video interviews on topics in the technology sector such as Digital Transformation, Artificial Intelligence (AI), Machine Learning (ML), Cloud, Robotics, Cyber-security, Data, Analytics, SOC, SASE, among other technology topics.