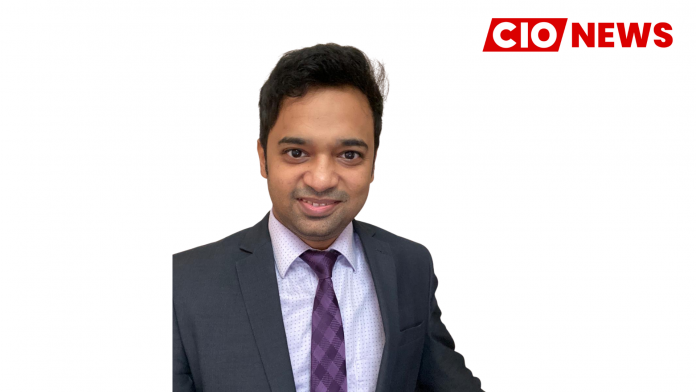 DNA (Digital & Analytics) initiatives led by new techs like AI/ML/DL, RPA, AR/VR, and Digital Twin will be the next game-changers
This is an exclusive interview conducted by Santosh Vaswani, Content Writer & Editor at CIO News with Tushar Zade, CIO & CDO at Aurigene Pharmaceutical Services Limited, on his Professional Journey
About Professional Career of Tushar:
Tushar is a CIO & CDO (Chief Information Officer & Chief Digital Officer) in Aurigene Pharmaceutical Services Limited (a Hyderabad-based Contract Drug Discovery and Contract Development & Manufacturing Organization). Under his leadership, the company has envisioned Digital as a key lever for its growth and staying ahead of the curve. According to him DNA (Digital & Analytics) initiatives led by new techs like AI/ML/DL, RPA, AR/VR, and Digital Twin will be the next game-changers.
From a small town to make it to the CSuite has been more like a roller coaster ride for Tushar. He started his career humbly as a contract employee (SAP consultant) with Times Group (Bennett, Coleman & Company Limited) and soon made his way to a permanent position. Subsequently to Times, working with Deloitte and Invenio Business Solutions under various capabilities he got exposure to the consulting world where he worked with numerous clients solving their business problems and delivering value with Digital initiatives. He has also tried his hands in entrepreneurship by starting up an e-commerce company which grew by 3X in mere three months however he was unable to pursue this start-up for long and joined Dr. Reddy's where he climbed the corporate ladder from a project manager to global program manager to associate director. Later he moved to Aurigene as a CIO & CDO.
Awards: 40 under40 by business mint, Indian Achievers' Awardee, Innovative CIO
With his wit and street smartness, he has managed to make numerous friends and relations throughout his personal and professional life. National cricketer, ardent musician (he plays Guitar, Dhol (Maharashtrian Drum)), photographer, certified RJ, self-learned DJ, horse jockey, etc. Tushar nurtures his passions along with his work for maintaining the work-life balance.
Young leaders like Tushar are paving the path to India's Digital Future.
Success Mantra:
Dream Big
Never-say-no attitude
Nurture Relationships – value people over anything
The Paradigm Shift from Core Business to Digital-driven Business:
Around 80 per cent of CEOs globally think COVID has accelerated their Digital Transformation journeys. However, about 72 per cent of the companies undergoing Digital Transformation do not know what to do with the data tsunami which is getting generated, which means that every industry/company wants to undergo Digital Transformation however lacks readiness for the future roadmap. Tech Leaders are seeing a paradigm shift in the way discussions are happening in the boardrooms around Digital. CEOs these days have started believing Digital & Analytics can be used to even start a new line of business altogether, which is a huge change from where traditional companies thought of IT/Digital. The whole conversation is now shifting towards business benefit-based & outcome-based engagements. Digital is no longer a cost centre perhaps it has now become a profit centre too.
How companies are digitally aligned with Business objectives:
Every business is broadly divided into three basic broad pillars:
MX: Market Share & Customer Acquisition
CX: Providing an Amazing Customer experience
EX: Ensuring best-in-class Employee experience
Technology has a major role to play in strengthening each of these pillars.
MX: Market Share & Customer Acquisition – The whole process of identifying future customers/prospects is now digitized to a larger extent. The customer universe gets dumped into a data lake (which can also be bought) and they are further categorised based on their behaviour and traits. News/articles/contacts etc. are various other sources that contribute to this data lake too. New techs like AI/ML/DL are helping locate the right customer and assess what his needs are and finally serve him better. Digital architecture for such systems has the system of record at the base then the system of intelligence which drives what needs to be shown to whom & how and finally a system of engagement.
CX: Providing an Amazing Customer experience – Providing an amazing experience is the need of the hour these days. B2B businesses are relooking and shifting focus towards becoming B2C as at the end of the day even in B2B, there is some person who is responsible for making the decision. Every application/platform is trying to follow the Amazon model in making customer's life easy in terms of order booking, tracking it online, and even raising complaints/feedback. A lot of digital tracking can be seen here too. Big data, AI/ML is getting used to understanding the customer needs and address accordingly. Chatbots, real-time integrations of multiple platforms, Edge computing, etc. are good examples of this category.
EX: Ensuring best-in-class Employee experience – This is another important piece for every business/industry and is very well served by Digital. New tech like RPA is making an employee's life easy just by replacing a human with a machine for doing any mundane job where decisions can be taken by a bot using some business rules. AI/ML, IoT, also plays an important role in reducing the whole turnaround time in manufacturing, and even in the supply chain. Many use cases are identified across industries for improving the way we operate today. A good example of this is to set up a bot to respond to all L1 support tickets.
Challenges faced by CIOs CDOs:
A CIO/CDO spends his time in the following buckets:
Outside In – read, videos, content (FMCG is good in SCM)
Stakeholder management (projects business benefits communication to CEO & external stakeholders)
Governance on projects/programs (chair steerCos)
Innovate (new mobile apps)
Building the next level of leaders (Jeff Besos has a shadow program)
Most of the time, CIOs face challenges around: change management which they overcome by managing the stakeholders and switching gears based on the situation. Digital adoption gets restricted as soon as changes aren't accepted.
Message to next level leaders:
Tushar has always followed the DHA framework throughout his life:
DREAM: Dream big, aim for the sky, love your dream, develop conviction in yourself, watch dreams with open eyes
HUSTLE: Be ready for working hard, unlearn & relearn, improvise & course correct, practice as much as possible, maintain integrity, dignity & respect
ACHIEVE: Never forget those who helped you on the way to achieving! Thank God, Dream bigger again
He highlighted:
There is certainly a change in ITQ (Information Technology Quotient) to DQ (Digital Quotient) in every company's mind-set. New tech is helping organizations to reach newer & big-ticket customers, providing them an amazing experience and helping to do faster operations.
All these digital initiatives are aligned with business strategy and play a vital role in improving the efficiency of the business and taking it to the next level.
Also read: CIO News interviews Shri Wangki Lowang, Minister (IT) of Arunachal Pradesh
Do Follow: CIO News LinkedIn Account | CIO News Facebook | CIO News Youtube | CIO News Twitter
About us:
CIO News, a proprietary of Mercadeo, produces award-winning content and resources for IT leaders across any industry through print articles and recorded video interviews on topics in the technology sector such as Digital Transformation, Artificial Intelligence (AI), Machine Learning (ML), Cloud, Robotics, Cyber-security, Data, Analytics, SOC, SASE, among other technology topics