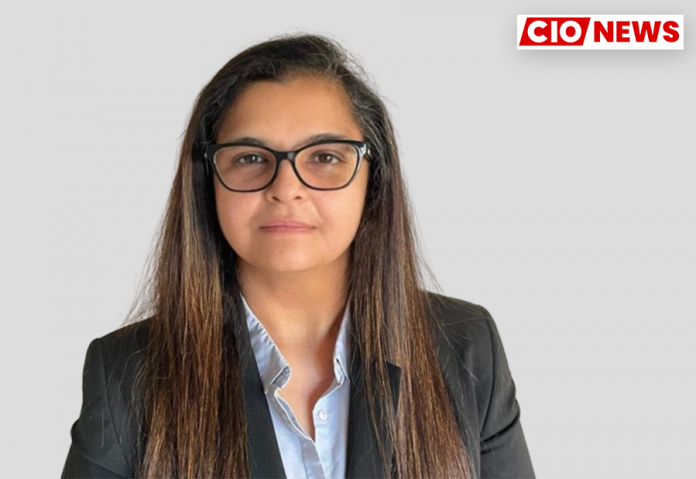 Technology is a key enabler across all businesses in the new era of digital transformation
When asked what digital literacy is and why it matters, Falguni Desai, Chief Technology Officer (CTO) with Digient Technologies Private Limited, in an exclusive interview with CIO News, said, "Digital transformation is the process of using digital technologies to create new – or modify existing – business processes, culture, and customer experiences to meet challenging business and market requirements." Digital literacy is the education of skills, tools, and techniques. While digital transformation began nearly three years ago, with the COVID pandemic, many processes and businesses were forced to migrate to the digital world. Most organisations across the world are in the process of digital transformation, and hence it has become a key skill that needs to be acquired by people.
When asked about his views as an IT leader on digitally up-skilling the youth in the post-COVID era, she said, "COVID changed the business process across the organisation and digital-first and cloud-first is the motto across organizations." New business processes are being defined, and automation is being driven through machine learning and artificial intelligence. There has been a resource gap for digital transformation projects across the world, and hence an up-skilling programme is the need of the hour. While organisations have their own learning and development departments that are doing it for their employees, there is a need to either change or have additional modules for the graduating students.
When asked how the youth can be digitally empowered and what kind of exposure and engagement opportunities in the educational curriculum can educational institutes implement to raise the interest of youths to up-scale their digital skills, she said, "Based on my understanding of the current curriculum for computer science engineering students, the basic computer languages like Java, Python, PHP, etc." There has been a sea change in the technology landscape, but we are still keen on teaching the basics of programming skills. We need to teach our youth the current business models and how technology is changing the way in which businesses are run now. We need to have experts come over to explain to them the changes in the business processes and the technology landscape developed or changed to meet the requirements. We need organisations like AWS, Google, Microsoft, etc. to upscale their skills. We also need to have data analytics, machine learning, and artificial intelligence as part of the curriculum.
When asked if it should become a must for schools, colleges, and other educational institutes to conduct workshops or crash-courses programmes to drive the importance of technology for businesses, she said, "Indeed, we should have technology training courses from the school level for all children." While ICT has been added to the school curriculum, we are still teaching them the basics. We are not aligning our courses to the changes in business and how technology is enabling them. Along with the ICT subject, we need to have additional crash-courses or we can say sessions with business and technology experts and also from IT organizations. We need to explain to them the various business models and the background technology support provided, and the changes in the business model post-COVID era.
When asked what advice she would give to young people considering a career in technology, what they should know about the industry before starting, what challenges they might face, and how they might overcome them, she said, "Technology careers have various facets, such as programming languages where you develop codes, cloud, data analytics, machine learning, artificial intelligence, cyber security, networking, and so on." Before we consider a career in technology, we need to understand the facets and then start up-skiing to meet the objective. It is always stated that doctors never stop studying, as there are always new things that get introduced. In this era, even technology will keep on changing every few years, and hence everyone taking technology as a career needs to keep up-skilling. Also, rather than taking generic fields, they need to think about specialisation and then work towards achieving the goal. Technology is an enabling unit for business, and hence technology people need to understand the business model, and we, being experts, need to have the skill to explain technology to stakeholders in laymen's terms.
She highlighted that technology is a key enabler across all businesses in the new era of digital transformation. Also, there has been a resource crunch across the world, and hence there are a lot of opportunities available for people considering a technology career. Also, always understand the business strategy in detail and then provide technology solutions.
Also read: I was considered to be an expert in technology and solving problems
Do Follow: CIO News LinkedIn Account | CIO News Facebook | CIO News Youtube | CIO News Twitter
About us:
CIO News, a proprietary of Mercadeo, produces award-winning content and resources for IT leaders across any industry through print articles and recorded video interviews on topics in the technology sector such as Digital Transformation, Artificial Intelligence (AI), Machine Learning (ML), Cloud, Robotics, Cyber-security, Data, Analytics, SOC, SASE, among other technology topics