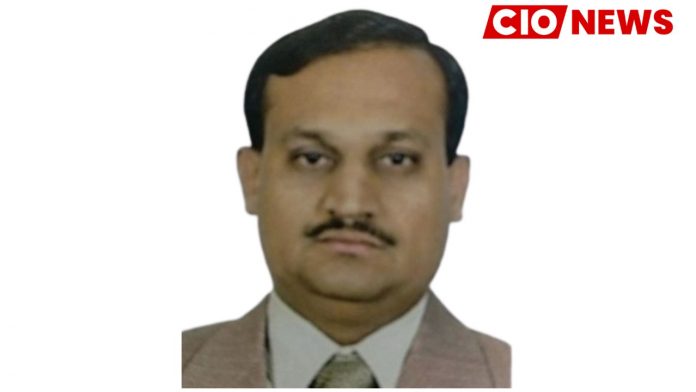 Deployment of digital technology across manufacturing complexes will enable firms to not only track production processes from start to finish, but also analyse data so collected on raw materials availability, finished goods attributes, machine attributes, etc.
This is an exclusive interview conducted by the Editor Team of CIO News with Virupakshappa Angadi, Chief Information Officer (CIO) & Chief General Manager (CGM) – Digital Transformation (DT) at BEML LTD, on Digital Transformation in the Défense and Space Manufacturing Industry.
What is the importance of digital transformation in the defense and aerospace manufacturing industry?
In defence PSU (DPSU), there is good potential in the area of digital as the journey is just kicking-off the momentum. Nowadays, digital transformation in the defense sector is the need of the hour. Almost all defense equipment being manufactured is AI/ML-enabled for operation and maintenance. Hence, it is most important to digitally transform defense areas like automation of manual processes and predictive maintenance with performance tracing of equipment aggregates and AR/VR for field maintenance activities. In addition, mobile devices enable the operation of field equipment. The cyber security area is one of the topmost subjects considered in DPSUs when it comes to integrated business applications with internet facing. Industry 4.0 initiatives across all manufacturing complexes are the key initiatives starting from the design phase, production phase, and customer feedback on the product's performance.
Why are new digital business models becoming a key to driving growth in the industry?
Digitalisation enhances the overall efficiency in all areas of logistics and manufacturing operations, like production, logistics, sourcing, sales, services, and financial accounting. To scale up any manufacturing business vertically, it is essential to look into automating shop floor processes, thereby optimising cost efficiency in addition to production efficiency. Digital modelling adoption could be at various stages, such as going for paperless manufacturing operations, data acquisition by means of industrial IoT sensors mounted on each production line/equipment, reducing re-work, reducing quality rejections, increasing quality products, better monitoring, collaboration amongst shop floor operators. In this way, in the process of scaling up, digitalisation contributes to the driving force for growth.
What are the organisational challenges for digital re-invention? How can CIOs overcome these challenges?
Challenges in the PSU organisation for digital transformation initiatives are multi-fold — People readiness, process change management, smoother migration from manual to digital practices, Readiness of integrating applications or hardware Skill upgradation, redefining roles and responsibilities across the company, Management support for running changes without affecting normal business. And, lack of technological know-how as a result of fast technological changes, product and spares indigenisation drive from the government, etc.
These challenges could be overcome with granular achievements across the processes and areas of digitalization. Hold training sessions to improve required skills and re-define roles and responsibilities. Always Run pilot projects whereby proofing the concepts involving the required stake holders, the to-be digital process must be familiar with all the involved stakeholders across the company. Test software with integrating applications or platforms before going live. It means that digital processes are made much simpler for end users to operate. Create dashboards or key performance indicators for the new processes. Project managers must see that total transparency is being maintained throughout the project life cycle. Derive quick and long-term benefits (quickness, efficiency, accuracy, cost reduction) derived as a result of digital implementation over a quarter year, etc. These are some important things to be observed by each CIO in their roles, adding value to the business.
What must be the CIO's approach towards successfully embracing a digitally-driven future for their organizations?
The CIO approach to every digital initiative should be as follows:
Propose To-Be process, & implement
Derive benefits to organisation in adopting digital – Tangible and non-tangible benefits
Breakdown mega projects into smaller sizes where milestones can be measured well
In the digital journey, evaluate advanced technologies as the case may be, such as RPA (Robotic Process Automation) for automating complex manual data entries into ERP menus, thereby reducing data entry operators to the maximum, complex and laborious data entries such as invoice processing AP can be automated with RPA bots. Additive Printing for prototype product manufacturing and testing, AR/VR for Maintenance activities of equipment's repair (disassembly and reassembly process), enabling products for AI & ML technologies, whereby delighting customers' requirements, setting up digital twins for manufacturing processes, etc., will help future scale up.
While deploying digital solutions, the CIO evaluates the cyber security capabilities of those digital solutions, mitigating possible risks involved in the post-deployment days. Deployment of digital technology across manufacturing complexes will enable firms to not only track production processes from start to finish, but also analyse data so collected on raw materials availability, finished goods attributes, machine attributes, etc., resulting in effective and efficient processes, enabling quality products at optimised costs and increasing revenue growth. Also, digitalised testing procedures for equipment delivery will help faster clearing of finished equipment by the testing team.
Embrace next-generation Industry 4.0 initiatives for your manufacturing complexes and Introduce digital workers called RPA (Robotic Process Automation) robots for your intense data entry jobs in ERP.
How can a cloud-enabled and AI-powered digital-first mind-set across all aspects of business accelerate the growth towards digital transformation?
In DPSU, CIO's need to explore a cyber-secure private cloud platform where it offers multi-level authentication, making it more robust to any application or data leakage. To implement an AI-enabled private cloud-powered digital first strategy, DPSU manufacturing facilities must assess single points of failure as a result of external threats to government installations. An AI-enabled cloud always points to cost savings if one goes for a SaaS model approach. The implementation time will be much shorter in this case, thereby saving sprawling project costs. This approach will enable quicker tools to be setup for an ever growing business.
How can the digital thread solution enable companies in the defense and aerospace manufacturing industries to create the "factory of the future"?
A digital thread creates a closed loop between the digital and physical worlds to optimise products, people, processes, and places. Digital threads' aim is to signify the digitization and traceability throughout a product's lifespan. They link all the digital twin capabilities, such as the designs, performance data, product data, supply chain data, and software going into creating the product. In manufacturing, the application of the digital thread comes with a series of benefits: it increases the quality of products by minimising defects and translating engineering.
Digital threads can improve manufacturing in a multitude of ways. Product quality will be improved by preventing mistakes in engineering specifications from being manually translated across the product value chain.
The digital thread lets planners, designers, and machinists share results. Communication of changes in engineering will be increased, as will the efficiency of digitally capturing and analysing data related to product manufacturing.
Future operating models and revenue streams will gain massive advantages from digital twin and digital thread-based capabilities.
Also read: CIO News interviews Shri Wangki Lowang, Minister (IT) of Arunachal Pradesh
Do Follow: CIO News LinkedIn Account | CIO News Facebook | CIO News Youtube | CIO News Twitter
About us:
CIO News, a proprietary of Mercadeo, produces award-winning content and resources for IT leaders across any industry through print articles and recorded video interviews on topics in the technology sector such as Digital Transformation, Artificial Intelligence (AI), Machine Learning (ML), Cloud, Robotics, Cyber-security, Data, Analytics, SOC, SASE, among other technology topics