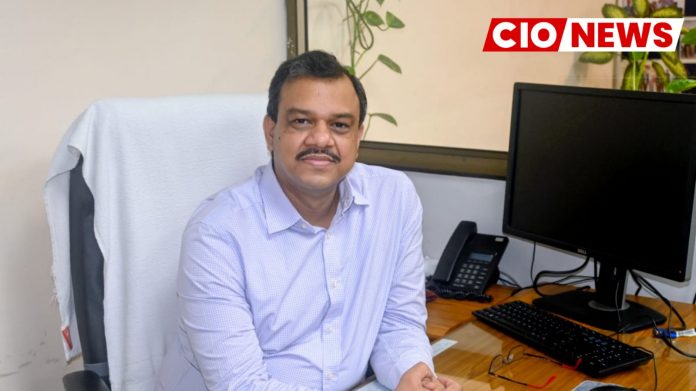 I always expect from my to do complete planning, utilizing the right technology at optimum cost and deliver the best in defined timeframe, then only it is called digitalisation.
This is an exclusive interview conducted by Santosh Vaswani, Content Writer & Editor at CIO News with Vikaas Bhatnagar, Group CIO at Blue Sapphire Healthcare, a group company of Asian Institute of Medical Sciences (AIMS) on:
"Top Trends of Digital Transformation for Healthcare Industry in 2022"
Digital Transformation is the need of an hour. Today, across any industry, digitalisation is something, which is very much required. So, being into the healthcare industry for around 20 years, I have seen the changes happened in this industry since the time every process was manual. Now, we have reached to a stage where importance of digitalisation is realised by our Patients, Healthcare providers, insurance companies, TPAs and all are geared-up towards consolidation and patient benefit, said Vikaas Bhatnagar, Group CIO at Blue Sapphire Healthcare, a group company of Asian Institute of Medical Sciences (AIMS) in an exclusive interview with CIO News.
He said, "Patients visiting a hospital are not well and is here to get treated". They want to get treated with fewer movements and expect all required processes of hospitals should be done automatically. It is our responsibility to bring better patient experience and have WOW feeling by adopting and implementing technology in most effective manner.
In the last couple of years, "we have launched mobile applications and have adopted multiple other ways that have facilitated patients in having their data handy". But, since consolidation is the bigger challenge which needs to be addressed to actually make data handy. A typical data consolidation challenge which we can see is, patient carries mobile application of each hospital they visit and view data as per their visit to hospitals.
Today, cloud services are available which has taken technology a step ahead in making things more secure and managed by industry experts. Now, if we are moving our systems onto cloud, which may be a good decision, but at what cost? Technology and cost, goes hand to hand and we need to be reasonable while adopting any technology as it comes for the cost which someone has to bear.
Today, patients are ready to accept technology, they schedule online appointments, and there are various initiatives taken by healthcare organisations. "I can share a very interesting initiative that we have taken in our organisation: a concept of e-invoices in healthcare". This concept is also used in the food & beverages and retail industry. And, now our organisation has started this concept, where the invoice goes as a message to the patient's mobile with a link to click for viewing or downloading the e-invoice. This concept has been adopted by 75 – 80% of patients and can be further increased with adoption of E-Invoice by the government agencies. I feel that day is not far when paper bills are not required to be submitted for reimbursement and another step is taken towards "GO GREEN".
Secondly, to overcome the paper need at various access points, we have empowered our staff with various digital gadgets to have free movement of patient and treatment given without any challenge, be it, patient waiting to see doctor or goes for any investigation, procedure, or any service in the hospital.
So, digitalisation needs to happen end-to-end and feel proud when patients give positive feedback and  get WOW feeling, which is the expectation of my organization, he said.
Also read: CIO News interviews Shri Wangki Lowang, Minister (IT) of Arunachal Pradesh
Do Follow: CIO News LinkedIn Account | CIO News Facebook | CIO News Youtube | CIO News Twitter
About us:
CIO News, a proprietary of Mercadeo, produces award-winning content and resources for IT leaders across any industry through print articles and recorded video interviews on topics in the technology sector such as Digital Transformation, Artificial Intelligence (AI), Machine Learning (ML), Cloud, Robotics, Cyber-security, Data, Analytics, SOC, SASE, among other technology topic