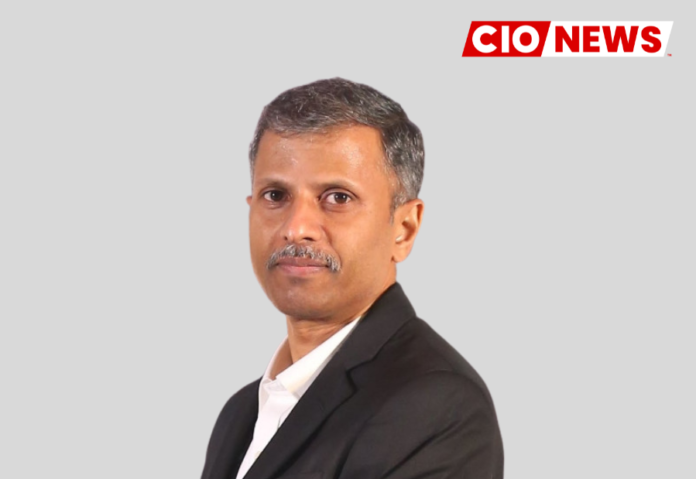 Digital empowerment is all about enabling people to use their computing devices in their daily lives to perform activities without leaving their premises
This is an exclusive interview conducted by the Editor Team of CIO News with Krishnan Kutty C, General Manager – Information Technology at Gammon Engineers and Contractors Pvt. Ltd
What is digital literacy, and why does it matter?
Simply put, digital literacy is a person's ability to use digital platforms in day-to-day life. For school-going kids, attending online classes or meetings with teachers is important. Similarly, collaborating with a group of students online to complete their assignments or projects is a practise encouraged by many educational institutions. For youngsters, it is about online ticket booking, online shopping, and online form filling to apply for a job. Online banking, money transfers, etc. are equally widely used by most. For senior citizens, digital literacy is about checking their bank statements, receiving and maintaining their financial documents in digital form, fixing appointments with doctors, having online consultations, ordering medicines online, etc. So, digital empowerment is all about enabling people to use their computing devices in their daily lives to perform activities without leaving their premises, however simple or complex they may be.
As an IT leader, what are your views on digitally upskilling the youth in the post-COVID era?
It is true that COVID accelerated digital adoption across segments. We have seen coaching classes go online, and the youth were forced to use their desktops, laptops, tablets, and mobile devices to attend classes and collaborate with other members of their school groups. Parents also started using the online platform by helping their children use it. With formal education and forced use of digital media, a large population has already mastered the use of digital media. Parallelly, we saw the "work from home" concept emerge strongly and be adopted by most employers. This shift in approach has forced even the reluctant digital user to adopt digital platforms. However, it is also important to impart awareness about digital threats, as cyber frauds are only increasing.
How can the youth be digitally empowered? What kind of exposure and engagement opportunities in the educational curriculum can educational institutes implement to raise the interest of youths in upgrading their digital skills?
Primarily, youth need to be empowered in more than one way. 1) Skilling them with basic coding tools 2) Educating them on the use of productivity tools 3) Raising awareness about cyber fraud. Educational institutions may tie up with institutions, NGOs, and volunteers to provide the above-mentioned training as well as to arrange for equipment for the needy. Methods shall be devised to tackle the digital divide so that the target audience across the spectrum is covered. Internal evaluations in schools and colleges may include digital skills marks in order to encourage youth to learn and use digital skills. Corporates shall be encouraged to adopt schools and colleges, and their staff shall take up mentoring activities.
Should it become a must for schools, colleges, and other educational institutes to conduct workshops or crash-course programmes to drive home the importance of technology for businesses?
Educational institutions have a lot more to offer in terms of digital empowerment and upskilling. Short-term courses for basic business applications like call centre technologies, retail digital systems, content creation and distribution, supply chain systems, accounting tools, health care information systems, etc. will help expose students to various business verticals. Business and technology leaders shall be invited to schools and colleges on a regular basis to conduct workshops. Exposing students to various business models and governance mechanisms will help them better understand the industry and equip them to make the right career choices. Digitally empowered youth will automatically accelerate digital adoption.
As an IT leader, what advice would you give to the youth considering a career in the technology industry? What should they know about the industry before starting their career? What challenges they could face in and how do they overcome the challenges?
Anyone planning for a career in the "technology industry" shall understand the various options in this vertical first. While coding is one part of this area, there are equally important paths like networking, hardware, systems administration, database management, cloud computing, analytics, IT security, etc. It is good to know that it is not about being "jack of all trades," but clearly about mastery in one or two areas in the technology field. At the same time, technology obsolescence is a major setback, as one needs to keep upgrading skills every two or three years to keep pace with new developments.
Any other points you would like to highlight?
One can find many short- and long-term courses offered by various institutions. However, it is very important to sign up for the right course at the right institution. Check with experts in the field and get their opinion about the validity of the course and institution.
Also read: Trends of Cloud Computing and Cyber Security in 2023
Do Follow: CIO News LinkedIn Account | CIO News Facebook | CIO News Youtube | CIO News Twitter
About us:
CIO News, a proprietary of Mercadeo, produces award-winning content and resources for IT leaders across any industry through print articles and recorded video interviews on topics in the technology sector such as Digital Transformation, Artificial Intelligence (AI), Machine Learning (ML), Cloud, Robotics, Cyber-security, Data, Analytics, SOC, SASE, among other technology topics