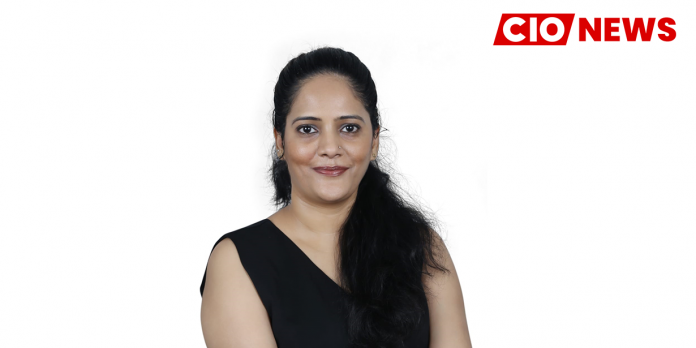 Without technology today we can't imagine our life. So I feel it's a boon, and being a part of this boon, will make you grow and be successful
This is an exclusive interview conducted by Santosh Vaswani, Content Writer & Editor at CIO News with Jyoti Jaiswal, Vertical head IT at BayLeaf HR Solutions Pvt Ltd on her journey as a woman in the technology industry
When asked her to share a little bit about what she does and what a typical day for her is like, Jyoti Jaiswal, Vertical head IT at BayLeaf HR Solutions Pvt Ltd, in an exclusive interview with CIO News said, on my average day of work, I start the day off by checking my emails. This way, I can reply to clients and get everything organized at the start of the day. I then look over my to-do list and get started. I keep my work as organized as possible. Secondly, it moves to follow up for the interview candidates to make sure all the interviews are as per the schedule and the same is informed to the client, as it becomes easier for both of us to plan to things, in case of any unexpected no shows. Interacting with respective spocs, for updates and future focus, last but not the least: team interaction is the most important thing.
When asked if she always knew that working in technology was what she wanted to do, she said, "NO. Being a, Graduated in Economics, I never thought I would be in technology". Destiny always has some plans for you. It all started in 2007, I used to work in the marketing field, traveling in the train I had a group of friends, who were from a recruitment background. I was always motivated; they used to discuss recruitment and the technology they are hiring. I got fascinated but got rejected at many recruiting firms. Finally, in March 2007, I got my break. It was like a dream come true. I took all my strength to learn about technology, and to date, it continues.
When asked if she has been in a situation where her gender has affected the way she was perceived or treated, and how she handled the situation, she said, touch wood, to date I haven't faced such a situation. I am a strong believer that "you in yourself are your biggest supporter and your greatest strength too". Don't expect people to be omniscient. Be vocal for yourself. Unless and until you don't take the stand for yourself, you don't raise the voice for the things which are not in your favour and no one is going to help you out. For your achievement, you have a lot of creditors, but for your failure, you are the only one responsible.
When asked about the best part of being a woman in the tech industry, she said, "My favourite part of being a woman in technology is empowering other women professionally". I love chatting with my female co-workers and encouraging them to take new opportunities, apply for their promotions, and ask for a raise. For all employees, it is exciting to see that your efforts are moving the needle for your organization. I love seeing the quantifiable results of my work. I work on and know that my work is invaluable for the company. It helps me grow my professional confidence.
When asked if she has noticed a lack of women in technology and if so, why does she think that's the case, she said, Sheryl Sandberg, COO of Facebook says 'No industry or country can reach its full potential until women reach their full potential. This is especially true of science and technology, where women with a surplus of talent still face a deficit of opportunity'. It is not completely agreed or disagreed. In a recent study, most corporates have welcomed women, who took sabbatical leave; most of them are provided with permanent work-from-home. The outcome matters a lot in any field. And, yes women are providing the best, in their work, taking care of their families too.
When asked about her advice to women considering a career in the technology industry and what she wishes she had known, she said, I don't want to limit to the technology industry, as every woman has her own passion. Only want to say, never leave your passion, irrespective of anything. Always make time for your own. Let's not lose ourselves, in this flow of life, and it can be only achieved when you live for yourself.
First of all, "All the best, to the women who wanted to pursue their dream". Today's era is a tech era, with everything at our fingertips. The Tech industry has many different domains and various verticals. Without technology today we can't imagine our life. So I feel it's a boon, and being a part of this boon, will make you grow and be successful.
Also read: CIO News interviews Shri Wangki Lowang, Minister (IT) of Arunachal Pradesh
Do Follow: CIO News LinkedIn Account | CIO News Facebook | CIO News Youtube | CIO News Twitter
About us:
CIO News, a proprietary of Mercadeo, produces award-winning content and resources for IT leaders across any industry through print articles and recorded video interviews on topics in the technology sector such as Digital Transformation, Artificial Intelligence (AI), Machine Learning (ML), Cloud, Robotics, Cyber-security, Data, Analytics, SOC, SASE, among other technology topics