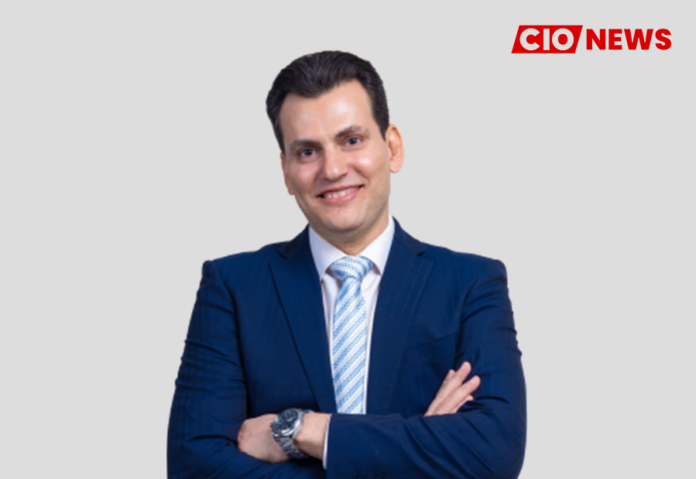 Technology is like horse racing: keep continuously updated with technology and participate in webinars and newsletters
This is an exclusive interview conducted by the Editor Team of CIO News with Eslam Taha, Solutions Development Expert | Chief Technology Officer (CTO) from the Aviation Industry.
Eslam Taha is a technology decision-maker and result-driven executive leader with over 20 years of proven success track record driving technology, IT Strategy, digital transformation, IT service management, enterprise architecture, software development, big data, data management, cybersecurity, and cloud computing in start-up to enterprise environments for competitive, fast-changing banking and aviation sectors.
Eslam is also a technologically advanced professional who advises C-level and executive management to support decision-making and create a unified vision aligning IT with business strategy for short- and long-term goals.
He is a certified practitioner Enterprise and Solutions Architect skilled in enterprise architecture domains, IT policies, ITSM, IT strategy, change management, business process automation, best practices, and integration.
During his roles, he manages IT strategy, a technology roadmap, emerging technologies, digital transformation, enterprise architecture, enterprise data management, cloud computing, software development, eCommerce, cybersecurity, GDSs, flight booking systems, business solutions, IT policies, and IT operations.
How did you plan your career path to be a successful technology leader?
I'm passionate about technology. I started my journey by studying computer science in college. After graduation, I joined a prestigious information technology programme provided by ITI, Egypt. I continued studying for two post-graduate higher diplomas in computer science at Cairo University, Egypt. During the diploma, I studied computer science at a very advanced level, from programming languages to operating systems, compilers, mathematics, networking, databases, the CPU (computer processing unit), etc.
After that, I joined an executive education programme at the UC Berkeley Haas School of Business, USA. I studied the data strategy program, including data management, data governance, data security, data quality, and data technology.
After that, I had the chance to study for the Master of Business Administration (MBA) at the University of Bradford, UK, to strengthen and sharpen my business and management skills.
During my education journey, I have gotten dozens of certificates from leading IT companies worldwide, like Airport Council International (ACI), Sun Microsystems, Oracle, IBM, The Open Group, Project Management Institute, Software AG, British Computer Society (BCS) UK, and AXELOS. The certificates are for project management, digital transformation, Java, solutions architecture, enterprise architecture, project management, IT service management, integration, and web services.
I started my practical career by joining the Future Group company as a software developer. I developed many web applications using PHP to automate the organization's business processes. Working for the company provided me with momentum and power in my software development skills.
After that, I joined the Open Craft company as a Java developer. I developed web applications, mobile applications, and services, which gave me a good knowledge of mobile application development using Java.
After that, I joined Intercom Enterprises, which was an IBM partner. Work in the company opened another door in developing enterprise applications for the public and private sectors using IBM products, particularly the WebSphere product family.
After that, I travelled to Riyadh, Saudi Arabia, and I started a new journey by joining EJADA Co. as a senior technical consultant, leading enterprise projects, leveraging technical expertise to develop and implement enterprise architectures, software development, payment solutions, internet banking platforms, mobile apps, and middleware systems for the banks, including Riyad Bank, Al-Rajhi Bank, SABB, Al-Inma Bank, Al-Bilad Bank, SAIB, and the Arab National Bank.
After that, I moved to the aviation industry and joined flynas Company (an airline) in Riyadh, Saudi Arabia. During my journey in flynas, I managed IT strategy, a technology roadmap, emerging technology, digital transformation, enterprise architecture, software development, eCommerce, cybersecurity, GDSs, flight booking systems, business solutions, IT policies, and IT operations. I was also controlling the financial performance and the IT budget.
Currently, I am employed as a Solutions Development Expert in one of Saudi Arabia's major airports.
What challenges you faced in your career path, and how did you overcome them?
After graduation from college, I was fortunate enough to pass the prerequisite exam for the ITI and become a Java Certified Developer. After that, I passed the prerequisite exams for a higher diploma in computer science. I have been studying and working hard simultaneously to strengthen my skills at the firm. I used to work in the morning and then go to college after working hours. Then study at night to catch up on the materials in the higher studies. I have been spending many years in the same way, and now I'm still a student at one of the top executive education universities.
In my first job, proving myself during probation was a big challenge. I worked very hard to achieve my goals. At the end of the probation period, I had completed more than the goals, and I got an appreciation letter from the head of IT.
The letter gave me solid confidence and an indication that I was on the right track. The letter was instrumental in helping me overcome my fears and develop the necessary skills for my career path.
Overcoming the fear of change was another challenge I faced when I decided to travel and live in Saudi Arabia, which was a complete change in my environment and culture. It was a big challenge to work with global cultures and colleagues, understand the business requirements, and achieve the goals.
The uncertainty of the future due to COVID-19 was another big challenge that affected the whole world, especially the aviation industry. In 2020, all aircrafts were grounded with no income, which had put pressure on the company and the staff, including me. Despite the fact that staff's financial benefits were affected, I decided to stay and continue working in the aviation because the aviation industry is a real and valuable business that can get sick but not die.
What are the current challenges that technology leaders are facing when implementing digital technologies, and how can they be overcome?
There are some challenges any technology leader might face while implementing digital technologies and digital transformation. The number of challenges differs from one company to another and from one industry to another; however, there are common challenges usually facing any technology leader.
One of the challenges is data management. We have many siloed applications and scattered databases with different ownership and agreements. This situation leads to siloed data, making it hard to get the most benefits from data, which, in turn, impacts the company's decisions, strategies, operations, and finances. Communicating and negotiating with business owners and third-party vendors regularly take place to get access to the databases and apply the right approach for data extraction and management. The way to become a data-first enterprise is by integrating structured and unstructured data from many scattered sources, and getting a single source of truth is an attainable goal through communication, negotiation, and management skills.
Another challenge is resistance to change during the digital transformation journey. Employees resist any change that could enhance their way of doing things or automate business processes. They think that such automation will make them useless and that they might get fired. Such feelings with unclear vision make them close to any idea and resist change. Good communication and trusting relationships are always our approaches to managing resistance. Engage the employees as part of the program; listening to them and getting their opinions are essential. Explaining and communicating the changes early will allow them to do their job better and more efficiently, which will help relieve the fear of resistance to change.
Any best practices, industry trends, or advice you'd give to fellow technology leaders to help them succeed professionally?
Airports are vital economic generators, providing gateways to their cities and countries. Also, airports are not immune to disruption. Technology changes the way traditional airports operate. It enables us to focus on expanding and enhancing airport operations, increasing the number of passengers, innovating, and improving the passenger experience. Emerging technologies like artificial intelligence (AI), robotics, big data, self-service biometrics, the Internet of Things (IoT), and cloud computing are essential to the airport's digital transformation. In the digital world, there is no escaping the power of data; harnessing its benefits is key to helping understand the airport and passenger behavior and predicting the airport's future.
Investment in touchless self-service and biometric technologies will rise as airports look to increase passenger throughput. According to the International Air Transport Association (IATA), to address this rise in passenger numbers, airport operators will increasingly look to automation to extract more capacity out of existing infrastructure. The vast investment in artificial intelligence (AI) and big data is a promising way of increasing safety, efficiency, and sustainability. Sensor-based IoT technologies will support continuous monitoring of terminals and baggage handling systems (BHS) to create more effective, predictive, and preventive maintenance, leading to fewer failures and more reliable and efficient airport operations. Sensor-based technology like RFID has an excellent scope for tracking the inventory and guiding the passengers to shops and other facilities in the terminals. Blockchain, 5G, and edge computing will continue to play an essential role in innovating the aviation business. QR Codes, smart cameras, and machine learning (ML) play a good role in monitoring aerodromes, detecting strange behaviors, monitoring the activity of each airplane, and showing insights about the time each aircraft takes to get ready and highlighting the activities that take much time and cause delays.
The aviation industry is critical and constantly changing. It is essential to keep up with the latest technological trends on a regular basis. I feel that subscribing to email newsletters and mailing lists from the most reputable sources like IATA, ICAO, and ACI World is essential. Magazines, podcasts, and webinars are great ways to stay updated. I usually participate as a speaker in webinars, where I can discuss and exchange knowledge. This participation gives me significant power in knowledge sharing and keeping in touch with a network of experts from leading companies such as SITA, Siemens, Amadeus, GE, Navitaire, Arinc, and others. I believe that great podcasts are excellent sources for staying up to date on the aviation industry.
My advice:
Because of my work as a senior technical consultant, director of IT development and applications, solutions development expert, advisor, and public speaker, I have encountered hundreds of entrepreneurs seeking the best technology strategy for implementing emerging technology, modernizing the technology landscape, and digitalizing products and services. However, there is no best strategy at all. Starting with a simple strategy is better than having no strategy. Start and keep fine-tuning the strategy until you improve it.
User experience ranks among the other initiatives in the digital age. Keep your strategy focused on customer-centric technologies.
Technology is like horse racing: keep continuously updated with technology and participate in webinars and newsletters.
Lastly, remember that success is about transforming the business of airports, adapting to customers, staff, communities, cultures, and leveraging existing and emerging technologies to meet the organization's objectives.
Any other points that you would like to highlight?
Historically, great cities were built around ports and railway stations. But in today's globalized world, airports are arguably the most important link to prosperity. Between 2016 and 2040, ACI World predicts average annual growth of 4.5% in passenger traffic, 2.5% in air cargo, and 1.9% in aircraft movements. The UN predicts that by 2050, two-thirds of the world's population will live in cities. Aviation and air travel underpin social connections and facilitate worldwide access to products and services.
Airports are not immune to disruption. Technology changes the way traditional airports operate. In the digital world, there is no escaping the power of data; harnessing its benefits is key to helping understand airport and passenger behavior and predicting the airport's future.
In addition, innovation in technology is essential to redefining air travel. Cutting-edge technology, such as autonomous devices, artificial intelligence, biometrics, robotics, big data, the Internet of Things, and blockchain, creates opportunities to transform airports by enabling new business models and digital services.
Also read: Trends of Automation for organisations in 2023
Do Follow: CIO News LinkedIn Account | CIO News Facebook | CIO News Youtube | CIO News Twitter
About us:
CIO News, a proprietary of Mercadeo, produces award-winning content and resources for IT leaders across any industry through print articles and recorded video interviews on topics in the technology sector such as Digital Transformation, Artificial Intelligence (AI), Machine Learning (ML), Cloud, Robotics, Cyber-security, Data, Analytics, SOC, SASE, among other technology topics