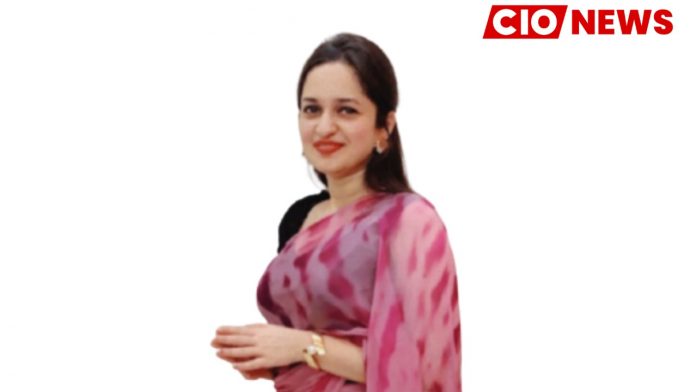 We always try to make our marketing campaigns buzzworthy by providing a technological edge to them
When asked her to share a little bit about what it is that she does and what a typical day for her is like, Prachi Sharma, Co-Founder at VizInfy 3D Solutions, in an exclusive interview with CIO News, said, "We are into augmented reality, virtual reality, artificial intelligence, app and game development as well." We take care of 360° experiential marketing for brands. We have started with NFT & Blockchain projects too this year (proudly stating that we are amongst the very few companies working on blockchain & NFT projects in India, yet alone led by women entrepreneurs). We always try to make our marketing campaigns buzzworthy by providing a technological edge to them.
Being an entrepreneur is incredibly liberating, exhilarating, and exciting. It is also exhausting, stressful, and extremely difficult. Most of the time, it's all of these things (and so many more) at the same time and often all on the same day.
In regards to my day, it starts with existing client discussions and meetings and finding the best possible solutions that we can provide to create a meaningful impact.
Then we have team meetings, where we make sure everyone is learning, expanding their domains, and absorbing the latest innovations around the globe, whether it is tech, finance, marketing, etc. That is something I prioritize. We call it "Sharpening your Axe Sessions."
In the evening, I have weekly activities to keep myself physically and spiritually healthy.
I wrap up my day with a few international client calls, plan my next day ahead, and lastly, before going to bed, I give myself a good read.
When asked if she always knew that working in technology was what she wanted to do, she said, "I always wanted to create an impact on society." It's more about finding a solution or bringing some fruitful meaning to people's lives, and technology, in a nutshell, is a logical and powerful solution/way to achieve that. Moreover, I have done software engineering, so I understand and comprehend it well. So yes, I knew what I wanted and I'm on a journey to explore and find accessible solutions.
When asked if she had ever been in a situation where gender had affected the way she was perceived or treated in the technology industry and how she handled the situation, she said, "oh!" numerous times The problem is real. I had a lot of people try to tear me down. I was advised many a time to go for a good job rather than have a company, because, as per them, it is difficult for women to manage finances and people in the long run. I have been told by one of the clients that they are not comfortable discussing projects with a woman. People often ask me to add male directors to the company. They assume that once a woman is married or has children, she will no longer want or be able to work.
But I know how hard I work and I didn't let any of them get to me.
So, I always say to myself and to others: "Never let the tamed minds tell your wild dreams what is possible and what is not."
When asked about the best part of being a woman in the tech industry, she said, the best part is that you get to meet a lot of like-minded souls and explore the innovations happening around the world. You get to be a part of the solution rather than the problem. You are independent, fearless, and logical at the same time, which is a rare trait. You have the opportunity to analyse and study future technology before it becomes common in the world. Also, you get the opportunity to inspire and encourage others to get into the industry. Above all, the best part is that I get to live my passion each day.
When asked if she notices a lack of women in technology and if so, why does she think that's the case, she said, "Yes, its roots lie in the beginning. Society expects men to have an aggressive approach towards life and, on the contrary, women are taught to be defensive." We expect men to learn technology, finance, and hard-core sports involving strength, whereas women are expected to excel in art and creative work. I believe it is because we, as a society, want women to be dependent when it comes to exploring the world outside and, at the same time, we want them to be independent when it comes to managing household chores. They are considered to add glamour to the work rather than brains.
Humans are the only species that considers their female partners weak. Have you even heard anyone saying that it is safe to swim in the ocean with only female sharks? It is high time we change that mindset from the very beginning.
When asked for advice she would give to a woman considering a career in the tech industry and what she wishes she had known before starting her career in the technology industry, she said, "Being an entrepreneur is all about experiencing ups and downs, both daily and over time, but it also involves learning how to navigate them so you still attain success in the end."
I believe everyone has their own timeline for learning and exploring. However, it would be more helpful if you knew the complete ins and outs of your industry. It's important to get a good sense of all the possibilities that could unfold in your career and create factual frames of reference that replace all the myths around the industry.
Also, you need to have a long-term vision and plan ahead, keeping in mind the changing technological trends.
Also read: CIO News interviews Shri Wangki Lowang, Minister (IT) of Arunachal Pradesh
Do Follow: CIO News LinkedIn Account | CIO News Facebook | CIO News Youtube | CIO News Twitter
About us:
CIO News, a proprietary of Mercadeo, produces award-winning content and resources for IT leaders across any industry through print articles and recorded video interviews on topics in the technology sector such as Digital Transformation, Artificial Intelligence (AI), Machine Learning (ML), Cloud, Robotics, Cyber-security, Data, Analytics, SOC, SASE, among other technology topics