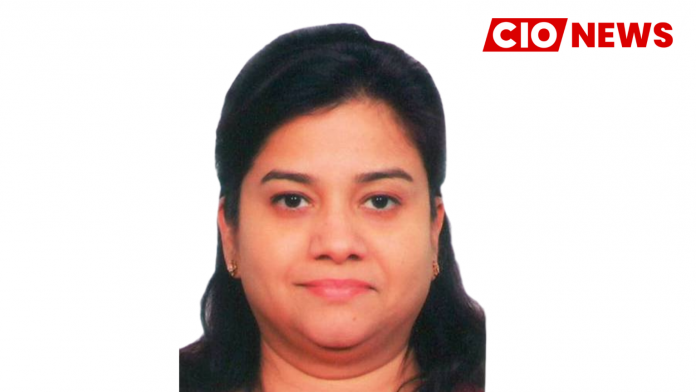 "No, now-a-days there is a good presence of women in technology". Gone are those days when women use to put their family first
This is an exclusive interview conducted by Santosh Vaswani, Content Writer & Editor at CIO News with Manisha Hombalkar, CIO at Jaysynth Dyestuff India Ltd. on her journey as a woman in the technology industry
When asked her to share a little bit about what she does and what a typical day for her is like, Manisha Hombalkar, Chief Information Officer (CIO) at Jaysynth Dyestuff India Ltd., in an exclusive interview with CIO News, said, normal, my day starts by doing follow-ups with my team members regarding the pending projects. My team is divided into two parts: Infra Team & Business Application team. All the team members are given a daily task to check things like surveillance systems, health check of all connectivity, backups, etc. Since we have a PAN India presence, the responsibility is given to the local information technology (IT) person. Ultimately users are my internal customers and it is a must to keep them well informed and happy.
My team is always engaged in some projects. It is very rare that they would sit ideal. There is a saying, 'No news is good news' for IT, but when it comes to the Business Application part, it may prove to be wrong sometimes, as users do not use the application, so there is no requirement & there is no news. Also, this situation is alarming. In this case, normally I talk to the concerned application owner regarding the application usage and concerns if any.
"I always believed in minimum investment in manpower and the right investment in technology". My focus is always to avoid duplication of entries, get better rates for future purchases, and bring in new technology which will save cost and resources. One should be strong in communication as it is always better to keep your users informed well in advance if there are plans to do some migrations, upgrades, and shutdown. Giving them information about the reasons for the action gives them a sense of involvement.
I have a well-defined helpdesk system with SLA, so at any point in time, we as a team are aware of the situation, accountable, and under control of the situation.
After the implementation of SAP, SalesForce, and HRMS systems, much daily routine work is standardised. Information technology needs to involve only when there is an exception. We have designed various applications which work as an extension to the above systems to save the efforts of the users. I avoid creating too many islands to have effective control.
When asked if she always knew that working in technology was what she wanted to do, she said, "Yes, I always wanted to be connected to technology". There is always something new to learn about. "Now-a-days, no one can say I know everything". When you discuss technology with your friends or colleague you learn something new or you have something new to share. So it gives you the feeling that you are in the stream. There is a lot of content available with just a single click.
Speaking about situations where her gender has affected the way she was perceived or treated, and how she handled the situation, she said, yes, I was in this situation long back when I was handling my dream project and at the last minute, the project moved to a different state. The new male project manager was hired without my knowledge assuming that being married and a mother of a child I cannot travel. But I did not give up and got involved myself remotely in implementation and information gathering through emails, phone calls, and constant follow-ups with stakeholders. I took the lead to meet the deadlines of the project milestones. I remember the week when the project went live, I was there at the project site seating next to the project manager.
Those were the times when the presence of women was very less in the technology industry. At times, there used to be very few women participants attending the seminars. It was a male-dominated industry.
I use to give presentations and a few examples of success stories for the IT road map to convince my senior management. I do not blame them too as they must be thinking, "what if this woman just leaves the job because of some family obligations after we have invested so much". Within a few years, my management experienced the advantages of the newly implemented technology & they trusted in me, after that there was no looking back. Now I just need to get the budget approved and give ROI.
Expressing her views on the best part of being a woman in the technology industry, she said, "Frankly, I feel women are most organised and systematic in whatever they do". There are so many soft skills they develop in due course of time, which help them multi-task very efficiently and effectively. Many of them are raised in this manner since their childhood. They do everything wholeheartedly and sincerely and are very good at binding the team together emotionally and mentally. Also, they are strong managing men.
When asked if she has noticed a lack of women in technology and if so, why does she think that's the case, she said, "No, now-a-days there is a good presence of women in technology". Gone are those days when women use to put their family first. Now, I see many career-oriented women in this industry. They are very clear about their career goals.  Even they get good family support. With so much development in this field place, time is not a constraint anymore. I appreciate this welcoming change.
When asked about her advice to women considering a career in the technology industry and what she wishes she had known, she said, "Now-a-days, women in technology is not a big thing". Ultimately your talent and dedication take you to your goal. I would like to tell all my women counterparts that never give hope and always work out of the comfort zone. Never let your gender come between your career paths. Have faith in you and whatever you do and the world will listen to you. Let your work speak for you.
Also read: CIO News interviews Shri Wangki Lowang, Minister (IT) of Arunachal Pradesh
Do Follow: CIO News LinkedIn Account | CIO News Facebook | CIO News Youtube | CIO News Twitter
About us:
CIO News, a proprietary of Mercadeo, produces award-winning content and resources for IT leaders across any industry through print articles and recorded video interviews on topics in the technology sector such as Digital Transformation, Artificial Intelligence (AI), Machine Learning (ML), Cloud, Robotics, Cyber-security, Data, Analytics, SOC, SASE, among other technology topics