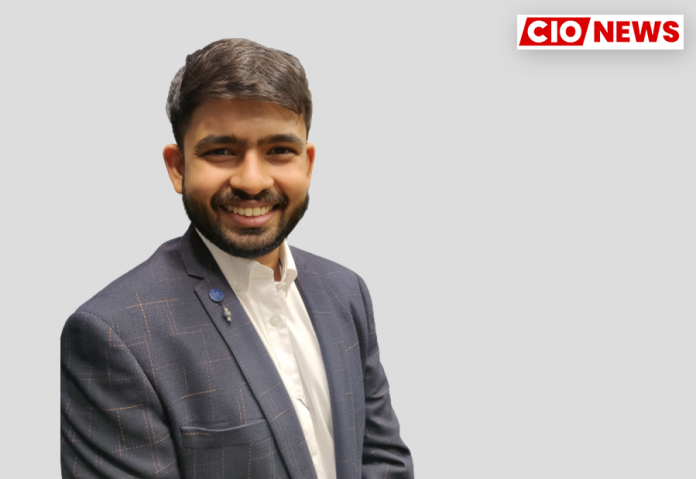 The set of tech frameworks, architectures, tools, and languages is expanding at a very fast rate. Learning and staying on top of everything is hard and requires a lot of effort on the part of technology leaders
When asked how he planned his career path to be a successful technology leader, Ayush Varshney, Chief Technology Officer (CTO) at Testbook.com, in an exclusive interview with CIO News, said, "I started really early." I was in my second year when I co-founded a start-up from IIT Kanpur. I was the CTO at the time, in charge of all technology and product development. We didn't have much of a team back then, so I did everything from frontend to backend to DevOps. Then, we started building a tech team. In a very short time, we had an Android and an iOS app and a tech team of 20. This is all when I was still in college and used to work after lectures and travel to Delhi from Kanpur on weekends. This journey helped build a very strong base on a large variety of tech and the scale I handled there brought a lot of confidence. Also, the large number of tech and business problems that we had to solve in almost real time on this journey helped build my problem-solving skills, which are one of the most critical qualities of a technology leader.
I remember a time when I was interviewing a candidate for a VP Engineering role. I was 20 and he was around 40 and earning around 50 LPA at that point of time (2012). The interview lasted about an hour, and the candidate worked with us for about two years. At the end of the journey, he mentioned that, looking at my age, he wanted to skip the interview itself, but that the last two years had been the most enriching ones of his entire career.
To summarize, I don't think I made any specific plans to be a technology leader, but I never backed out of tough situations and grabbed all learning and problem-solving opportunities.
When asked about challenges he faced in his career path and how he overcame them, he said, "I faced a lot of challenges." I had to learn new technologies and frameworks in days that took months because we didn't have an option. I had to learn to hire and fire people before I turned 20 and had never done a job/internship before.
Being a co-founder, I got to face and solve lots of business problems that helped build the business understanding required to lead technology for a large company.
I think we've always had funding challenges in all the start-ups, even though there is good scale in terms of users and traffic. We have built a lot of hacks around making our tech architecture super robust and scalable without spending too much money and doing things ourselves instead of taking pre-built/SaaS/PaaS solutions to save costs.
To cite an example, at Testbook, we've built a backend framework that keeps our server costs around 20–30% of what they should have been given our scale (we have 2.5 Crore users).
When asked about challenges faced by IT leaders today while implementing digital technologies, he said, "I think a large challenge today is hiring." Another major challenge is keeping up with the evolving technology. The pandemic fast tracked a lot of digitization, which required a lot of developers, and a sudden demand was created in the technology sector. The supply of capable developers did not scale at the same rate. This has made technology hiring very difficult. To tackle this, at Testbook, we started hiring a lot of freshers and groomed them to become very good at their respective technologies very fast by giving them ample exposure, mentorship, and guidance.
The second one is harder. The set of tech frameworks, architectures, tools, and languages is expanding at a very fast rate. Learning and staying on top of everything is hard and requires a lot of effort on the part of technology leaders. The current generation of developers will have respect for their leaders not because of their position but because of their understanding and capability of technology. At Testbook itself, we have grown a lot in the past four years. We are handling a very large scale of around 30 million students, and we are working on some really cutting edge technology in live streaming, personalization, and data science in education.
When asked how IT leaders can overcome the challenges they face, he said, "One of the best ways to build a great team is to retain the best people." The best people will not stay or move for maximum money but for the right growth path, freedom, and guidance. Hiring becomes easier if you have such a team culture where people want to come to the office to have a good day and want to build more features because of the impact that will bring. This is another thing that I have followed throughout my career. I have tried to get all my team members to understand and appreciate the impact of the code they have to write, so that it's not just a task for them. At Testbook, we are proud to have an amazing culture in the technology team. Most of our tech leads today started their professional journey with Testbook and have been with us for more than four years. Our attrition rates are way lower than most start-ups, even though our funding growth hasn't been on par with many of them.
I have personally found that the best way to keep up with the fast moving tech ecosystem is to stay hands-on. We have around 50 people in the technology team at Testbook, and I would still get into coding and write code myself. This helps with staying in touch way more than reading up on them. The principle of "The best way to learn things is by doing them" stays true no matter where you go.
When asked about best practices, industry trends, or advice he would like to suggest to fellow IT leaders for their successful professional journeys, he said:
Build a great team culture. A good culture is not about having a foosball table in the office, but having the comfort where a new hire can come and challenge you to a game on it. Make sure all your tech leads buy this and follow this too.
Stay hands-on as much as possible. Pick up the odd feature, try debugging a few issues. It keeps you updated with the latest tech and your team respects you for the type of problem solving you can do.
Understand business like you are running it. The best CTOs can run the entire business like their CEOs. This helps you create better long-term roadmaps and onboard your team to the overall company vision.
Build a reading habit and get your team to build one too.
Also read: Digital literacy helps us stay informed, connected, and safe
Do Follow: CIO News LinkedIn Account | CIO News Facebook | CIO News Youtube | CIO News Twitter
About us:
CIO News, a proprietary of Mercadeo, produces award-winning content and resources for IT leaders across any industry through print articles and recorded video interviews on topics in the technology sector such as Digital Transformation, Artificial Intelligence (AI), Machine Learning (ML), Cloud, Robotics, Cyber-security, Data, Analytics, SOC, SASE, among other technology topics