I continuously updated myself with present and future technologies such as upskilling in most happening trending technologies like AI/ML, IIoT, Cloud, Cyber-Physical Systems, Additive Manufacturing, AR/VR/MR, Blockchain, Bigdata Analytics, Digital Thread/Twin, Haptics, Metaverse, etc.
This is an exclusive interview conducted by the Editor Team of CIO News with Virupakshappa Angadi, Chief Information Officer (CIO) & Chief General Manager (CGM) – Digital Transformation (DT) at BEML LTD
How did you plan your career path to be a successful technology leader?
As a CIO, I chose to be part of various manufacturing companies, heading their digital transformation divisions for the past 30 years. 15 years of which were spent in leadership positions for multinational corporations (MNCs) abroad. I worked for 3 PSUs (Govt. of India), 3 MNCs, and 3 private sectors. My aim was to cover digital transformation leadership for any kind of manufacturing company. Strive to enhance the digital experience for internal users, external customers, suppliers, and promoters. My goal set is to always help various manufacturing companies achieve their business targets with a strong strategy in place.
I have always looked for ways to deploy technologies required for business improvements, adopt a strong strategy following business strategies, and derive value for promoters.
I successfully achieved business advantage by selecting the most appropriate solutions to prevailing business issues and problems by debottlenecking either in the process or people.
I went on to work for eight manufacturing companies in the past, where I was exposed to large-medium sizes while transforming each company, putting them on a growth path with leveraging technologies.
I continuously updated myself with present and future technologies such as upskilling in most happening trending technologies like AI/ML, IIoT, Cloud, Cyber-Physical Systems, Additive Manufacturing, AR/VR/MR, Blockchain, Bigdata Analytics, Digital Thread/Twin, Haptics, Metaverse, etc.
What challenges did you face in your career path and how did you overcome them?
I am basically the farmer's son. I hail from north Karnataka and have reached the CGM position, an apex level position in a defence PSU, by continually implementing transformation services to organisations where business growth (organic, inorganic, m&a) is the only mantra adopted. In all my previous companies, I faced various challenges while setting up IT systems for ever-growing businesses. Starting with the revamping of the complete IT infrastructure, till the re-implementation of mega projects like SAP ERPs, CRMs, PLMs, Business Intelligence & HR transformation, wherever I go, I usually setup IT infrastructure along with business applications for business growth and stabilisation operations, and then take a career journey to a new company.
Most of the challenges were overcome by taking careful steps in change management, people alignment with business philosophy, team building, re-skilling and up-skilling everyone involved in the transformation projects. I continued to hold workshops for internal stakeholders on various topics under discussion; continued to collaborate with management on appropriate budget requirements; and provide an updated 360-degree overview of IT activity progress. With continuous hard work and effort, it is possible to complete every project on time to achieve business targets. The success mantra is hard work and continuity.
Could you please tell us about any cyber-attack or any security incident faced by your current organisation and how you tackled it?
The number of cyber-attacks is increasing nowadays, especially on all government sectors. Hence, it is vital for us to keep highly sensitive people, networks, and devices. To be much safer, the internet and intranet are separate networks. Needless to say, to have installed next generation perimeter firewalls, highly protected end devices, ever updating antivirus agents, encrypted hard disks, etc. measures are in place. Keep training every employee on cyber security awareness topics frequently.
To stay on top of external and internal threats, DPSUs have established an AI/ML-enabled Cyber Security Operation Center (CSOC) where they analyse and report on all types of vulnerabilities. This monitoring will lead us to immediately take remedial action against any threats.
How did your organisation gear up in-terms of technology during the COVID times?
Because BEML comes under essential services to the government of India, we operated with the minimum allowed staffing in manufacturing facilities during COVID times.
We enabled users with secured video conferencing facilities for collaboration amongst employees and with suppliers and customers. The IT department worked 24×7 to facilitate services to manufacturing complexes. Use of remote troubleshooting tools helped in fixing user issues quickly.
What technology solutions and innovations do you plan to implement in the post-COVID era?
In the post-COVID situation, there are a number of precautionary measures planned to be implemented, and many are already in use. Inside complexes, they implemented touchless lift usage, sensor-based doors opening and closing, most usage of VC's for meetings with vendors and inside employees, a QR code-based visitor management system, etc. I am planning to implement COVID-appropriate behaviour (CAB) with the help of camera analytics in the campus and offices. We are planning to enable our products with AI/ML technology built-in.
What are the challenges faced by technology leaders today in a similar industry while implementing digital technologies?
Challenges in the PSU organisation for digital transformation initiatives are multi-fold — Stakeholders' pushback or resistance to change, IT Technology Upgrade Issues, Skill Sets Data security, compliance, technology adoption, people readiness, process change management, smoother migration from manual to digital practices, Readiness of integrating applications or hardware Skill upgradation, Redefining roles and responsibilities across the company, Lack of technological know-how as a result of fast technological changes, product and spares indigenization drive from the government where the GeM portal is yet to stabilize, etc.
How can technology leaders overcome the challenges they face?
These challenges could be overcome with granular achievements across the processes and areas of digitalization. Hold training sessions to improve required skills and re-define roles and responsibilities. Always run pilot projects whereby proofing the concepts involving required stake holders, the to-be digital process must be familiar with all the involved stakeholders across the company. Testing the software with integrating applications or platforms before go-live, It means that digital processes are made much simpler for end users to operate. Create dashboards or key performance indicators for the new processes. Project managers should see that total transparency is being maintained throughout the project life cycle. Derive quick and long-term benefits (quickness, efficiency, accuracy, cost reduction) derived as a result of digital implementation over a quarter year, etc. These are some important things to be observed by each CIO in their roles, adding value to the business.
Are there any best practices, industry trends, or advice you would like to suggest to fellow technology leaders for their successful professional journeys?
Some of the best practises for manufacturing IT domain leaders could be outlined as follows: Always be a business partner; buy-in management support for every project you undertake; for end-user satisfaction, treat every employee as your internal customer. Architect/Build your solutions to address business issues in a cost-efficient way; maintain a timeline for every project/activity. Engage professionals for IT projects. Before implementing ERP, CRM, HR, and other large-scale projects, conduct BPR (business process re-engineering). Have an IT team in place and keep a backup plan in place. Maintain cordial relationships with vendors who will help you when you are in trouble. Always think of embedding cyber security in the solution.
Embrace next-generation Industry 4.0 initiatives for your manufacturing complexes and Introduce digital workers called RPA (Robotic Process Automation) robots for your intense data entry jobs in ERP.
Any other points which you would like to highlight?
As a CIO leader in the digital era, be passionate; be fast and quick; need to understand work-life balancing, which is most vital for keeping various parameters under control. Parameters include stress, work pressure, health, healthy relationships, keep walking in the office frequently in between busy work, focus on results, and enjoy doing your work, technology know-how, and select/implement the most appropriate solution to the business pain points.
Believe in your orchestrated digital transformation project's success.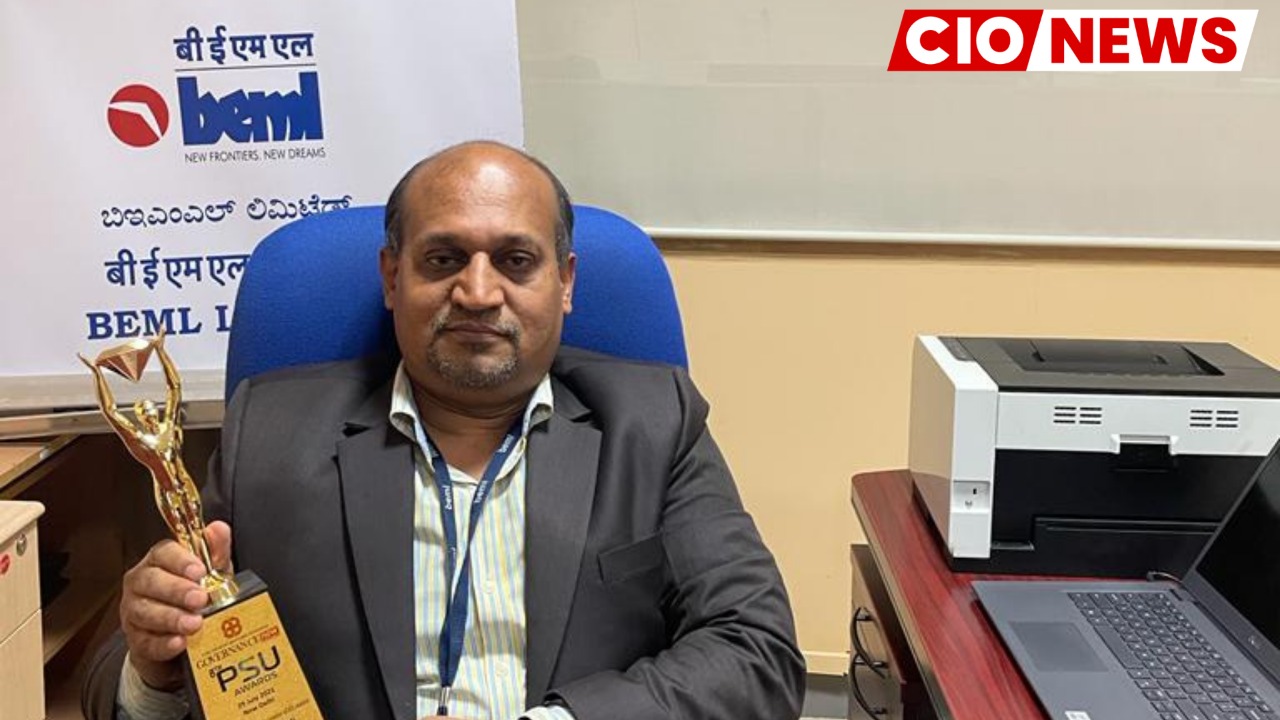 Awards / Honours:
GovernanceNow 8th PSU Digital Transformation Leadership Award 2021
GovernanceNow 2nd India CISO Meet 2021 – Key Speaker
PSU Digital Summit 2021 – Key Speaker
Data Security Council of India – Award 2021
Also read: CIO News interviews Shri Wangki Lowang, Minister (IT) of Arunachal Pradesh
Do Follow: CIO News LinkedIn Account | CIO News Facebook | CIO News Youtube | CIO News Twitter
About us:
CIO News, a proprietary of Mercadeo, produces award-winning content and resources for IT leaders across any industry through print articles and recorded video interviews on topics in the technology sector such as Digital Transformation, Artificial Intelligence (AI), Machine Learning (ML), Cloud, Robotics, Cyber-security, Data, Analytics, SOC, SASE, among other technology topics