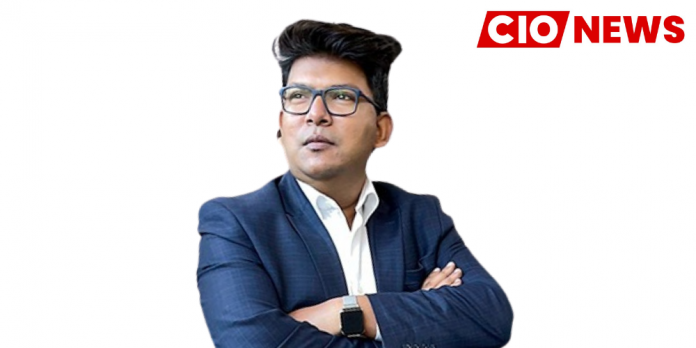 I had no technology background, so it was a lot of hard work for two years to build my technology acumen. I had to work hard and become a technology expert
When asked how he planned his career path to be a successful CDO, Sanjib Sahoo, Executive Vice President and Chief Digital Officer (CDO) at Ingram Micro, in an exclusive interview with CIO News, said, I did not plan to be a Chief Digital Officer one day. What I planned was to become a leader of substance and deliver impact in every single job I do. My journey is highlighted by many ups and downs, but what got me where I am today is my persistence, determination, hard work, and preparation.
I had very humble beginnings and throughout my education, I was more curious about the "why" and not just go with the flow. Having a background in finance and economics, and then in computers and business, I was privileged to have a dual perspective of technology and business always.
I was a Chief Technology Officer (CTO) of a financial firm at a very young age, and I never looked back from there. Instead of thinking of planning my career, I kept a growth mind-set and worked with a lot of passion and heart. Of course, there were failures, but that's a part of the process, and serves to make us better. Throughout my career as CIO and CTO, I never overlooked the business perspective and I always tried to be involved with the business leaders and took a deep interest in revenue, margin, etc.
After many years as CIO/CTO, I wanted to be more involved with the business and took a decision to go back to Harvard for an advanced management program which gave me a lot of additional perspective on different business areas. While I have been involved with digital transformation in a couple of industries building world-class platforms with my teams, I wanted to advance to be more of a business leader that has equal depth in technology.
This led to my current role as EVP and Chief Digital Officer of Ingram Micro Inc., a $50+ billion revenue organization and a global leader in technology distribution. I am humbled to spearhead a massive transformation for Ingram Micro—working closely with our leadership team and our CEO Paul Bay to transform the company.
My mantra always has been "Be your own CEO" in everything I do. Take accountability, drive value, and feel proud of every day of your contributions. The rest should follow.
When asked about challenges he faced in his career path and how he overcame them, he said, a career is always filled with challenges, and in my humble opinion; we need to convert every challenge into an opportunity. While growing up, I had lost my father at a very young age and we went through financial limitations.
I took a non-traditional career path to study engineering and then got into higher education and operational leadership skills. I went through the route of economics, influenced by Amartya Sen, to understand macro-economics and models that can improve developing nations. The job market was challenging and limited in that field. I had to work to support my family, so I had to start working very early.
When I went into my master's for computers, I had no technology background, so it was a lot of hard work for two years to build my technology acumen. I had to work hard and become a technology expert.
Early in my career, I was a bit shy and introverted, but I slowly overcame it. I tried to come out of my comfort zone. I came to the USA very early in my career and had to adjust to a new culture, new people. Coming from a small town, I was not used to it. But I tried to observe my leaders and my colleagues and learn daily. I am a big believer in learning from people rather than reading books. It has helped me a long way to build my career and improve.
After a few years in a corporate, I took a huge risk to join a high-profile financial start-up. It was a huge challenge to build something for the first time. We were, solving many technologies and business challenges, and there were more chances of failure than success. That experience taught me to be patient and perseverant. Those were the foundational years for my career which matured me a lot as a professional.
The fact is there will always be challenges. That is why mind-set is so important. Don't settle for mediocrity or simply pursue a title. Find a lane you're passionate about and be purposeful so you can deliver something of impact. I have many imperfections, many things to learn and I am still learning today, but my constant effort has been to improve every single day and stay passionate about what I do.
I also want to thank many people who unselfishly helped me, listened to me during my down days to give me the courage and strength to overcome my challenges and be where I am today.
When asked about challenges faced by CDOs today in a similar industry while implementing digital technologies, he said, CDOs face a unique challenge today. While they are closer to driving business value, they need to grow more as a business leader as well as maintain their technology acumen. Digital is not about technology only. In fact, it is more about driving business value, matching organizational strategy to digital strategy to drive tangible value. Too many CDOs talk just about shiny technology like AI/ML and cloud. We need to talk more about how we are changing the business model, how we are driving revenue, margin, and profitability. We must really measure digital initiatives with tangible operating income that shows in the books.
We talk a lot about digital transformation, but it is a concept that has been there for many years. We were transforming when Data first came in a decade ago. We were transforming when the web came. This transformation will not stop. This is not about technology. We need to think about the spirit of digitization, not just solutions so we can create a digital operating model that will constantly drive value with maturing digital assets (platforms, technologies, systems).
There are a few challenges that CDOs need to solve to make a digital journey successful:
Spirit – They should be the evangelist and rally the entire organization with the spirit of digital operations. This operational spirit is very important. Shiny technology is pointless without business value. This spirit builds focus around the organization, and the CDO should take the time to spearhead this. Design thinking helps, prototyping helps as people learn visually.
Plan – Today calculated risk is innovation. Planning is very important to understand the feasibility of transformation. The concept of "innovation first and adoption second" is dead. We need to have an operating plan and product plan together. As the product plan is developed, it should be built alongside operators to showcase value creation. The technology teams create value, the operations teams capture value.
Architecture – Technology is changing every day, but architecture stays for many years. Taking the time to architect solutions in such a way that the company can pivot, the solutions can scale, and the business can embrace multiple models is the key. CDOs need to be hands-on with architecture to understand this and take ownership of this. This is not just modernization, but an intelligent depiction of architecture that can mitigate risks, de-couple legacy and helps the organization expedite time to market and create and capture value.
Governance – There are always temptations to do many things, but a governance framework is very important. We must measure what is working and which initiatives are not, and then prioritize based on the top value-creating ones. The success will be determined by true value creation vs. cool technology.
When asked how CDOs can overcome the challenges faced, he said, CDOs face a lot of challenges today, but they also have a huge opportunity. There hasn't been a better time to serve as a digitally-minded executive. Every organization is or will be going through a massive digital journey.
In my opinion, the CDOs need to really become "full-stack" leaders. They need to be hands-on in both technology and business. Understand the lingo and articulate the value of the business in the operations and do the same for the technology and technologists. They need to be this match-maker.
CDOs also need to be closer to the employees and the customers. Remember, employee experience directly impacts the customer experience. EX = CX. Understanding customer journeys is very important and being able to translate that to areas of improvement through digital technology is crucial to success.
I recently said in an interview, all executives should see the world through the lens of a CVO – Chief Value Officer. We should always start with value. CDOs should have a strong group that focuses on product (digital asset creation) which is value creation. The second part of the organization should be value capture and that should happen simultaneously. It should not be product first and adoption second. This structure can help in incrementally showing operational value to demonstrate success.
The ability to attract digital talent is extremely important. And this is not just technology talent. This should be the product, data, engineering, operations, marketing, etc. Hence a compelling vision is very important as great talent follows vision.
Lastly, data should be on the top list of CDOs to tackle challenges. A strong focus on data can help prioritize, demonstrate value and also can be a weapon to the organization's digital journey.
CDOs need to constantly talk to CEOs, operating leaders and be viewed as business leaders. This is critical. Start with the business problem and show tangible business value. Fit technology in between.
When asked about best practices/industry trends/advice he would like to suggest to fellow CDOs for their successful professional journeys, he said, I am learning every day and feel humbled to share my experience and advice as I have a lot of learning still. However, a few things that have helped me and may be of interest:
Focusing on business value is extremely critical. We need to come out of the technology silo and understand the business and have a mentality of business first.
Communication is very important. Digital transformation is not easy and not for everyone. Do not try to make everyone happy. But having a communication style of compassion is very important to understand the perspectives of the different parts of the organization. Communicate with compassion, execute with passion. CDO should be a shadow CEO for digital. They should understand how to run P&L and operate as a business leader. This is very important to be successful.
Understand digital journey is mostly about humans. Our customers are humans, partners are humans and employees are humans. We need to really focus on engaging people for digital transformation. Talent is very important. Spending the time to grow and recruit talent is very important. CDOs and their teams need to be talent magnets to attract the best talent for the business.
AI and data are changing the way businesses operate. Understanding AI and data is a key aspect of becoming a CDO.
Employee, customer, and end-user experiences all matter. CDOs need to be closer and take an avid interest in all stakeholders.
Another consideration, getting a business degree or background in business. CDOs need to become blended executives.
Lastly, I strongly recommend that CDOs need "lead from their ears." Listen to the voice of the business, the voice of the customer, the voice of operations, and that will really make them the well-rounded leaders they need to become.
He highlighted, it is very important to learn from life and apply to business. I call it L2B – Life to Business.
Here are ten things I learned that might be useful for any CXOs:
Try to make every challenge an opportunity.
Don't limit your challenges but challenge your limits.
Attitude is way more important than aptitude.
Communicate with compassion. Execute with passion.
Try to be incrementally better every single day.
Be grateful to the people who helped you. We often forget the ones who get us to where we are.
Don't deliver a checklist, deliver a smile. 🙂
BE your OWN CEO in anything you do.
Follow your passion, money follows.
Where attention goes, energy glows, and the result shows.
My journey has been filled with ups and downs, failures, rejections, and successes. I have learned to continue to work hard, try to drive value, and never settle. It is a small way if I can help our world and give back anything.
Also read: CIO News interviews Shri Wangki Lowang, Minister (IT) of Arunachal Pradesh
Do Follow: CIO News LinkedIn Account | CIO News Facebook | CIO News Youtube | CIO News Twitter
About us:
CIO News, a proprietary of Mercadeo, produces award-winning content and resources for IT leaders across any industry through print articles and recorded video interviews on topics in the technology sector such as Digital Transformation, Artificial Intelligence (AI), Machine Learning (ML), Cloud, Robotics, Cyber-security, Data, Analytics, SOC, SASE, among other technology topics