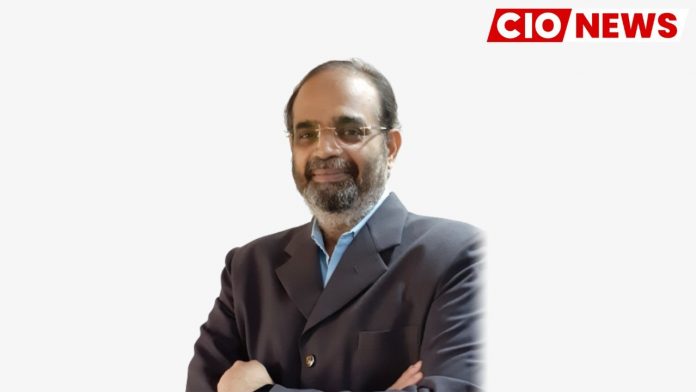 Asking why a specific technology is preferred, or why an architecture or design is better, helped me to make my team more accountable for their decisions and actions
When asked how he planned his career path to be a successful technology leader, Madhusudan Warrier, Head of Information Technology at Mirae Asset Capital Markets (India) Pvt. Ltd., in an exclusive interview with CIO News, said, "I was fortunate to be in a phase when technology was being introduced in India. My cousins were well established in the information technology space. Merely observing them and their conversations pepped up my interest in getting into the information technology space as a career. When I started my career, I focused on building my technical skillsets and understanding business operations and the process. The initial years were devoted to the development of software. Here again, I was fortunate to have my first employment at Asian Paints India Limited. In the 1990's, when organisations were taking the first steps towards automation using software, I was in an organisation where automation started with the entry of a truck with raw materials inside the plant. I was part of the Purchase Accounting system redesign and development in COBOL. A successful implementation increased my confidence in my ability to develop and deploy code. The foundation was laid here and I realised passion, skills, and needs are important to grow. In my next stint at UTI, I was exposed to the financial services industry. The concepts and processes I learnt helped me to develop applications that improved business processes. Following that, being a part of the Tata Group (Tata Mutual Fund), 3iInfotech, IDFC, and now Mirae Asset Capital markets, provided me with diverse exposure to various types of financial services. With experience across segments, I took additional responsibilities for understanding and management of infrastructure, information security, business continuity, and disaster recovery. In IDFC Group, I was fortunate to be given training from management schools (IIM-Ahmedabad) on the skills to be developed to be a successful CIO. This helped him to move into the leadership role gradually. The path's plan was –
Build Relationships: The key here was to establish trust with the stakeholders. When there was trust and respect, the best came from the team.
Communication: Clear and concise communication with stakeholders contributed to the success of a project. I focused on explaining clearly the expectations before any work started.
Leadership Style: Matching the style and approach that is comfortable with team members and the overall team. This helped me to be a confident and approachable manager.
Why attitude: Asking why a specific technology is preferred, or why an architecture or design is better, helped me to make my team more accountable for their decisions and actions. This also helped to respond to questions from other senior business leaders with accuracy and confidence.
Taking responsibility: Accepting responsibility for team failures and attributing team success. This helped team members grow. The result of this has been to see team members getting recognised on public platforms for the services rendered.
When asked about challenges he faced in his career path and how he overcame them, he said:
Adjusting to a new work culture: When there is a team switch or change in management, then getting into the new work culture was frustrating. Being friendly, respectful, and adjusting work habits helped me show a professional approach. Embracing change helps.
Gaining trust: By having a listening approach and observing before suggesting changes. Giving a solution approach helped me to build trust and get a reputation for being clear-headed and reasonable.
Lack of knowledge: Upgrading skillsets and networking with the business operations team to understand the process helps to provide solutions required by the customer.
When asked about challenges faced by technology leaders today while implementing digital technologies, he said:
Adoption of new tools and processes and a cultural mindset
Changing customer expectations
Lack of IT skillsets
Information Security
When asked how technology leaders can overcome the challenges they face, he said:
Adoption of new tools and processes and a cultural mindset: Obtain buy-in from senior management. Having a solid training mechanism that emphasises how the new process will help the existing process. Having a strong support mechanism helps the teams to become productive and proficient, thereby allowing them to understand the value of new processes.
Changing customer expectations: Have a cut-off on the priorities and deliver. Use agile technologies so that adaption to change is faster.
Lack of IT skillsets: Train the on-ground support staff with the required skillsets. Have a mix of on-roll and outsourced experts to bridge the gap.
Information Security: Use cyber security experts to identify weakness in the defense mechanism. Have a plan to mitigate threats proactively.
When asked about best practices, industry trends, or advice he would like to suggest to fellow technology leaders for their successful professional journeys, he said:
Network: Establish healthy relationships with various functions within an organisation and with peers in the industry. Be honest and transparent. Be truthful and be progressive with a solution-oriented approach. Communicate with all levels of management.
Discipline and hard work: Actions follow the intention. By working hard, we put the right mindset in place. Discipline and hard work make one proactively do the work to set oneself apart from others. Never fear failure. Failure and success are part of life. Face both with zeal.
Mentor: Having a mentor helps along in career through insight, guidance, and advice. Mentors have gone through their own process of building a career similar to what we aspire to and can offer advice, especially about failures in life. This insight can be particularly relevant to helping you grow. A mentor's guidance can deter you from taking dead ends in your career and help keep you on track to succeed.
He highlighted, "Give yourself some time daily." Indulge in a hobby or meditation. Shut down or log off from office routines at this time.
See the positive side. I read and say positive affirmations daily, which helps to keep focussed.
Never fear failure or hide behind failure. No one is perfect.
Also read: CIO News interviews Shri Wangki Lowang, Minister (IT) of Arunachal Pradesh
Do Follow: CIO News LinkedIn Account | CIO News Facebook | CIO News Youtube | CIO News Twitter
About us:
CIO News, a proprietary of Mercadeo, produces award-winning content and resources for IT leaders across any industry through print articles and recorded video interviews on topics in the technology sector such as Digital Transformation, Artificial Intelligence (AI), Machine Learning (ML), Cloud, Robotics, Cyber-security, Data, Analytics, SOC, SASE, among other technology topics