Patient-Reported Outcome Measures (PROMs) and Patient Reported Experience Measures (PREMs) had been around for ages, but we are only now seeing the potential of this data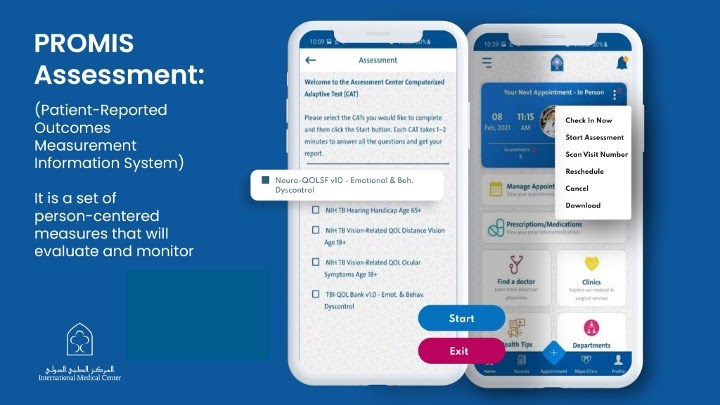 There has been a massive shift from the traditional models of care in the last few years, as healthcare providers are shifting towards a patient-centered approach, placing the individual receiving care at the top of the ecosystem.
In this new reality of patient data and analytics, IMC is happy to provide working proof that Patient-Reported Outcomes has helped us elevate our levels of care across our verticals.
In the field of healthcare, the infusion of technology paves the way towards disruption. The adoption of PREM and PROM is all possible thanks to this initiative with IT being the driver. In this initiative, I am honored to be working with a talented leadership at IMC to spearhead the adoption of PREM and PROM to our workflow with the efforts of Dr. Raheel and Dr. Samer.
PROMs and PREMs have traditionally been sourced from questionnaires, forms filled by the patients. But now, thanks to wearables and digital health apps, healthcare providers like IMC are fortunate to get comprehensive data on patients to help us elevate our care levels.
The ultimate goal of healthcare is to help patients live high-quality, productive lives, and the patient-reported outcome data is the foundation upon which all quality improvements are built.
Being the first-ever private organization to bring PROM to our work routines, we have aligned ourselves to use this data for all quality improvements.
In PRO's there is a tendency to include basic quality-life measurements, including levels of pain and fatigue or mental health concerns. It also opens up the possibility of understanding their lifestyles and behaviors that might contribute to diseases.
Utilizing these PROs, IMC received the opportunity to understand the patients better to amplify our care levels by bringing in a level of personalization.
As we experience a global shift towards a value-based healthcare service, the adoption of PREMs and PROMs will only accelerate this change.
Also read: CIO News interviews Shri Wangki Lowang, Minister (IT) of Arunachal Pradesh
Do Follow: CIO News LinkedIn Account | CIO News Facebook | CIO News Youtube | CIO News Twitter
About us:
CIO News, a proprietary of Mercadeo, produces award-winning content and resources for IT leaders across any industry through print articles and recorded video interviews on topics in the technology sector such as Digital Transformation, Artificial Intelligence (AI), Machine Learning (ML), Cloud, Robotics, Cyber-security, Data, Analytics, SOC, SASE, among other technology topics