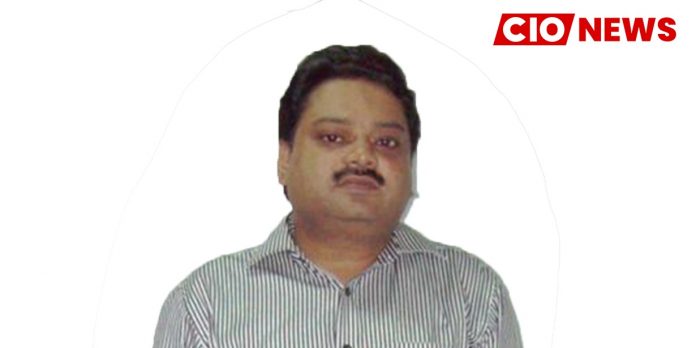 Information technology is an integral part of the business driven by the business and delivering value for the business
This is an exclusive conducted by Santosh Vaswani, Content Writer & Editor at CIO News with Arup Choudhury, Chief Information Officer (CIO) at Eveready Industries India Limited on his Professional Journey
When asked how you planned his career path to be a successful CIO, Arup Choudhury, Chief Information Officer (CIO) at Eveready Industries India Limited, in an exclusive interview with CIO News said, first I started by trying to understand the business process of the organization and mapping it to the growth path. In this process, some pain points were identified, which needed to be addressed. To do this, the process of information technology had to be synergized with the company goals. This needed automation and breaking down departmental barriers. At each step, manual processes were automated and users aligned to work to achieve the business goals of the company. Significant investment in information technology was needed to achieve this. The top management needed to be convinced about the benefits of aligning information technology with business to achieve breakthrough innovation in products and services.
When asked about the challenges he faced in his career path and how did he overcome them, he said, at each step, resistance to change was a major challenge. This was addressed by involving HR and holding change management workshops for employees at every level. Information technology was viewed as a support function by top management. This perception had to change. Information technology needed to be seen as a strategic partner to the business. This was achieved by opening up Omni revenue channels with the help of information technology and automation.
When asked about any cyber-attack or any security incident faced by his current organisation and how did he tackle it, he said, there were no major cyber-attacks. However, we faced a security incident when there was a fire in the DC and servers had to be shut down. Since we were operating DR from the cloud, we were able to quickly shift the entire load to the DR and run the show for 10 days until DC was restored.
When asked how his organisation geared up in terms of technology in the COVID times, he said, during COVID, remote working was the key. We had to upgrade our infrastructure and network to allow employees to work from anywhere. Special software was installed to monitor the remote workplace and log attendance. Network bandwidth had to be increased to allow virtual meetings and resource sharing.
When asked about information technology solutions and innovations he plans to implement in the post COVID era, he said, we have already implemented Omni channel customer experience to run the business. We need to take this a step further and implement digital marketing tools to create a virtual workspace. AR/VR also needs to be used to give a store-like experience virtually.
When asked about the challenges faced by CIOs today in a similar industry while implementing digital technologies, he said, the main challenge while implementing any digital technology in our kind of industry is ROI. Also selecting the right solution from a plethora available in the market is the key.
Speaking about how CIOs can overcome the challenges faced, he mentioned, CIOs need to have a proper business case to justify the investment. Knowledge sharing is also a key to the benefits of digital transformation.
When asked about best practices/industry trends/advice he would like to suggest to fellow CIOs for their successful professional journeys, he said, "Understand the business". Remember information technology is an integral part of the business driven by the business and delivering value for the business. But always remember that information technology is your core competence; never shift your focus from it.
He further highlighted choosing the right tools to automate processes and drive market value. Don't do something just because your neighbour has done so. This is true, especially in the area of Digital, Analytics, and Cloud.
Also read: CIO News interviews Shri Wangki Lowang, Minister (IT) of Arunachal Pradesh
Do Follow: CIO News LinkedIn Account | CIO News Facebook | CIO News Youtube | CIO News Twitter
About us:
CIO News, a proprietary of Mercadeo, produces award-winning content and resources for IT leaders across any industry through print articles and recorded video interviews on topics in the technology sector such as Digital Transformation, Artificial Intelligence (AI), Machine Learning (ML), Cloud, Robotics, Cyber-security, Data, Analytics, SOC, SASE, among other technology topics.