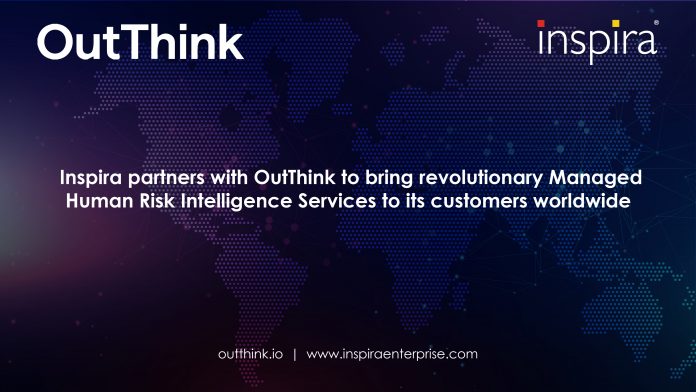 Inspira has announced a partnership with the rapidly growing British cybersecurity company, OutThink, to introduce the world's first cybersecurity human risk management solution to the region.
In forming a strategic partnership with OutThink, Inspira envisions to implement Human Risk Management Services from its Security Operations Center at Navi Mumbai. Inspira's wide customer base in India, Middle East, Africa, and ASEAN Countries will now be able to prudently assess and mitigate their organizations' human cyber risk exposure.
Part of the offering, OutThink's computer-based security awareness training solution is the highest rated solution on Gartner Peer Insights given its unique and innovative approach. OutThink provides a social experience that is fun and gamified, improving both knowledge and engagement of enterprise users. The learning dynamically adjusts to the audience depending on their role, risk profile, and current level of understanding resulting in highly targeted training content.
It is anticipated that this exciting partnership between Inspira's value added services and OutThink's technology will strengthen an organisation's cyber security defences in areas such as:
Cyber security awareness training
Determining user vulnerability to sophisticated phishing attacks
Safeguarding employee email accounts
Understanding organisation's human cyber risk
Manoj Kanodia, CEO, Inspira Enterprise states that "CISOs will now be able to take a sigh of relief, aligning the best security practices with OutThink's intelligent SaaS platform.
Taking this ambitious vision further, Om Ahuja, CTO & CISO, Inspira Enterprise said "OutThink's security awareness platform will empower people to become the first line of defence for their organisations. Inspira's partnership with OutThink will enhance the security and integrity amongst our customers and will deliver the overall human risk picture, providing a solid foundation for risk-based decision making and treatment prioritization along with targeted improvement actions."
Flavius Plesu, Founder & CEO at OutThink: "As a former CISO, I believe that security awareness must align employee behaviour with the business and security goals of the organisation. We provide clients with the next-generation security awareness platform to effectively turn people into human sensors for cyber security and empower them to become the strongest defense mechanism of the organisation. To be successful in any market, it is key to align with local specialist partners who understand both our technology and the local customer needs. We are delighted to be partnering with Inspira, who will now further extend our reach into India and Middle East, African and ASEAN countries.
Also read: CIO News interviews Shri Wangki Lowang, Minister (IT) of Arunachal Pradesh
Do Follow: CIO News LinkedIn Account | CIO News Facebook | CIO News Youtube | CIO News Twitter
About us:
CIO News, a proprietary of Mercadeo, produces award-winning content and resources for IT leaders across any industry through print articles and recorded video interviews on topics in the technology sector such as Digital Transformation, Artificial Intelligence (AI), Machine Learning (ML), Cloud, Robotics, Cyber-security, Data, Analytics, SOC, SASE, among other technology topic