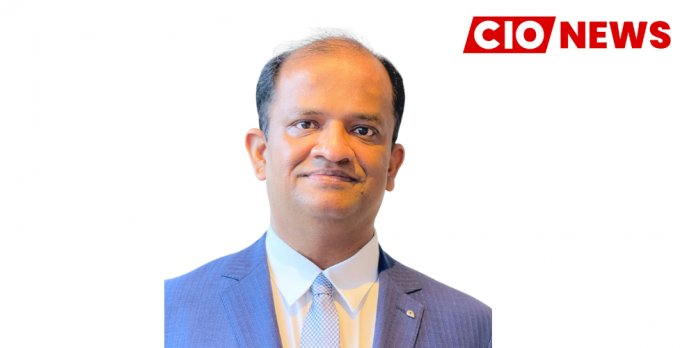 Collaborate with other technology leaders and be open-minded and have a continuous learning mentality. Think out of the box and look for solutions even that are outside your industry
When asked how he planned his career path to be a successful technology leader, Jacob Mathew, Head of Information Technology at the Government of Abu Dhabi Entity, in an exclusive interview with CIO News, said,This goes way back when I was in high school where I was fascinated with computers, and this led me to choose Computer Engineering as my stream in college. One another fact is that I loved helping people and solving their IT issues and for this reason, I choose Infrastructure support rather than software development.
I would advise the readers planning their career to know what they like and what they have a mind-set for – they need to choose the field that suits them. This is very important as a job then would not be a chore.
After getting good exposure and experience, I next began to look at my career path – where I wanted to be and how do I get there. This involved a three-year plan with what leadership skills, soft skills, certifications, and training I would take and when and this plan has really helped me to plan my career. The analysis was done by talking with peers and colleagues and researching from several sources.
However, learning is life-long, especially in the technology industry and I have a number of new initiatives planned.
When asked about challenges he faced in his career path and how he overcame them, he said,I always was a self-starter driven to improve myself however after a change in management with a former company I allowed myself to stream rolled and took my eye out of my career. I kept hoping things would improve but it only got worse.
My advice is to walk away from the job that is toxic and/or no longer respects you – don't get tied with old memories and always remain focused on your career and on self-improvement.
To overcome these challenges, I got some time to reflect and fortunately, I was able to refocus my career and get my career back on track.
When asked about a cyber-attack or any security incident faced by his current organization and how he tackled it, he said, being in a government sector, we have multiple layers of security and hence we had no attacks or a significant cyber security incidence.
When asked how his organization geared up in terms of technology in the COVID times, he said,We are relatively a new government entity formed in 2018 and hence when planning our IT architecture, I had planned sufficient measures in place, and we are able to move from zero to 100% remote due to COVID with minimal effort and immediately when a decision was made.
When asked about technology solutions and innovations he plans to implement in the post COVID era, he said, "We have plans to implement RPA and AI solutions to increase the efficiency of various processes".
When asked about challenges faced by technology leaders today in a similar industry while implementing digital technologies, he said, established companies and government entities might face problems with legacy infrastructure and legacy applications and updating these with new digital technologies such as cloud, low-code/no-code environments would be challenging but this can be done with adequate planning and skills.
When asked how technology leaders can overcome the challenges faced, he said, to overcome the challenges, collaborate with other technology leaders and be open-minded and have a continuous learning mentality. Think out of the box and look for solutions even that are outside your industry.
When asked about best practices/industry trends/advice he would like to suggest to fellow technology leaders for their successful professional journeys,Watch and read from top CEOs, COOs, and CIOs regularly. I found listening to CEO interviews very useful – it helps to understand what they think and what their priorities are.
Attend conferences whether online or physically. Engage with technology consultants such as Gartner, Forrester, IDC, etc. Listen to Podcasts – there are so many good ones out there and the list would depend on your personal preferences. I listen to Gartner, PwC US, Franklin Covey, PMI, and Microsoft podcasts besides several Christian and Cyber-security.
Also read: CIO News interviews Shri Wangki Lowang, Minister (IT) of Arunachal Pradesh
Do Follow: CIO News LinkedIn Account | CIO News Facebook | CIO News Youtube | CIO News Twitter
About us:
CIO News, a proprietary of Mercadeo, produces award-winning content and resources for IT leaders across any industry through print articles and recorded video interviews on topics in the technology sector such as Digital Transformation, Artificial Intelligence (AI), Machine Learning (ML), Cloud, Robotics, Cyber-security, Data, Analytics, SOC, SASE, among other technology topics