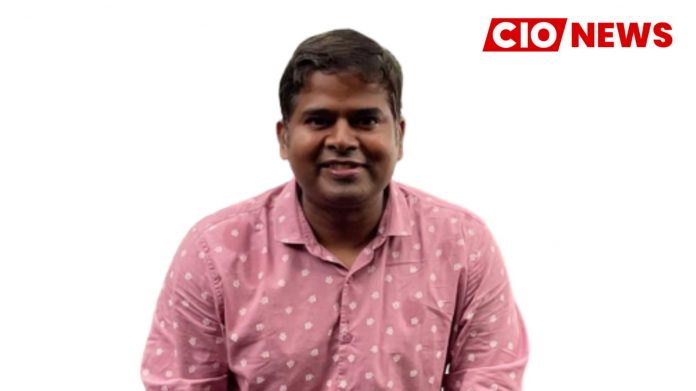 Using the right technology and learning from others' mistakes, apart from your own, is also very important
This is an exclusive story conducted by Santosh Vaswani, Content Writer & Editor at CIO News with Sami Alam, Senior Director of Engineering at Upstox, on his Professional Journey as a technology leader.
When asked how he planned his career path to be a successful technology leader, Sami Alam, Senior Director of Engineering at Upstox, in an exclusive interview with CIO News, said, when I started my career, I did not plan anything as such. Like many others, I had a dream company that was Microsoft. I had a degree in Electrical Engineering with Majors in Electronics & Communications. I wanted to pursue my career in Electronics & Communications, my core field, and so I started my first job with Reliance Communications in the telecom domain, but when I built my first software in the company, the software system, which was built by 25 young developers including me, was a small-scale telecom network for a rural area with low capacity, where at the end, we were able to make a mobile-to-mobile voice call successfully. The feeling of creating something magical got my career going in a different direction, and I decided to pursue the same in the software development field. So, when I changed jobs, I looked for companies in the telecom industry only, but in core software development.
I continued my journey in software development and landed a job at Microsoft in 2010 and worked there for over four years. Life in a big organisation was way different than I had imagined. Then, I joined Flipkart, the place where I met so many talented folks and discovered such an open culture. Flipkart leadership gave me all the opportunities to show my skills and innovative ideas, and I got the rewards in return: very fast growth. I developed a lot of systems standalone and eventually became the owner of those systems. My area of ownership continued to grow, and eventually I owned multiple teams over there.
In March 2021, I joined Upstox in a senior leadership position. Upstox was a small start-up, much like Flipkart when I joined back in 2014. I understood the opportunity that there would be a lot of systems and processes to be built. I took that challenge and started my new journey here. For me, it was time to apply the learning now.
When asked about challenges he faced in his career path and how he overcame them, he said, "I was not from a computer science (CS) background and except a basic CS course, which was mandatory, I did not take any other courses. Back then, I was not interested in CS at all. This hampered my initial journey in software development as others who were from a CS background had a head-start and I was still learning. This was one of the biggest challenges I faced when I chose to pursue my career in the software development industry, as I had to learn on the job."
When asked about challenges faced by other technology leaders while implementing a digital technology in today's era and how technology leaders can overcome the challenges, he said, "One challenge which everybody is facing in today's era, especially in the technology industry, is hiring. It is very hard to get the right set of talents. Everybody has lots of opportunities, and people negotiate based on money, not based on what opportunity they would get. People starting as freshers till they have experience of 10–11 years, all look for jobs where they get paid the most."
Speaking about the second challenge, he said that usually a company starts by bootstrapping, and doing some business related stuff, but very soon realises that it cannot scale without technology. Companies cannot scale just by spreading their business across the market manually without technology. So organisations should invest in technology since the beginning, build a base and then spread across the market. "So, using the right technology and learning from others' mistakes, apart from your own, is also very important".
When asked about industry trends/best practices/his advice that he would like to suggest for successful professional journeys of other technology leaders as well as youngsters who are looking forward to a great career in the technology industry, he said, "My advice for youngsters or today's generation is that if you do not have your base solid, you might get a lot of money now because of the current market situation, but you will get stuck at some point in your career." You may get a highly paid job now, but if you let go of the learning opportunities at the expense of a higher salary, you would not get the required skill set, and when you try to switch jobs at a later stage of your career, you will find it very difficult to switch. HR will observe that you have high salary expectations, but your skill-set may not be matched to that level".
Sami's advice for technology leaders, "Please trust your employees, as Steve Jobs rightly said, It doesn't make sense to hire smart people and tell them what to do; we hire smart people so they can tell us what to do. Trust them and their abilities and give them independence and a chance for innovation because this industry runs on innovation. If you don't innovate, you die".
He highlighted that youngsters who have started their career in recent years in the technology industry have a head-start. "When I started my career 18 years ago, the mobile/internet revolution had not happened, various learning platforms, e.g., YouTube was not there and I did not have much knowledge. This generation is blessed with everything that they need. They have got a big boost, and they can be much faster in their career than us, and they can create a lot of interesting and great magical stuff."
Also read: CIO News interviews Shri Wangki Lowang, Minister (IT) of Arunachal Pradesh
Do Follow: CIO News LinkedIn Account | CIO News Facebook | CIO News Youtube | CIO News Twitter
About us:
CIO News, a proprietary of Mercadeo, produces award-winning content and resources for IT leaders across any industry through print articles and recorded video interviews on topics in the technology sector such as Digital Transformation, Artificial Intelligence (AI), Machine Learning (ML), Cloud, Robotics, Cyber-security, Data, Analytics, SOC, SASE, among other technology topic