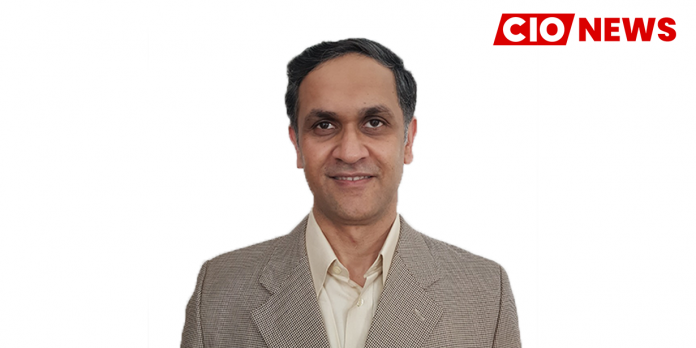 I am working on supporting the Global Tech Hubs in the development of compelling innovations in the space of digital consumer and merchant solutions and have made effective use of AI, Block-chain, IoT, and other areas
This is an exclusive interview conducted by Santosh Vaswani, Content Writer & Editor with Lalit Manchanda, Vice President – Research and Development at Mastercard about Digital Payments
When asked about Mastercard and his key priorities, Lalit Manchanda, Vice President – Research and Development at Mastercard in an exclusive interview with CIO News said, Mastercard is a global technology company in the payments industry. Our mission is to connect and power an inclusive, digital economy that benefits everyone, everywhere by making transactions safe, simple, smart, and accessible. We work with customers, financial institutions like banks, customers, government, and investors in facilitating transactions in more than 150 currencies around 210 countries.
We use secure data, networks, partnerships, innovation, and passion, to come up with creative solutions to enhance the experience of consumers in the digital payment space and help businesses realize their greatest potential.
In my current role at Mastercard as Vice President, Research and Development, I am working on supporting the Global Tech Hubs in the development of compelling innovations in the space of digital consumer and merchant solutions and have made effective use of AI, Block-chain, IoT, and other areas.
When asked about new technology trends for modernizing digital payment transactions such as contactless payments, the latest mobile & AI tools to avert cyber frauds, Digital/Cloud PoS etc., he said, digital payment witnessed 80 per cent growth during 30 November 2020 and 6 August 2021, a major rise where consumers preferred digital over cash to reduce the risk of spreading the virus. Some of the trends we are witnessing today:
The payment industry saw a gradual demand for contactless payments using NFC through contactless cards and mobile phones. With its tap-and-go technology, contactless card transactions offer a faster and safer approach to digital payments and are expected to reach US$ 26.3 billion by 2027, which records 12.9 per cent growth.
QR codes also became quite popular ensuring a faster, seamless, and secure e-commerce platform that is inexpensive and can be used in stores. The Worldline report highlights that the number of QR-based payment acceptance solutions is growing swiftly. As of September 2021, the number of Bharat QR (BQR) transactions was 52 lakhs and UPI QR was 11.96 crores, witnessing an overall increase of 116 per cent and 98 per cent respectively.
Real-time payments (RTP) saw a steep rise with India becoming the global leader in RTPs, with 41 million transactions per day in 2020, more than double the number for 2019.
Click to Pay based on the EMV standard of Secure Remote Commerce is making e-commerce easier and safer for consumers and more viable for merchants.
Artificial Intelligence (AI) and Machine Learning (ML) are being applied to enhance fraud detection and improve the safety of digital payments. These technologies facilitate advanced intelligence to assess behaviour patterns and create a layered defence against unauthorized persons to access information and avert online frauds.
When asked about new innovations happening at Mastercard's Tech Hub across the globe, he said, as digital payments are becoming a "permanent fixture in people's lives, at Mastercard, we are working towards designing priceless digital experiences for our customers and consumers while being focused on building simple, safe and smart solutions that instill trust in every interaction.
Biometric: In Asia Pacific, we announced a partnership with Tapi, one of the world leaders in wearable contactless technologies producing watch straps that can be put on any watch that has a contactless chip embedded. One doesn't need to just have an Apple Watch. You can take a regular analog watch, replace the strap, and tap and pay. We believe that if digital payments are the inevitable future, contactless payments are hedging their bets on being the chief innovator in an increasingly automated and digital society.
Cloud Point of Sale (POS) Acceptance Technology: We are working towards enhancing the Tap-on-Phone technology and empowering the ecosystem partners to develop their own cloud-based products with new tools and capabilities. Cloud POS moves key parts of the acceptance software – the components which enable the processing of contactless transactions and certain security functions – from the individual smartphone to the cloud, offering robust security, reducing development and maintenance costs, and creating scalable distribution channels by allowing immediate connectivity to partners.
Metaverse: It is a hybrid virtual-physical extension of our connected world. The metaverse uses augmented and mixed reality to create a 3D version of the internet. Mixed reality will be increasingly accessible to businesses and consumers, transforming our lives over the next few years.
Provenance: Mastercard Provenance Solution is a global traceability and multi-rail B2B payments solution to help companies gain end-to-end visibility and efficiencies across the supply chain. It enables immutable traceability across supply chains and streamlines B2B payment operations, building trust through reliable data and enabling automated access to affordable financing.
Carbon Calculator: A personalized carbon footprint tracker. Globally, we launched the Carbon Calculator, in collaboration with Swedish Fin-tech Doconomy – it allows people to view their estimated carbon footprint of all their purchases. Your footprint is tracked month by month across a variety of spending categories so you can better understand where you are having the greatest impact.
Quantum: This is another area where Mastercard is investing to understand how we can use the technology to offer solutions of future specifically in the area of large optimization problems, and cryptography among others.
When asked if the digital financial service has been harnessed by the COVID-19 shock and what according to him can be done to accelerate the development and usage by customers, he said, the Indian fin-tech ecosystem has grown rapidly, even during the pandemic. The sector witnessed exponential growth in digital lending which is poised to tremendous adoption in digital payments. In fact, given its impressive growth trajectory, the sector even holds the potential to drive recovery for the entire country.
Consumers started using digital payments for groceries, utility payments, etc. and now it has become a preferred mode for all their transactions. It became an essential part of everyone's life. According to IBM's Retail Index, the pandemic has accelerated the move from storefronts to e-commerce by five years. The ripple effect of e-commerce has fuelled fin-tech adoption rates. Mobile payments in India are said to grow by 60 per cent by FY 2022.
To further accelerate the adoption, there is a need to build consumer confidence in digital modes of payment. Sudden digital and e-commerce growth, unfortunately, has drawn unwanted attention from bad actors exploiting vulnerabilities for nefarious purposes. It will be important for organizations to build a robust, safe, and secure financial ecosystem that consumers can trust.
It is also critical to sensitize consumers about their behaviour online, educating them on how to keep the credentials safe and not share the details like OTPs and passwords with anyone is another important aspect that can help people minimize risk and enjoy the benefits of digital.
Simplifying technology for people of all classes and strata of society will be another important element to drive further adoption. For example, apps available in vernacular language will help in the last-mile delivery of financial services.
When asked about the difference in usage of digital financial services by customers in the pre and the post COVID era in emerging and developing economies and what are the opportunities and risks in these economies, he said, since 2017, the financial services industry in India has seen accelerated growth and widespread adoption of new mechanisms for digitization. Yet despite these trends, customers' willingness to adopt – and firms' willingness to invest in – digital remained inconsistent across players, markets and continents. COVID-19 upended those conventions. It led to radical changes in customer behaviour, moving significant portions of the economy online and increasing customers' comfort and willingness to engage digitally.
With the onset of the pandemic, the micro and small and medium enterprises (MSMEs) adopted digitization to stay afloat and benefitted from it through new customer acquisitions and increased transactions with existing customers. According to an industry report, SMEs will likely add $158 billion to $216 billion to India's GDP by 2024 with digital adoption. Similarly, the pandemic also pushed a large percentage of farmers to voluntarily turn to tech integrations that enabled supply chains to run more efficiently.
This is an indication of how our economy and similarly other economies have responded to the pandemic. There are other indicators as well, given services like on-boarding of consumers has also gone digital and it is being effectively used. The use of e-commerce has increased and a lot of goods and services are now being delivered and paid for digitally. As per RBI report, the total digital transaction volume in 2020-21 stood at 4,371 crores, as against 3,412 crores in 2019-20, attesting to the resilience of the digital payment system in the face of the pandemic. Riding on the momentum created in the last couple of years, there is a real opportunity to build on and make the economies more transparent with the use of digital transactions.
As more and more consumers embrace new methods of payment on e-commerce sites and spend more time online, cyber-security becomes critical to stay safe and secure. As people may not understand the importance of credentials and sharing the details with anyone can be duped and this can deter people from using digital. Thus having consumer education and bringing fraudsters to book is a good way to mitigate. Today, Artificial Intelligence (AI) and Machine Learning (ML) are being leveraged to mitigate cyber frauds. These latest technologies facilitate advanced intelligence to assess behaviour patterns and create a layered defence against unauthorized persons to access information and avert online frauds.
At Mastercard, we leverage AI and ML in cyber-security, with security tools analysing data from millions of cyber incidents and using it to identify potential threats or a new variant of malware. We use tools such as EMV 3D-Secure 2 protocols enable banks to ensure seamless mobile transactions, authenticate over 95 per cent of them and even identify the unusual transaction behaviours of the consumers and Decision Intelligence's sophisticated AI algorithms Decision examines how a specific account is used over time to detect normal and abnormal shopping spending behaviours.
He highlighted that the future of payments is faster, safer, borderless, and inclusive, with consumers in control. With the advent of 5G solutions, consumers can avail higher bandwidths and frequency, allow more devices to be connected, and improvements on location accuracy. With the connection of new devices, machine-to-machine (M2M), voice commerce, and autonomous (IoT) payments will also become more prevalent. To deliver the choice and flexibility that customers expect, organizations will need to offer payment solutions that improve their purchasing experiences with frictionless, secure technologies.
Also read: CIO News interviews Shri Wangki Lowang, Minister (IT) of Arunachal Pradesh
Do Follow: CIO News LinkedIn Account | CIO News Facebook | CIO News Youtube | CIO News Twitter
About us:
CIO News, a proprietary of Mercadeo, produces award-winning content and resources for IT leaders across any industry through print articles and recorded video interviews on topics in the technology sector such as Digital Transformation, Artificial Intelligence (AI), Machine Learning (ML), Cloud, Robotics, Cyber-security, Data, Analytics, SOC, SASE, among other technology topics.