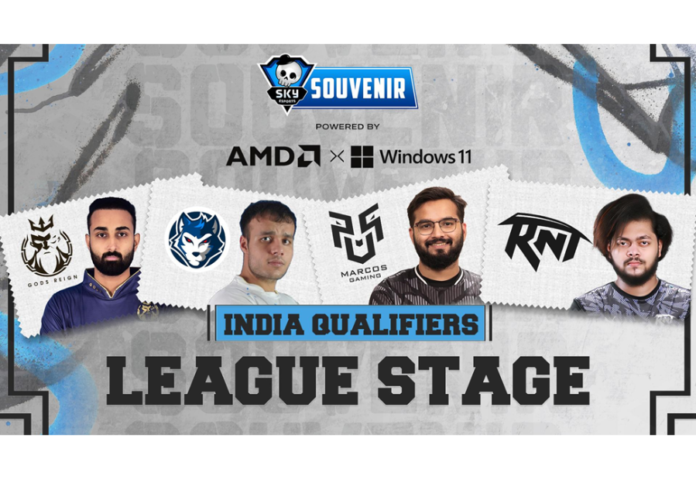 The India Qualifier will determine Team India at the Skyesports Souvenir International Playoffs.
The International Playoffs will feature six countries, including Team India, facing off for glory.
Chennai, September 22, 2023: The Skyesports Souvenir has returned in 2023, featuring Counter-Strike: Global Offensive (CS:GO). This year, the prestigious eSports IP is set to expand internationally, featuring six countries fighting for victory. Team India will be determined in the competition through the Skyesports Souvenir-India Qualifiers, which will happen from Sept. 22 to 24.
Four teams have been directly invited into the India Qualifiers. These are as follows:
Gods Reign
Marcos Gaming
Reckoning Esports
Revenant Esports
Commenting on the tournament, Shiva Nandy, Founder and CEO, Skyesports, said, "After a thrilling end to India's first franchised esports league, the Skyesports Masters, we are excited to announce our next official Counter-Strike tournament, the Skyesports Souvenir. This competition is a testament to our goal of building a roadmap for Counter-Strike eSports in the country. It will also give teams an opportunity to compete against international teams as we bring Counter-Strike action from Skyesports to more regions."
The four teams are set to lock horns in a round-robin format to determine the winners. All matches will be livestreamed on the Skyesports YouTube, Facebook, Loco, and Glance channels. The schedule for the matches is as follows:
Friday (Sept. 22)
Reckoning Esports vs. Gods Reign
Revenant Esports vs. Marcos Gaming
Saturday (Sept. 23)
Reckoning Esports vs. Marcos Gaming
Gods Reign vs. Revenant Esports
Sunday (Sept. 24)
Reckoning Esports vs. Revenant Esports
Marcos Gaming vs. Gods Reign
The winner of the competition will be the Indian representative at the Skyesports Souvenir International Playoffs, set to take place from September 25 to 30. India will be one of six countries from the Asian continent competing for victory in Counter-Strike. Stay tuned to Skyesports' Instagram, Facebook, and Twitter handles to find out about the countries playing in the Skyesports Souvenir.
The Skyesports Souvenir 2023 is powered by AMD x Windows 11. According to the India Games Market Report 2023 by Niko Partners, the total game revenue from India in 2023 is expected to reach $868 million, up 21.2 percent year over year. The total number of gamers in the country stands at 444.4 million in 2023, which is expected to grow to more than 641 million by 2023. Additionally, the report found that 71.8 percent of Indian gamers engage with esports, making competitions like the Skyesports Souvenir a perfect option for brands to connect with highly engaged gamers across the country.
Also read: Trends of the latest technologies
Do Follow: CIO News LinkedIn Account | CIO News Facebook | CIO News Youtube | CIO News Twitter
About us:
CIO News, a proprietary of Mercadeo, produces award-winning content and resources for IT leaders across any industry through print articles and recorded video interviews on topics in the technology sector such as Digital Transformation, Artificial Intelligence (AI), Machine Learning (ML), Cloud, Robotics, Cyber-security, Data, Analytics, SOC, SASE, among other technology topics.