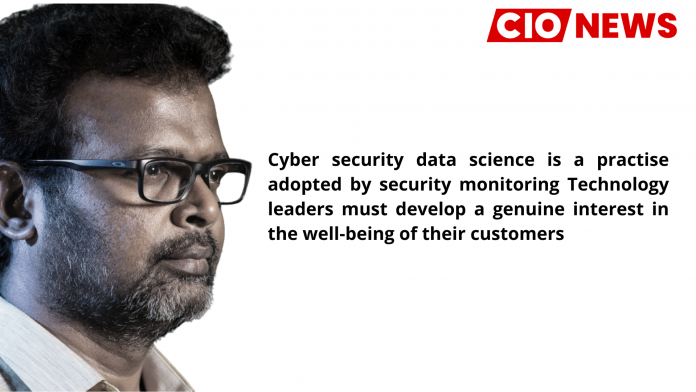 The pace of emerging technologies like AR and VR technology is extremely fast and leaders need to be nimble and adapt to these changes
This is an exclusive interview conducted by the Editor Team of CIO News with Dr. Bharathy CSS, Founder | VR | AR | MR & Industry 4.0 Consultant of Fusion VR
When asked how he planned his career path to be a successful founder of a technology-based company focusing on helping businesses in their digital transformation journeys, Dr. Bharathy CSS, Founder | VR | AR | MR & Industry 4.0 Consultant of Fusion VR, in an exclusive interview with CIO News, said, "Becoming a successful founder of Fusion VR took a rather unconventional route for me." I became fascinated with all things digital from the first time I became interested in digital photography when I was working in Singapore. This became the start of a lifelong passion which led to me becoming South Asia's first Adobe Certified Video Specialist and Instructor way back in 2004. I started my entrepreneurial journey with a successful multimedia training organisation and then ventured into stereoscopic 3D technology, Virtual Reality, and Augmented Reality solutions with Fusion VR. As I see things, there is never a clear plan, but I am always on the lookout for opportunities. I surely had a passion for disruptive digital transformation technologies and a clear mind-set to bring advanced and exciting technologies to the Indian manufacturing sector.
When asked about challenges he faced in his career path and how he overcame them, he said, "There are always challenges that every entrepreneur faces, particularly in the digital technology space." Though the advantages of these technologies are quite clear, their adoption is not immediate and requires time and effort with our clients. This is not an isolated phenomenon, but something that is observed worldwide. Fusion VR has overcome this by not only delivering AR VR solutions but evangelising digitalization and hand-holding our valuable clients throughout the length of their digital transformation journey. We, at Fusion VR, believe that we are agents of change in creating smart factories and enablers of the enterprise metaverse. I make it a point to attend and address key technology conferences to convince the industry leaders about the importance of Industry 4.0 technologies and how digital transformation is an absolute necessity to be successful in the 21st century.
When asked about a cyber-attack or any security incident faced by his current organisation and how he tackled it, he said, "Fortunately, Fusion VR hasn't been the victim of any such malicious attacks." We have a robust security system, and all our employees are mindful of the threats that would compromise our IT infrastructure and continued operations. We are also in line with all cyber-security requirements and protection measures. Finally, we emphasise that training our employees to recognize, avoid, and report such threats is part of our cyber-security strategy.
When asked how his organisation geared up in terms of technology in the COVID times, he said, "As an organization, Fusion VR has consistently sought and engaged talent across geographies." We had remote working and remote collaboration technologies implemented even before the COVID-19 pandemic struck, and the infrastructure and processes in place helped us adapt quickly to the lockdowns that were imposed. Our people had the necessary training, and the internal reporting and deliverables were managed more effectively. The biggest benefit coming from this event was that these remote working solutions got even better and it was easier for our teams to adapt.
When asked about technology solutions and innovations he plans to implement in the post COVID era, he said, "We, at Fusion VR, are planning to upgrade our proprietary development platforms and develop AR and VR innovations that are required for our clients." We intend to stay abreast of the challenges and opportunities that manufacturing enterprises are expecting. We are working to become a part of the enterprise metaverse and also help companies integrate themselves into this exciting future.
When asked about challenges faced by technology leaders today in a similar industry while implementing digital technologies, he said, "In my experience, one of the major challenges faced by tech leaders is understanding the emerging trends in digital technologies and gearing up to offer them to their customers." The pace of emerging technologies like AR and VR technology is extremely fast and leaders need to be nimble and adapt to these changes. They also need to keep their organisations geared to responding quickly to these changes. Another key challenge is obtaining a genuine understanding of what customers need. They need to develop customised solutions that are cost-effective. There isn't much value generated by providing a solution that the client is not ready for in terms of technology, infrastructure, or a shift in culture. Assessing this requires experience, commitment, and skill, which are not easily found in today's environment.
When asked how technology leaders can overcome the challenges faced, he said CEOs and CTOs need to stay abreast of the emerging technologies and trends within different domains of the industry. While they can focus on niche segments, it's absolutely important to obtain a broader view of where the technology industry and your customers are heading. There will never be a one-size-fits-all approach, and staying in touch with your customers is the key. Technology leaders must develop a genuine interest in the well-being of their customers, and such an approach establishes the basis for a long-term partnership. Most of these lessons are neither novel nor complex. They must be reinforced for all managers because they are easily forgotten in today's work culture, where results are valued more than the processes and people used to achieve them. A more holistic approach is the best way to manage such challenges.
When asked about best practices, industry trends, or advice he would like to suggest to fellow technology leaders for their successful professional journeys, he said, "In my humble opinion, I believe what I have shared above are best practices." I would recommend leaders to develop internal processes that keep the customers and their understanding of requirements at the top of the list. A robust execution organisation and implementing agile project management practises are a must. These are a few from my experience, and I believe more experienced leaders could offer more.
He highlighted, "I strongly recommend taking the Prime Minister's lead to make India a digital economy and also make products in India." We need to develop an ecosystem where digitalization is easier and more cost-effective. Fusion VR aims to do the same. The benefits of digitalization are obvious immediately after implementation. Getting companies to adopt, even at a small scale, is vital, for which having the right technology, business and regulatory ecosystems would most likely help.
Also read: CIO News interviews Shri Wangki Lowang, Minister (IT) of Arunachal Pradesh
Do Follow: CIO News LinkedIn Account | CIO News Facebook | CIO News Youtube | CIO News Twitter
About us:
CIO News, a proprietary of Mercadeo, produces award-winning content and resources for IT leaders across any industry through print articles and recorded video interviews on topics in the technology sector such as Digital Transformation, Artificial Intelligence (AI), Machine Learning (ML), Cloud, Robotics, Cyber-security, Data, Analytics, SOC, SASE, among other technology topics