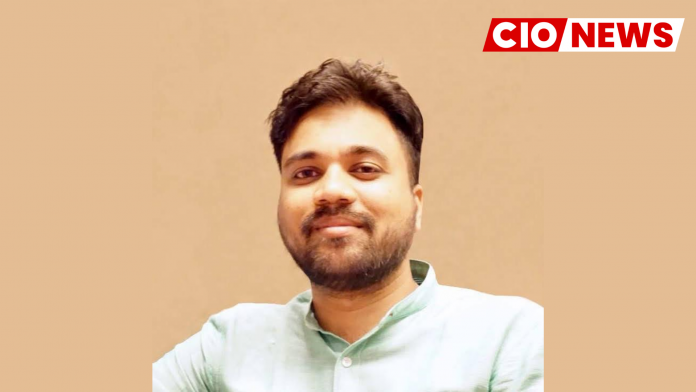 Technology leaders in each of the areas of IT must keep exploring newer technologies coming into the market
This is an exclusive interview conducted by Santosh Vaswani, Content Writer & Editor at CIO News with Amit Barnawal, Head Digital Analytics and Intelligence from the Manufacturing Industry, on his Professional Journey
When asked how he planned his career path to be a successful technology leader, Amit Barnawal, Head Digital Analytics and Intelligence from the Manufacturing Industry, in an exclusive interview with CIO News, said, I am an MBA from Indian Institute of Management (IIM), Bangalore. Before completing my MBA, I had a background in the information technology (IT) industry and had worked for some of the large implementations of SAP. So, I was always interested in technology since I was in school and was also always good in Maths and Logic. But, I never wanted to be always hands-on in coding and wanted to have a bird's-eye of what is going on in the industry, what are the latest trends, among others.
So, I chose this industry and at the start of my post-MBA career, I got an opportunity, which made me evaluate and finalize things at the start. Also, my current organisation has always been ahead in technology and there is a leadership belief that "in an era like this, without technology, you can't surge ahead". "Technology acts as a differentiator in the market for us". So, I handled multiple areas in my professional stint including SAP, ERP, virtualisation world, infrastructure, network connectivity, and all technologies around security, analytics, and data centre. I always kept me self-updated about whatever area I am handling. I also got an opportunity to head some of the verticals including DC operations, information security, and also now I have started engaging and heading the practice of data analytics and intelligence.
As we know that data is a kind of new oil and it all depends on how you use the data, whether whatever system you use. For example, you might have ample data, but how you make decisions around the data will be a game-changer, maybe for manufacturing production operations, sales, marketing, or even a whole supply chain. So, "data makes a huge difference, which helps us to keep on the edge and always be ahead of our competitors". Even the technology has moved a lot in that area, which helps us to analyse the data in a much more seamless manner, and also around the data analytics are you will see that the world has moved from a descriptive approach to prescriptive and predictive analytics and started seeing them as an insight-driven organisation.
So, that's how I see my journey has been moving step by step and always tastes different bits and pieces of the IT world.
When asked about challenges he faced in his career path and how he overcame them, he said, one of the major challenges to prove something in the area is the cost constraint because IT has always been seen as a support function for a manufacturing organisation and it is not going to give direct revenue. The technology leader must be aware of how to keep employees motivated.
Another challenge is attrition. As we are not a service organisation, there is not a very steep career growth that employees can find.
The third challenge is bringing the change because technology always changes. We need to keep learning and keep ourselves updated and always keep doing experiments.
When asked about challenges other technology leaders are facing in a similar industry while implementing digital technologies in the post-COVID era and how can they overcome the challenges, he said, "Challenges always remain the same depending on industry to industry". The cost will always remain a challenge and so people need to focus on what's the value or ROI coming in by bringing new technologies.
The other challenge I see is adoption. There are people who are well-versed with the on-going systems, which are 10 – 15 years old. So pushing to get along with the newer systems is a challenge. So people must have the right mind-set and do an on-ground study.
When asked about best practices/industry trends/his advice to other technology leaders for their successful professional journeys, he said, as early as possible the mid-set should be changed that IT is no longer a support function or a cost function. Also, a target must be set that the IT function will be making an increase in the revenue, so IT will not be seen as a support function but will be seen as an asset for a company.
Also, technology leaders in each of the areas of IT must keep exploring newer technologies coming into the market.
If I have to say about potential technologies that are going to be the game-changer in the next five to 10 years are AR/VR, Meta-verse, and Block-chain. These technologies will shift the game completely, where most companies will start operating in the virtual world.
Also read: CIO News interviews Shri Wangki Lowang, Minister (IT) of Arunachal Pradesh
Do Follow: CIO News LinkedIn Account | CIO News Facebook | CIO News Youtube | CIO News Twitter
About us:
CIO News, a proprietary of Mercadeo, produces award-winning content and resources for IT leaders across any industry through print articles and recorded video interviews on topics in the technology sector such as Digital Transformation, Artificial Intelligence (AI), Machine Learning (ML), Cloud, Robotics, Cyber-security, Data, Analytics, SOC, SASE, among other technology topics