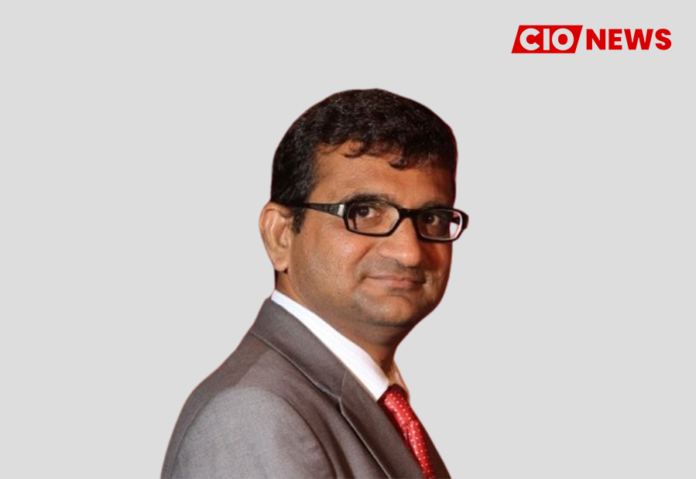 The selection of technology tools in commensuration with digital architecture from the bouquet of offerings is of paramount importance
This is an exclusive interview conducted by the Editor Team of CIO News with Dr. Vishad Rahangdale, vCIO, Digital Strategy, Global SAP at Behr-Hella Thermocontrol (BHTC)
How did you plan your career path to be a successful technology leader?
I began my career in the early 1990s, when IT was still struggling to expand its footprint and was still known as EDP. Only a few privileged members of the organisation used to have access to very isolated, air-conditioned chambers. I did my B.Sc. in electronics with a specialisation in computer programming and numerical analysis, continued my M.Sc. in the same major along with operations research, and then completed a doctorate in business-IT alignment. Typically, I pursued my interest in the computer field, now called IT.
I had a feeling that India would be revolutionised in the coming decades. As the journey started to roll out, many tributaries of IT mushroomed. Most of the job seekers pursued an IT tool-oriented approach, whereas I focused more on enterprise solutions, particularly packaged applications and the technologies around them, which, according to my comprehension at the time, would be sustainable, provide me with a lasting career, and hasten my solid growth in the organization. However, this was more challenging yet promising.
Having witnessed the dotcom boom and bust during the course, I was correct in my decision to sample the water in end-user organisations where abundant opportunities exist to assist organisations in transitioning from IT-enabled to IT-driven businesses. Every peer from that era went through this trying period, but it was a very enjoyable and educational journey.
What challenges you faced in your career path and how did you overcome them?
Challenges are part and parcel of the profession, but they also bring many opportunities along with them. The question is how one handles things. It depends on every individual's appetite to take risks, though it is easier said than done. By character, I always enjoy taking risks, sometimes calculatedly, sometimes out of adventurism. In IT, technology has a life of its own because of its revolutionary and evolutionary dynamics. As a result, understanding how we build an interdependent ecosystem comprised of self-competency, ethics, peer relationships, team strength, and partner community, to name a few, is critical for a technology leader.
I've always believed that if I stay focused on my goals and objectives, I'll be able to overcome them, despite the fact that the ride will be bumpy. No throne is without thorns.
The second and most important thing is to never stop learning, updating, introspecting, self-questioning, and challenging myself at every turn. I stayed on top by sticking to the "grind it out yourself" mantra.
The third is ethics. I always say that I am devoted to my family, dedicated to my profession, sincere to my organization, and truthful about the job and responsibilities that have been bestowed upon me.
The fourth is building and leading a team. I had understood, as a leader, that if I am able to create a learning environment and opportunities to grow professionally and through hierarchies for every individual team member, they will deliver. I followed the mantra.
Fifth is building camaraderie with your peers, seniors, and management. In our digital transformation endeavor, democratisation of decision-making and onboarding of the business team make adaptation and change management slightly easier jobs.
Finally is your ability to deal with situations that arise on a regular and circumstantial basis.
What are the challenges faced by technology leaders today while implementing digital technologies?
In the last two and a half decades, digitalization has seen many dynamics, and so have the challenges, which have been very volatile and fluid; in other words, there is no fixed doctrine to deal with the challenges of each generation. One has to evolve, swiftly adapt to the situation, and calibrate yourself.
In today's smart, contour-less world, which is highly integrated yet distributed, the biggest challenge is determining how to meet the expectations of each consumer of IT, irrespective of the domain or industry vertical.
Change management, adaptation to a new environment, and user experience are a few to name as mission-critical challenges.
While we build robust architectures, cyber security, information security, and data privacy pose new challenges for any organization. Infusing a security framework into enterprise architecture is thus an art. Threat actors, however, continue to sniff in.
How can technology leaders overcome the challenges faced?
Designing enterprise digital architecture is the key, which, according to my experience, may appear complex from the backend but should be as simple as possible. And that's where the challenge lies. The second challenge is decision-making. Again, my experiments say, integrate the business team, who are the real-time custodians of the technology when it comes to successful implementations, in decision-making. Third is change management, which becomes easy when the business team is engaged from the beginning. The selection of technology tools in commensuration with digital architecture from the bouquet of offerings is of paramount importance. The deployment of appropriate policy-driven security apparatus could potentially augment the digital core's defence against threat actors.
Any best practices, industry trends, or advice you'd give to fellow technology leaders to help them succeed professionally?
The bottom line for technology leaders is to keep their eyes and ears open, keep their mouths shut, and become vocal only when necessary. Choose what suits your environment best rather than following the herd. Do not get into an undue rat race. Become more accountable to the board and business than the market. Create a growth-oriented, innovative environment for the team and continuously keep engaging the business team. While our team is your ears and eyes, the business team is your ambassador inside the business. Remain updated and build an excellent partner ecosystem. Rationalize your instincts. That's the key to being a successful technology leader.
Also read: Technology is changing, or, let's say, upgrading, within no time
Do Follow: CIO News LinkedIn Account | CIO News Facebook | CIO News Youtube | CIO News Twitter
About us:
CIO News, a proprietary of Mercadeo, produces award-winning content and resources for IT leaders across any industry through print articles and recorded video interviews on topics in the technology sector such as Digital Transformation, Artificial Intelligence (AI), Machine Learning (ML), Cloud, Robotics, Cyber-security, Data, Analytics, SOC, SASE, among other technology topics