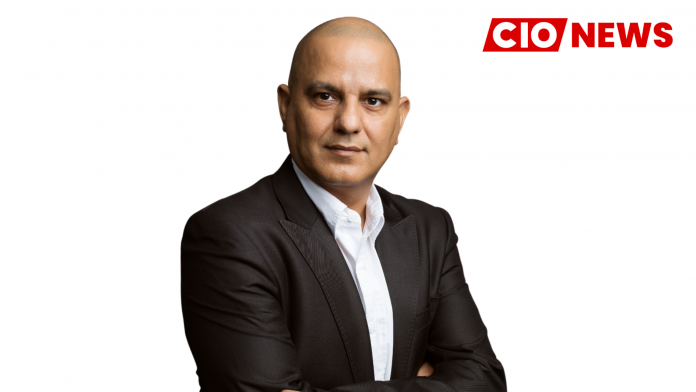 Being a CTO or as a head of technology these days is not just about technology
This is an exclusive interview conducted by Santosh Vaswani, Content Writer & Editor at CIO News with Vipin Chawla, Group Chief Technology Officer (CTO) at Eat'n'Go Ltd, on his professional journey
When asked how he planned his career path to be a successful Group CTO, Vipin Chawla, Group Chief Technology Officer (CTO) at Eat'n'Go Ltd, in an exclusive interview with CIO News, said, it all started with an article I read some 34 years ago about a computer. I was in my second year of college at the time. That article had a huge impact on my career path just a couple of years down the line. The idea of computers and technology just stuck with me through my remaining years in university education and as soon as I graduated, I registered myself in a computer course. As they say, the rest is history.
I started my career as an IT Trainee/Data entry operator in the manufacturing sector. We used to have these huge minicomputers. I knew within weeks of starting the first job that I wanted to be a programmer, so while I was working, I learned programming using the Basic and COBOL language. Computers were new to the hospitality industry in India back then, and as soon I got an opportunity, I joined a luxury hotel chain and hence began my journey. I started as a trainee, found my way up the chain to be a programmer and IT Support.
Technology in the hospitality industry became my forte and then I got an opportunity to lead the technology department of a group in Thailand. I learned a lot during my 14 years stint with this group developing and implementing new systems and technologies across hospitality, retail, manufacturing, and fashion industries.
In 2011, I quit my job to start my entrepreneurial venture weaving my way to working with different types of industries from health care, manufacturing, retail, QSR, hospitality, travel & tourism. With this, it was very clear that business and technology are not two sides of the coin but work in consonance.
This opened an opportunity for me for my next big career move in 2016 when I got an opportunity to move to Indonesia to take up a new challenge joining a leading global QSR (Quick Service Restaurant) company that was starting its growth journey in the country. I developed, moulded, and led the technology efforts of the company, resulting in 100% growth in three years. It was such a wonderful journey building the scalable IT infrastructure and a team to support the business growth.
In 2019, I moved to Nigeria as CTO, and now heading as the Group CTO of Eat N' Go Africa, developing and managing the technology and innovation of the company to support its major growth plans, leading digital transformation as the growth engine for the group from being a Nigerian company to a Pan-African company. Today the group has already forayed into two countries with over 180 stores and over 3000 employees and soon will be expanding its footprint into more countries across the region.
When asked about challenges he faced in his career path and how he overcame them, he said, as Roy T. Bennett once said "Challenge and adversity are meant to help you know who you are. Storms hit your weakness, but unlock your true strength."
I too have had my fair share of challenges starting from the limited resources to the economic crash in the late 1990s and early 2000s to the technology explosion and the pace at which it's now evolving.
How I overcome the challenges is always about making the best of the situation. "Don't think about the problem, think of a solution for there is a solution to every problem". We just have to look in the right areas and never lose focus. I believe in following the process, "if the process is right, then the results will follow. It's just a matter of time before the results speak for themselves".
When asked about challenges faced by CTOs today while implementing digital technologies, he said, in a dynamic and fast-changing world like ours, the biggest challenge for a CTO today is to be aware of how socio-political-economic situations across the globe are developing and the impact on their business and industry, while always being aware of what's happening on the technological front. Cyber Security is an ever-growing threat for all of us and it is important that we have our defences up at all times, for a small gap or miscalculation can result in some serious damage.
When asked how CTOs can overcome the challenges faced, he said, as CTOs, we have to try and be as proactive as possible. It's best to try and stay ahead of the curve rather than behind it. Staying in know-how and being aware of events will help us make the right decisions at the right time. I always say this, "being a CTO or as a head of technology these days is not just about technology, it's about knowing your business, knowing the environment your business operates in, and assessing the events impacting your business's ability to operate". It's only when you think business first, is when you will make the right technology decisions.
When asked about best practices/industry trends/advice you would like to suggest to fellow CTOs for their successful professional journeys, he said, as I said earlier, to be successful in our chosen profession, it is extremely important to think about business first. Understand your business requirements and then build your tech stack accordingly. The ultimate mantra is 'Customer First'. What are the expectations of the customers and how do we exceed them. What are the operational and logistical processes behind this? That should be the starting point for any Technology Leader. Once you understand and buy into this, then work backward and think about what technology does and I need to use to make this happen. Don't think about technology first and how to deploy the selected tech stack to meet the business requirement.
He highlighted, "In today's world to be the industry leader you have to continuously innovate, evolve, and be nimble-footed". "CTO's role here becomes extremely important to see how technology and digitization can provide that leading edge to the company whether it is CX (Customer Experience) or UX (User Experience)".
Another very important aspect rarely talked about in technology circles, is the importance of people. As a leader, I strongly believe it is our core responsibility to develop people in our teams. For it's the people who are our biggest asset so invest in them, train them to motivate them, and create opportunities for their growth.
Also read: CIO News interviews Shri Wangki Lowang, Minister (IT) of Arunachal Pradesh
Do Follow: CIO News LinkedIn Account | CIO News Facebook | CIO News Youtube | CIO News Twitter
About us:
CIO News, a proprietary of Mercadeo, produces award-winning content and resources for IT leaders across any industry through print articles and recorded video interviews on topics in the technology sector such as Digital Transformation, Artificial Intelligence (AI), Machine Learning (ML), Cloud, Robotics, Cyber-security, Data, Analytics, SOC, SASE, among other technology topics