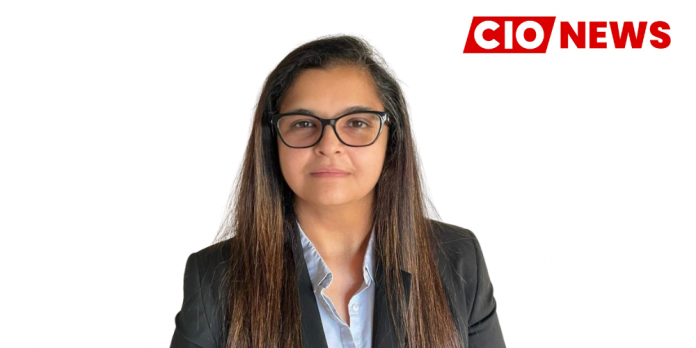 Also, as a technology leader, I could and am still mentoring women in technology, who have worked with me and ensured that they are treated as equals in the organization
When asked to share a little bit about what she does and what a typical day for her is like, Falguni Desai, Chief Technology Officer (CTO) with Digient Technologies Private Limited, in an exclusive interview with CIO News said, after working for 21 years, as a technology specialist, I have now started working as a consulting Chief technology Officer (CTO) for multiple organisations. I now work on multiple projects across travel, digital marketing, etc. My day beings by sending my daughter to her school, and followed by a workout at the gym for 1.5 hours. I start my meetings around 9.30 am, and all of these are scheduled a day prior, and for some of them at least a week in advance. I jump across meetings, and hence have always to multi-task and have the complete details of the project and organization handy, to have a fruitful meeting. The previous day is spent planning for these meetings, and indeed the notes made during the meeting need to be reviewed as well. In the evening, some days it is at 6.30 pm, and few days due to European clients, it goes up to 8.30 pm. I spend time with family and also watch some entertainment programs. I believe in my time and hence post 10 pm, I start my reading, I love reading books, or doing some binge-watching over the weekend.
When asked if she always knew that working in technology was what she wanted to do, she said, in the era I was born, there were only two fields in which any person would be considered as accomplished i.e. Doctor or Engineer. Since I was always surrounded by doctors in my childhood, my childhood dream was to become a neurosurgeon. I had even planned which university and country, I would do it. As fate would be (indeed to an extent lack of hard work as well), I didn't get good grades and hence was not selected, and hence had to think about plan B. This is when the apple computers had just been in India, and my cousin had been learning it, and that is how it sparked my interest. I then started learning computers, not through the engineering college, but through the courses offered by other institutes. I fell in love with the technology and hence have been working over the last 21 years, and have thoroughly enjoyed it. It is a field that keeps me on my toes, and I learn something new every day.
When asked if she has ever been in a situation when gender has affected the way she has been perceived or treated in the technology industry and how she handled the situation, she said, I have been in the technology field for 22 years now, starting when engineering was considered to be a male-dominated field. To an extent, it is still, but yes there has been a change which can be seen in the last 8 to 10 years. When I started, in most of the meetings I was the only women representative, and this was not only in India, but across countries. There were women working in project management and HR, but technology representation was few. Hence, the initial response was indeed a surprise, but as we went on to discuss the technical details, and they knew that my knowledge about technology is excellent, views did change. I have not faced different reactions from people as I entered meetings with clients and vendors, and indeed my reportees, stating how she can handle a technology profile. As I mentioned earlier, the best way to overcome the situation was to present myself confidently and know the subject very well. I always kept myself updated on what happened on the working floor, as well as the latest technology trends, and more importantly understanding how business can be supported by technology, this gave me an edge not only with vendors but also with the business stakeholders.
When asked about the best part of being a woman in the tech industry, she said, technology is a field that was considered as only "0" and "1", and hence made is more specific to males. Over the years, technology has been an enabler and is changing almost every two to three years. Earlier it was only coding but now it is Machine learning, AI, product management, and personalization and to all these aspects a human understanding is the core. Understanding customer requirements based on data analysis is something that women are good at, and so is product management as they bring in their different perspectives to the development life-cycle. Also, as a technology leader, I could and am still mentoring women in technology, who have worked with me and ensured that they are treated as equals in the organization.
When asked if she notices a lack of women in technology, and if so, why does she thinks that's the case, she said, there has been an improvement in the number of women joining the technology industry over the last 10 years, and with diversity and inclusion, the numbers are for sure going to increase. Having said that, there is still a gap, and I think it is due to low confidence people have about women in general, and technology it is still a very male-dominated field. The change in thinking has to be at the grass-root level, where project managers/hiring managers have an open mind and give equal opportunity to women. While diversity and inclusion make it mandatory to appoint women, equal opportunity to prove them is very much required.
When asked about an advice she would give to a woman considering a career in the tech industry, and what does she wishes she had known before starting her career in the technology industry, she said, technology is a field that should be considered by every woman/girl while looking for a career choice. It is a very interesting field and has vast opportunities. It is going to be the future for all businesses and hence a field where you can excel. We also get an opportunity to contribute to the business and make an impact. When I started working in the technology industry, I was the first one in my family but would have loved to have someone guide me, and make me understand what the various elements are. Programming is just one aspect of technology, but there were other things like servers, networks, and data centers, which I learned on the job. An overall understanding with a mentor is what I wish could be there. Yes, there have been my superiors who then became mentors and still are, and will always be there to guide me.
Also read: CIO News interviews Shri Wangki Lowang, Minister (IT) of Arunachal Pradesh
Do Follow: CIO News LinkedIn Account | CIO News Facebook | CIO News Youtube | CIO News Twitter
About us:
CIO News, a proprietary of Mercadeo, produces award-winning content and resources for IT leaders across any industry through print articles and recorded video interviews on topics in the technology sector such as Digital Transformation, Artificial Intelligence (AI), Machine Learning (ML), Cloud, Robotics, Cyber-security, Data, Analytics, SOC, SASE, among other technology topics