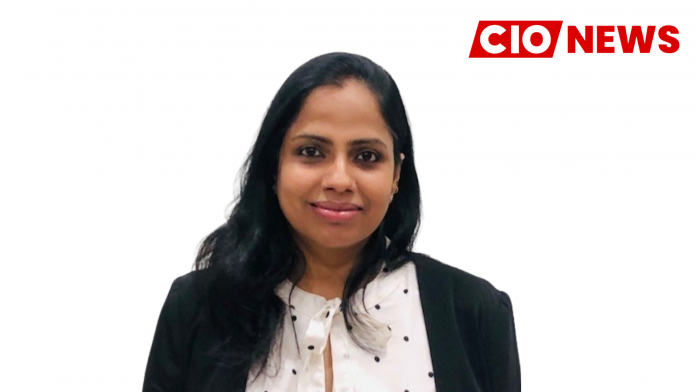 Transformation starts from within and we must carry the passion for technology to be able to bring the change
This is an exclusive interview conducted by Santosh Vaswani, Content Writer & Editor at CIO News with Swapna Somasi, Vice President – Information Technology in a leading multi national Investment bank and financial services holding company, on her Professional Journey
When asked how she planned her career path to be a successful Vice President – Information Technology, Swapna Somasi, in an exclusive interview with CIO News said, the journey started 19 years ago with a financial services giant. Since then it has been all about continuous learning, a clear vision of what I aspire to be, up-skilling, failing fast, and always remembering the lessons learned.
A wide variety of roles in development, business analysis, project management, program leadership, and product development helped me to absorb these traits over the years.
When asked about challenges she faced in her career path and how she overcame them, she said, technology is an ever-evolving space and to keep up is most challenging. I have always been open to learning and progressing to sustain in this highly demanding landscape.
The balance between work and family is a tight rope to walk. It is only through unflinching support from family and flexibility at the workplace that made it possible.
When asked about challenges faced by technology leaders today in a similar industry while implementing digital technologies, she said Driving transformation, Cyber Security, Identifying tools and processes and Dynamic customer needs are the top challenges
When asked how technology leaders can overcome the challenges faced, she said:
Transformation strategy built around value, profit, and people
Vulnerability free technology environment with timely security checks
A niche skillset pool and retain Intellectual property.
There is no one size fits all – identify what is best for the organization and customize
Having the competitive edge and building a dynamic marketplace with versatile technology products
When asked about best practices/industry trends/advice she would like to suggest to fellow technology leaders for their successful professional journeys, she said, evolving technologies like AI/ML, cloud computing, and big data analytics along with emerging technologies like block-chain and IoT are real game-changers.
Up your game by understanding the industry trends, staying up-to-speed, leveraging technologies to build the competitive advantage, and more importantly championing the transformation with a client and customer-centric strategy.
She highlighted, my mantra is: "Take risks, fail, fail fast, keep learning and keep going".
Be open to challenges and do not fear failure. Transformation starts from within and we must carry the passion for technology to be able to bring the change.
Also read: CIO News interviews Shri Wangki Lowang, Minister (IT) of Arunachal Pradesh
Do Follow: CIO News LinkedIn Account | CIO News Facebook | CIO News Youtube | CIO News Twitter
About us:
CIO News, a proprietary of Mercadeo, produces award-winning content and resources for IT leaders across any industry through print articles and recorded video interviews on topics in the technology sector such as Digital Transformation, Artificial Intelligence (AI), Machine Learning (ML), Cloud, Robotics, Cyber-security, Data, Analytics, SOC, SASE, among other technology topics