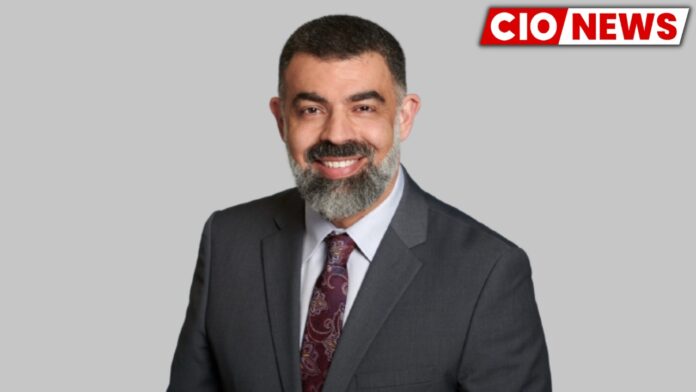 Vision and discipline are the two factors, together, I believe, shaped my path to becoming a technology leader
When asked how he planned his career path to be a successful technology leader, Samer Adi, IT Security Leader – CISO at Green Shield Canada (GSC), in an exclusive interview with CIO News, said, "Thirty years ago, I started my technology-driven career path as a computer maintenance teacher back home in Jordan, and fast track to the present day, I am now the CISO at Green Shield Canada." However, such a path was not linear, to say the least. I genuinely do not believe I "planned" my journey the way I did to become the successful technology leader I am today. I don't believe anyone can plan their career paths, or at least not plan every step of the way. I would state that successful leaders achieve their goals due to two inputs: vision and disciple. Notice how neither was lucky. A vision allows the leader to understand the overall outlook of their career: where they are now, where they would like to be in x time, and the general (not detailed) plan of how to get from step A to step B. I say a general plan and not a detailed one because when I reflect on the multitude of jobs within the technology field that I have obtained throughout my years, it was not clear to me that I would attain them when I started my journey. I just understood where I was and that I wanted to be a CISO in the end. At that time, the roles and companies within my journey were unknown to me. Secondly, I say discipline. Motivation is a wonderful tool to have, but discipline will hold up where motivation lacks. I try to catch opportunities when they come and do my best to exceed the set standards, even when I need guidance. This equipped me with this constant momentum, where even if I fell back a step—and lost motivation—I would move three steps forward the next time. These two factors, together, I believe, shaped my path to becoming a technology leader.
When asked about challenges he faced in his career path and how he overcame them, he said, "However, it is important to note that despite me being proud of where my discipline and vision have gotten me all these years, it was most definitely not a smooth-sailing ride." Although there are bound to be many bumps in the road, two specifically have challenged me greatly: (1) immigration, and (2) lack of mentorship. Firstly, I moved to Canada about nineteen years ago, a short time after I started my career and graduated from my undergrad. Although I was qualified and published university level textbooks back home, being an immigrant meant I had to start fresh and prove myself to not only others but myself. Building my way up a second time in a new country, with no extended family or friends to help guide or scout opportunities for myself, did put a dent in my confidence and rate of progress up the ladder. Secondly, a lack of mentorship might be the biggest challenge I have faced yet. In this field, you can never really know it all. Technology is still new, abstract, and always adapting. Without a mentor to help guide me early on in my career, I often found myself putting in double the work and failing more often than succeeding. However, this is where disciple and vision come into play. I knew where I wanted to be, and although I was failing and constantly being hit with a wave of challenges, discipline kept me moving forward, picking myself up every time I fell.
When asked how his organisation geared up in terms of technology in the COVID times, he said, "COVID-19 has left organisations no choice but to adapt. There have been discussions revolving around security changes that most people didn't even think twice about during their entire careers prior to March of 2020. Companies needed to gear up and adapt. But Green Shield was ready to adapt and tackle the mission head-on. People were scrambling to obtain and maintain secure devices to safely work from home. Implementation of VPN, multi-factor authentication, and zero trust security can be seen as vital changes that Green Shield has made or plans to make in response to the pandemic's effect on how businesses now run.
When asked about technology solutions and innovations he plans to implement in the post COVID era, he said, "Moreover, on zero trust, as it is one that Green Shield hopes to implement sometime in the near future, I believe it is vital in order to increase our protection and decrease possible attacks." The method revolves around the idea that there are no limits, and nothing is automatically trusted. While more limited, zero-trust architecture has the advantage of creating a significantly safer system that protects against unwanted access to critical data and digital assets.
When asked about challenges faced by technology leaders today in a similar industry while implementing digital technologies, he said, "It is important to note that there are challenges faced by technology leaders today in a similar industry as they implement digital technologies." Why is this important? Understanding what challenges are persistent across us can help us reach strong, reliable solutions in a more effective manner. These challenges include adaptation, change management, and user behaviour. Diving into adaption a little further, when a company fails to adapt to new technology trends or waves, it might find itself falling behind or not running to its full capacity. If we constantly try to stay in our comfort zone as a company and ignore these advances in terms of implementing them into our work, we will find ourselves constantly solving the same situation and wasting resources and human power, therefore. Furthermore, user behaviour is a costly challenge that ties back to adaption. By being stuck in this mindset of "we have always done it this way, why change it now?" or better yet, "if it's not broken, do not fix it," we are limiting and harming our company and team in the long run. Pushing ourselves outside of our comfort zone and adapting rather than ignoring these changes is a tough but rewarding process. Secondly, change management entails that when a leader fails to meet expectations, their teams become confused and demotivated, which, in turn, will cause the entire company or sector to face severe consequences. Leaders must manage change, or the change will manage them. When leaders perform the function of change management, changes are accomplished efficiently and sustainably while also ensuring the productivity and motivation of their team and employees remain high.
When asked how technology leaders can overcome the challenges they face, he said, "However, to every challenge, there is a solution." The first of which is project management. A team without project management is like a ship without a rudder; it moves but has no direction or control. Leadership permits and empowers team members to perform at their best. Project management offers leadership and vision, as well as inspiration, barrier removal, mentoring, and encouragement to the team to accomplish their best job. Secondly, clear and concise communication with the customer base will ensure a more in-depth understanding of the needs and wants of not only the customer but also give us an idea of how to organise our resources and what changes we might need to implement to meet such standards.
When asked about best practices, industry trends, or advice he would like to suggest to fellow technology leaders for their successful professional journeys, he said, "I would like to offer a piece of advice or two for other talented technology leaders for their successful professional journey." It comes down to two aspects: people and change management. As leaders, when we get a project, we tend to forget about those two aspects. It is not done on purpose; they are just two aspects that we do not give enough credit for, which in turn causes our attention and efforts to be divided among other aspects of the project. However, my advice to you all is to break that pattern. Consider people and change management in every implementation. These two work together hand in hand to ensure that a project is done with clarity and vision every step of the way. Placing more emphasis on that will help us achieve our purpose and goals: bring people together to complete their jobs in a more efficient and safer manner.
Also read: What can IT leaders do to improve the Digital Quality of Life of customers?
Do Follow: CIO News LinkedIn Account | CIO News Facebook | CIO News Youtube | CIO News Twitter
About us:
CIO News, a proprietary of Mercadeo, produces award-winning content and resources for IT leaders across any industry through print articles and recorded video interviews on topics in the technology sector such as Digital Transformation, Artificial Intelligence (AI), Machine Learning (ML), Cloud, Robotics, Cyber-security, Data, Analytics, SOC, SASE, among other technology topics