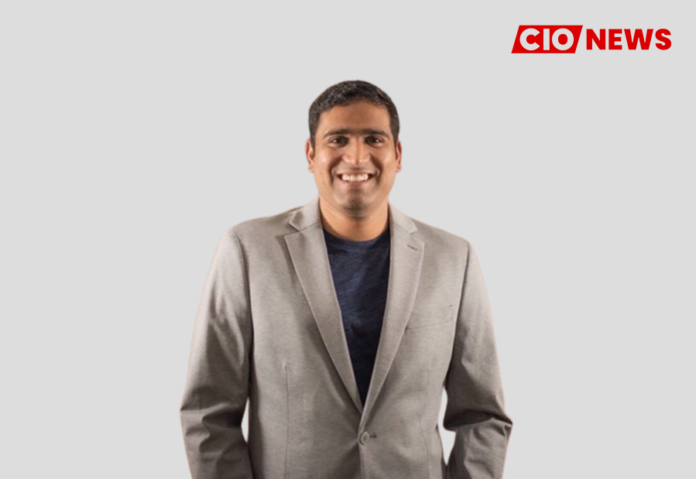 Having a fair grasp on privacy and customer data protection laws is crucial to understanding ways to build technology that is regulation-compliant
This is an exclusive interview conducted by the Editor Team of CIO News with Akshat Jhanwar, Chief Technology Officer (CTO) at Datahash
How did you plan your career path to be a successful technology leader?
My interest in technology took shape soon after college. My first job was at a well-known IT services company that specialised in building niche software products. Those were my years of formation, and I was immensely fortunate to have worked with leaders who saw potential in me and invested their time in me.
It's so important to be at the right place at the right time, and my mentors provided me with the right opportunities to learn and explore. For the past 16 years, I've worked with reputed brands that have implemented digital solutions across industry domains. This gave me the right exposure to working with clients from the BFSI segment, with a clear overview of the risks and their business security compliance requirements.
These domains need a strong backing in IT security frameworks and involve a continuous process of learning that helped me develop objective thinking while also being open to the feedback of others.
What are the challenges that you have dealt with in your career, and how did you overcome them?
From both a personal and industry perspective, the greatest challenge so far has been the ability to adapt to growing business requirements while staying relevant with technological advancements. Another aspect is having the courage to switch to the right career opportunity. It is difficult for those in key "CTO" and "CIO" roles to go from a corporate way-of-life to a start-up way-of-life, and this can involve different technology stacks, a new learning style, a new work pace, and much more. For instance, taking a salary cut in return for equity in the company for those in leadership positions can be a leap of faith, but it can also be a testament to your belief in the product.
A key differentiator that keeps me ahead of the game is the continuous attempt to learn with a deep hands-on understanding of technologies that help deliver value. Meeting efficiency in operation is crucial to the way I work. Taking on projects involving automation, cloud adoption managed services, and serverless architectures greatly aided me in focusing on meeting customer needs in a compliant manner.
Tell us about the challenges involved with implementing digital technologies.
It is extremely challenging to deliver business value while keeping a low time-to-market and also ensuring compliance. The challenge has intensified with the introduction of data privacy and governance laws that pose a unique set of challenges for companies that implement digital solutions that involve the collection, use, and storage of customer data.
Companies today are required to build and integrate a strong management tool that clearly outlines their data use and protection policies while staying vigilant of any data breaches and unauthorized access.
How can technology leaders overcome the challenges they face?
When you are a "CIO" or "CTO," ensuring data security is front and center. We must invest our time in adopting appropriate security measures and processes, in secure development practices, and in building systems that ensure thorough end-to-end encryption and have robust access controls and data retention policies.
A reliance on SaaS and PaaS platforms that offer ready-made solutions is one way to achieve this. Ensure that you have the right tools and automation at every step of the product development lifecycle, be it continuous monitoring, vulnerability management, access management, ensuring network and application security, building end-to-end encryption, or any other aspect.
It is important to build solutions that are flexible and that adapt to technological advancement. It is also crucial to develop a value-oriented approach that drives business needs. Communication is key to ensuring that business leaders and stakeholders understand the importance of building the right security practises and prioritise them.
Any best practices, industry trends, or advice you'd give to fellow technology leaders to help them succeed professionally?
I would like to encourage leaders in technology to be aware of the security risks and challenges. We are entering a "user-first" era where data privacy is being given the attention it rightly deserves.
The demise of third-party cookies continues to challenge those of us in the MarTech and AdTech spaces to reinvent the way we approach the collection of information. At Datahash, we prioritise data compliance and security. We work in an environment where digital solutions are constantly under threat, so it is important to stay informed about the tools and solutions available to minimise the risk.
Also, having a fair grasp on privacy and customer data protection laws is crucial to understanding ways to build technology that is regulation-compliant. Apart from that, investing in certifications (SOC2, ISO 27001) can ensure that best practises are being followed, and as a result, there's an opportunity to build trust with customers and stakeholders.
Also read: Youth can be digitally empowered by providing them with value education in a digital environment
Do Follow: CIO News LinkedIn Account | CIO News Facebook | CIO News Youtube | CIO News Twitter
About us:
CIO News, a proprietary of Mercadeo, produces award-winning content and resources for IT leaders across any industry through print articles and recorded video interviews on topics in the technology sector such as Digital Transformation, Artificial Intelligence (AI), Machine Learning (ML), Cloud, Robotics, Cyber-security, Data, Analytics, SOC, SASE, among other technology topics