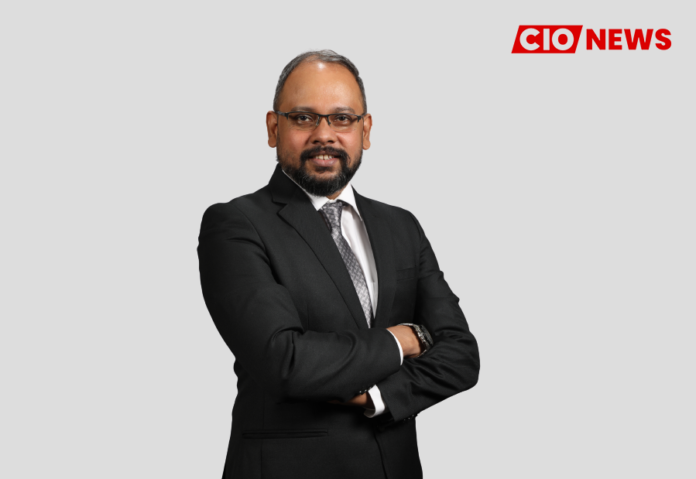 Technology leaders have to establish business expectations and ensure that they are aligned with the organisation's goals
This is an exclusive interview conducted by the Editor Team of CIO News with Suraj Prakash Chief Technology Officer (CTO) at Edelweiss Asset Management Limited (EAML)
How did you plan your career path to be a successful technology leader?
Technologists come from all walks of life and generally start their careers through campus placements, self-learning, college, etc. I progressed in a similar way through education and a host of learning opportunities and experiences.
A bachelor's degree in electronics and telecommunications followed by learning key programming languages paved the way for my entry into the technology industry. After working for a few years as a techie, I enrolled for a full-time MBA in Information Technology Management.
After completing management studies, I started working as a business analyst. Subsequently, I executed consulting assignments with some of the biggest financial institutions in Europe. Later, I transitioned from the vendor/partner side to the client side in the BFSI domain, where I worked with banks, NBFCs, and, most recently, an AMC.
What challenges you faced in your career path and how did you overcome them?
The challenge of adapting to a dynamic landscape is perhaps a constant in every techie's professional journey. The possibility of executing tasks in a better and faster way will always exist, whether in software or hardware. Being aware of the latest trends and breakthroughs in technology can help you stay ahead of the curve. You can stay updated through networking, attending seminars, and subscribing to some reputed technology websites and magazines. Encouraging innovation and ideas within your team is also a tried and true way to stay current with industry trends.
What are the challenges faced by technology leaders today while implementing digital technologies?
The foremost challenge for a technology leader is the reluctance of decision-makers in businesses to implement digital technologies since technology is not traditionally considered a priority for a business. However, the COVID-19 pandemic changed that and pulled IT to the forefront. As a matter of fact, COVID, along with CIOs, CTOs, and CEOs, has been the chief driver of digital transformation in the last few years.
Organizations and businesses weren't prepared for the entirely new realm that the world was pushed into by the pandemic. WFH became the new normal across all industries. Everyone had to innovate and implement automation, digitalization, and technological developments to stay afloat. It brought to the fore some new challenges:
Highly skilled tech teams are essential for successful implementation. COVID highlighted the need for digitally savvy personnel. It also trained the spotlight on the dearth of suitable skillsets among India's job aspirants. The resultant demand-supply mismatch has skewed the availability of human resources. Also, the increased demand for technically sound personnel has increased their value beyond the reach of traditional hiring budgets.
Conceptually, most of corporate India hasn't been able to fully grasp digital transformation. The term seems to be bandied about without understanding the intricacies of technology, architecture, customization, etc. As a result, many organisations think that they are moving in the right direction but end up going nowhere. Without a strategy, digital transformation could fail to get off the ground.
The inherent apprehension and fear of change leads decision-makers drag their feet on critical technology-related decisions. As a result, organisations are stuck with outdated or archaic processes and legacy applications. The reluctance of the management to enhance the enterprise's technology stack and capabilities limits its technological development.
Evolving customer requirements
Rather than assuming that you know which technologies your customers want you to provide, it's better to perform market research to understand the customer's needs. Executing a "proof of concept" is another way to verify what the customers actually want and to know what the competition is doing to win their business.
Most tech projects suffer due to unrealized technology expectations and incorrect estimations of timelines and budgets. Extension of timelines due to subsequent changes in the scope of the contract leads to added expenses. All of it adds up to an eventual failure in project implementation.
In many organizations, inefficient business processes necessitate innovation and business process reengineering.
How can technology leaders overcome the challenges they face?
Sensitize the organisation towards digital collaboration
As technology leaders, we should promote digital collaboration and accord it a high strategic status. Likewise, we have to prioritise training, publicise savings in cost and time, improve KPIs, and demonstrate its importance within the organisation's broader digital efforts.
Adoption is not just about the period when the application has been implemented. It also means the continued use of the technology or solution implemented.
Improving the tech skill quotient
Leaders have to make efforts to retain the existing skilled team members and upskill them with timely training and certifications. However, the retention and upskilling process has to be strategic rather than random and intermittent. Also, it is essential that leaders understand the requirements for digital adoption and implement initiatives strategically rather than in a "spray and pray" manner.
Technology leaders have to establish business expectations and ensure that they are aligned with the organisation's goals. Similarly, do a quarterly markup on the completed and pending assignments.
Any best practices, industry trends, or advice you would give to fellow technology leaders to help them succeed professionally?
Industry research and trends
Research reports and blogs may not be the Holy Grail for technology, but they do help leaders acquire a suitable perspective and direction to lead the organisation.
Periodic communication with stakeholders helps manage expectations and build a pipeline of requirements. The pipeline gives solid insights into the current and future needs of customers. It helps build a more scalable and robust architecture and landscape to serve customers more efficiently.
If you put yourself in a comfort zone, you may end up playing "catch up" soon. The tech industry is dynamic, and trends change frequently. Embracing trends and working with them can help you stay relevant and competitive.
Any other points that you would like to highlight?
Rather than binding them with too many constraints, provide them with reasonable freedom to take functional decisions. Take a chance with your team members when assigning them work. Give them timely feedback to enable them to detect inefficiencies and make suitable course corrections.
Disclaimer: Mr. Suraj Prakash is the Chief Technology Officer of Edelweiss Asset Management Limited (EAML) and the views expressed above are his own.
Also read: Think about security from a first-principles perspective
Do Follow: CIO News LinkedIn Account | CIO News Facebook | CIO News Youtube | CIO News Twitter
About us:
CIO News, a proprietary of Mercadeo, produces award-winning content and resources for IT leaders across any industry through print articles and recorded video interviews on topics in the technology sector such as Digital Transformation, Artificial Intelligence (AI), Machine Learning (ML), Cloud, Robotics, Cyber-security, Data, Analytics, SOC, SASE, among other technology topics