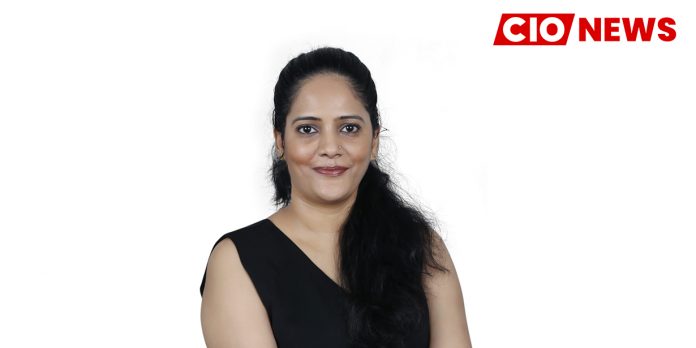 "Keep on learning, always be a student". Don't be afraid of mistakes. Mistakes are your best teachers
This is an exclusive interview conducted by Santosh Vaswani, Content Writer & Editor at CIO News with Jyoti Jaiswal, Vertical Head IT of BayLeaf HR Solutions Pvt. Ltd., on her professional journey
When asked how she planned her career path to be a successful Vertical Head IT, Jyoti Jaiswal, Vertical Head IT of BayLeaf HR Solutions Pvt. LTD, in an exclusive interview with CIO News, said, things were never planned.  As an Arts Graduate with Economics as a major subject, I had no technical background. I started my career as a BPO recruiter in 2007, as things were booming in these industries. Hiring for them for a couple of months got me an opportunity to work in IT recruitment. My first organization, iQuest Consultants, gave me this break, and I was lucky enough to be blessed with people who made me understand the minute things of recruitment. I haven't looked back since I started working with them.
Challenges: "A word of 10 alphabets, but very strong. It can break you or build you. So it depends how you face it". The same is with me too, on professional front, I have faced many challenges, and those challenges have built me today. After a sabbatical gap of five years, I got an opportunity to make a comeback with Bayleaf. I started from scratch: recruitment, reconnecting with old IT clients of Bayleaf, and settling with the team.
When asked about challenges she faced in her career path and how she overcame them, she said, being a fresher in the recruitment industry, at times I was scared to communicate with candidates, make them understand the requirements, many details were missing, and yes, many times I was scolded by the Team Leads, but I always took that on a positive note, and went ahead to correct my mistakes. Today too, if someone comes across pointing out my mistakes, I never take it personally. I take it to improve my skills and this is how it continues. The most important thing in recruitment, being a recruiter, is that your follow-up should be very strong for clients and candidates both. Both prefer to work or reply only to those who keep them updated on their status. If I have to say from a recruiters point of view, recruitment is all about follow-up and prompt revert. As a recruiter or a point of contact, many times I have faced critics from my clients, either for some mistakes made by my team or because of any other issues. The thing I used was being calm at that point. After some days, the same people came back and apologised for their behaviour, and with a greeting I moved ahead. It's a matter of understanding. For example, if we have one back out, the client who is working with 10 vendors, might have 10 back outs, more or less. For one single resource, we feel de-motivated. Kindly imagine their situation.
When asked how her organisation geared up in terms of technology in the COVID times, she said, this is was something, which was totally unplanned. For the first time, the whole world was in the same ocean yet in a different boat. We were no different, so we focused more on making our server strong so that when everyone is working from home, they will not have a problem in terms of accessing the data.
When asked about challenges faced by technology leaders today in a similar industry while implementing digital technologies, she said, there are many, but I would like to highlight a few. Adapting to customer changes, tech teams are facing hurdles in product focus, budgets, timelines, and team dynamics. The greatest difficulty for all tech teams will be to adapt to how their customers are changing.
On-boarding New Tech and Processes:
Because of COVID-19, many companies have had to accelerate the shift to digital tools for remote collaboration. Quickly on-boarding new technologies and processes creates growing pains that you need to make sure are addressed before they hinder productivity and lead to disgruntled employees.
Sourcing and Retaining IT Talent:
Sourcing, hiring, and retaining top IT talent will always be a major challenge in the IT industry, especially for companies that limit their teams to the local talent pool. Embracing remote methodologies and staff augmentation strategies can change this.
When asked how technology leaders can overcome the challenges they face, she said, sorry to say, but there is no magical wand. Every time some issues are sorted out, the next is ready, so this is an on-going process.
When asked about best practices/industry trends/advice you would like to suggest to fellow technology leaders for their successful professional journey, she said, being a vendor, we come across many challenges, which the client may not. It is important for the vendors to always share the problems faced by you, along with some solutions. The discussions become more interesting when it is two ways. Clients too prefer the vendors, who are always active, no matter; sometimes a little quarrel works too. Many such practices help you make your mark in the organization.
She added, "Keep on learning, always be a student". Don't be afraid of mistakes. Mistakes are your best teachers. But repeating the same mistakes will make you an unsuccessful person.
Also read: CIO News interviews Shri Wangki Lowang, Minister (IT) of Arunachal Pradesh
Do Follow: CIO News LinkedIn Account | CIO News Facebook | CIO News Youtube | CIO News Twitter
About us:
CIO News, a proprietary of Mercadeo, produces award-winning content and resources for IT leaders across any industry through print articles and recorded video interviews on topics in the technology sector such as Digital Transformation, Artificial Intelligence (AI), Machine Learning (ML), Cloud, Robotics, Cyber-security, Data, Analytics, SOC, SASE, among other technology topics.