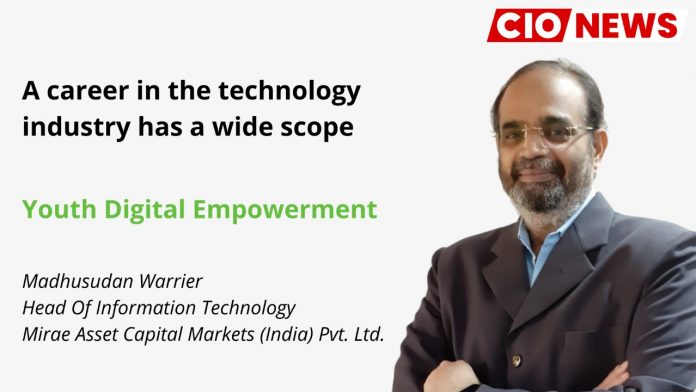 "The COVID-19 pandemic has disrupted livelihoods for millions of young people worldwide." It is important to highlight the role digital technologies can play in mitigating the effects of the crisis on

the youth
When asked what digital literacy is and why does it matter, Madhusudan Warrier, Head of Information Technology at Mirae Asset Capital Markets (India) Pvt. Ltd., in an exclusive interview with CIO News, said, "Digital literacy is having the skills we need to adapt in our society where communication and access to information is increasingly through digital technologies like internet platforms, social media, and mobile devices."
It matters because, today, everyone looks at the internet as a key source of information. To build digital literacy skills means understanding the basics of Internet safety, such as creating strong passwords, understanding and using privacy settings, and knowing what to share or not on social media. It helps to understand the perils of cyber-bullying and seek to stop current bullies and prevent others from cyber-bullying. A higher level of digital literacy will make us realize digital knowledge. This in turn, by the use of digital technologies, makes things easier and lowers the burden if we use them wisely. With the help of digital technology, people are at ease working independently through their laptops on their flexible schedules. We get a world full of information and connections with just a tap. We can do the jobs more professionally with less distraction. Digital literacy gives you the ability to focus on tasks with specific information.
When asked about his views as an IT leader on digitally up-skilling the youth in the post-COVID era, he said, "The COVID-19 pandemic has disrupted livelihoods for millions of young people worldwide." It is important to highlight the role digital technologies can play in mitigating the effects of the crisis on the youth.
Digital platforms are enabling students to pursue online learning; entrepreneurs to engage in e-commerce; and workers to earn income through online freelancing and microwork. These remote opportunities are particularly beneficial for young women and other vulnerable young people who have been affected by the crisis. Employers have the choice to recruit talent across the globe. Employees have the flexibility to work from anywhere.
Governments and businesses are now increasing their investments in digital skills development to ensure that youth can leverage online education and employment opportunities. Microsoft has launched a new initiative to help 25 million people worldwide acquire new skills for a COVID-19 economy. The African Development Bank's Coding for Employment e-learning platform was launched in 2019 to equip African youth with advanced digital skills. Since the start of the pandemic, the number of users has increased by almost 50%.
When asked how the youth can be digitally empowered and what kind of exposure and engagement opportunities in the educational curriculum can educational institutes implement to raise the interest of youths to up-scale their digital skills, he said that educational institutes must have a curriculum that offers digitally literate courses that cover knowledge, impart skills and capabilities across several domains. The curriculum should include the ability to use technology, find, use, and critically evaluate information; and how to use data and media sources to communicate, collaborate, and participate in online environments.
How can youth be digitally empowered? Exposure Action Plan
Plan basic digital skills and competencies from an early age
Give exposure to digital literacy, including tackling disinformation
Familiarize yourself with knowledge and understanding of data-intensive technologies, such as artificial intelligence (AI)
Advanced courses in digital skills that can produce more digital specialists
Ensuring a gender mix in digital studies and careers
When asked if it should become a must for schools, colleges, and other educational institutes to conduct workshops or crash-course programmes to drive the importance of technology for businesses, he said, "Yes, digital transformation has transformed society, impacting everyday activities."
The pandemic has demonstrated that having an education and training system that is fit for the digital age is essential and doable.
While COVID-19 demonstrated the need for higher levels of digital capacity in education and training, it also led to the amplification of several existing challenges and inequalities between those who have access to digital technologies and those who do not, including individuals from disadvantaged backgrounds.
The pandemic has also revealed several challenges for education and training systems related to the digital capacities of education and training institutions, teacher training, and overall levels of digital skills and competencies.
When asked his advice as an IT leader for the youth considering their career in the technology industry, what should they know about the industry before starting their career, what challenges they could face and how to overcome the challenges, he said, "A career in the technology industry has a wide scope." It ranges from supporting devices used to enabling content, access, and use of information. The profiles we know that add value to business are:
Data Scientist
Software Developer
Information Security Analyst
Web Developer
Sales Engineer
Computer Research Scientist
My view is that the following technologies will be in focus for the coming time.
Machine learning engineer
UX designer
Robotics engineer
Data scientist
Cloud engineer
Also read: CIO News interviews Shri Wangki Lowang, Minister (IT) of Arunachal Pradesh
Do Follow: CIO News LinkedIn Account | CIO News Facebook | CIO News Youtube | CIO News Twitter
About us:
CIO News, a proprietary of Mercadeo, produces award-winning content and resources for IT leaders across any industry through print articles and recorded video interviews on topics in the technology sector such as Digital Transformation, Artificial Intelligence (AI), Machine Learning (ML), Cloud, Robotics, Cyber-security, Data, Analytics, SOC, SASE, among other technology topics