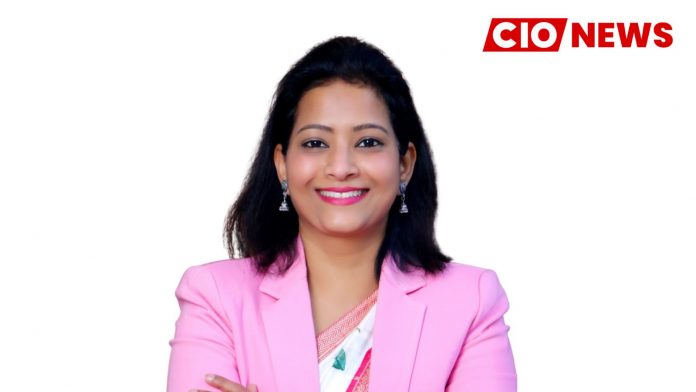 While a CTO is focused on technology products and service deliveries, they need to juggle with different hats to see how the offerings create a differentiator from the perspective of end-users, sales team, marketing team, business team, compliance team, and regulators
This is an exclusive interview conducted by Santosh Vaswani, Content Writer & Editor at CIO News with Shweta Srivastava, Chief Technology Officer (CTO) at Paul Merchants Finance Pvt. Ltd. on her Professional Journey
When asked how she planned her career path to be a successful CTO, Shweta Srivastava, Chief Technology Officer (CTO) at Paul Merchants Finance Pvt. Ltd., in an exclusive interview with CIO News, said, when I was first introduced to computers in Class 6th, it fascinated me a lot. I wanted to learn and gain command of it. I acquired the necessary skills during my academic journey and attained knowledge of computer application programming. Writing a few lines of code used to give me some sort of kick. I explored my journey towards management of projects and experienced the end-to-end journey of a Software application from conception till deployment. After successfully working in the Application domain for about eight years, I decided to widen my horizon and started discovering other aspects of information technology (IT) which included Infrastructure, Network, Cloud computing, Data Analytics, Mobility, AI/ML, etc.
Today I have around more than 20 years of experience in strategic & technology execution and I continue to enable organizations in their digital transformation journey with the adoption of new-age tech tools. I am constantly working towards development and driving IT Strategy, IT Business partnering, Project Delivery, Support, Building, and Mentoring strong IT teams aligned with the business.
As a successful Technology leader, one cannot restrict their deliveries around technology solutions. It is extremely critical to step into the shoes of other stakeholders and experience their journey so as to support them in a better way. Apart from the core, IT-related tasks I help ensure regulatory compliances, Statutory Audits, IT Audits, and other statutory IT obligations including IT Security Compliances. To achieve the same I have worked closely with the entire ecosystem comprising of sales, operations, business, accounts, legal, compliance, regulators as well as technology enablers.
When asked about challenges she faced in her career path and how she overcame them, she said, when I started my journey in information technology, there was a very limited number of females in this domain. The sector predominantly demands a commitment to the timelines which gets difficult to manage for women who are equally invested at the home front. The mind-set of the industry was, at that time, that women might not be able to do justice to the deadlines and deliveries. I also experienced some push backs initially but over a period of time, with continuous efforts and prompt deliveries, I was able to change this perception of my peers and have been fortunate to get an environment where I could grow as a professional and achieve the desired goals.
In the past few years, the perception of the world towards women has changed and women have also proven themselves time and again for being no less than their male counterparts. Women have proved that they are not only good performers but also good managers and can pull off challenging projects with a lot of ease and perfection.
When asked about challenges faced by other CTOs today in a similar industry while implementing digital technologies, she said, one word, if I may use for naming the biggest challenge that my fellow CIOs and CTOs face in today's world, is "variable". The term "variable" in information technology is most apt for all the elements around us which do not hold a constant value. The demands of end customers are changing with every passing minute. Customer does not have the patience to wait for the deliveries, they have endless options available. There is no customer loyalty. Everyday demands of customers are evolving. The dynamics of the ecosystem are changing rapidly. Tech-driven businesses are introducing a lot of innovative solutions and ideas for addressing the customer's requirements. Regulators are tightening the controls further. The stakes on automation systems are extremely high with zero tolerance for any single glitch. And amongst all this, you need to ensure deliveries with the highest quality and in the quickest possible timeframe.
When asked how CTOs can overcome the challenges faced, she said, the value proposition that comes from the technology solution holds good only when it appeals to all the stakeholders and has quantifiable KPIs for each segment. While a CTO is focused on technology products and service deliveries, they need to juggle with different hats to see how the offerings create a differentiator from the perspective of end-users, sales team, marketing team, business team, compliance team, and regulators. One needs to talk less about technology and more about business terminologies/jargon. With changing trends, IT has become an important board room agenda and is given due importance and focus which helps create awareness amongst all C-level executives.
CTOs need to spend more time with the business team and need to participate in the strategic discussions around new product/service offerings, Enhancement of existing product/service as well as devising marketing and sales AOPs. This will help align the business objectives with the technology team's goals.
When asked about best practices/industry trends/advice she would like to suggest to fellow CTOs for their successful professional journey, she said, the most important thing that most of us, at times, ignore is the real driver behind technology adoption. The reason for the adoption of a certain technology/automation tool should not be driven by the market trend; rather there should be backed by a clear thought process with quantifiable outcomes that define the real value add. One should always consider the value add of a particular technology solution to the business.
Always get a business as well as management buy-in. No project is IT Project. The projects should be driven by the key stakeholders and IT can support and drive the projects as a support function unless the nature of the project is such. The commitment of stakeholders largely outlines the success or failure of the project.
Last but not the least; a solution is a solution only if it is economical in nature. Cost-efficient projects are the best and most preferred ones amongst the end-users and they should solve real-life problems most effectively and efficiently.
She highlighted learning is a continuous process. Career goals are milestones in your journey and not the final destination in any way. Whoever wants a successful career in IT, needs to imbibe the habit of constantly upgrading oneself and should be receptive to all sources through which learning comes in. it involves a great deal of humility, self-control, focus, zeal, and a whole lot of patience. Opportunities are endless provided you are ready to grab them and be present at the right place at the right time.
Also read: CIO News interviews Shri Wangki Lowang, Minister (IT) of Arunachal Pradesh
Do Follow: CIO News LinkedIn Account | CIO News Facebook | CIO News Youtube | CIO News Twitter
About us:
CIO News, a proprietary of Mercadeo, produces award-winning content and resources for IT leaders across any industry through print articles and recorded video interviews on topics in the technology sector such as Digital Transformation, Artificial Intelligence (AI), Machine Learning (ML), Cloud, Robotics, Cyber-security, Data, Analytics, SOC, SASE, among other technology topic