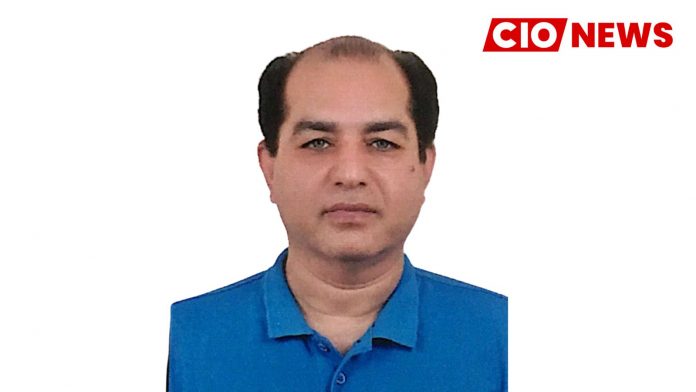 To be a successful technology leader, one has to be aligned to the technological innovations to be relevant in today's scenario, also, lead by example and never shy away from being hands-on
This is an exclusive interview conducted by Santosh Vaswani, Content Writer & Editor at CIO News with Roshan Popli, CIO at Airports Authority of India, on his Professional Journey
When asked how he planned his career path to be a successful CIO, Roshan Popli, Chief Information Officer (CIO) at Airports Authority of India, in an exclusive interview with CIO News, said, like everyone else who graduated in the 90s, I too started as a software programmer. Then, the main focus was to continuously learn and be the best programmer around. Gradually, I moved into project & program management and account & customer management. These experiences helped me to strengthen my skills in the area of technology, leadership, strategy, innovation, business knowledge, customer management, governance, risk & change management, etc. All these skills helped me in successfully executing the role of a CIO at the Airports Authority of India.
When asked about challenges he faced in his career path and how he overcame them, he said, the technology has advanced leaps and bounds over the past 2 decades. I started from standalone solutions to client-server in the early 90s to web-based solutions, e-commerce, mobile applications, cloud & edge computing, data warehouse, big data, and emerging technologies like wearable technology, artificial intelligence, machine learning, IoT, data science, block-chain, etc. If I look back now and reflect on my career path, the main challenge (and an opportunity at the same time) has been the adoption of the ever-changing technology and helping customers in leveraging these technologies for providing them the edge in their business areas.
When asked about challenges faced by other CIOs while implementing a digital technology, he said, "With the advent of modern technology stacks and the prevailing pandemic, the CIOs are focussed on the business outcome, time to market & improving overall customer experience (internal as well as external) through the use of technological solutions".
From where I see, the following are the key challenges that the CIOs are facing nowadays:
Time to Market of new digital initiatives – With pandemic, the world has opened up to digitisation and the pace of digitisation has increased multi-fold. Managing the pace and prioritization of digital initiatives is one of the main challenges nowadays.
Cyber Security – With more and more adoption of digital technologies, the cyber security threat has also increased exponentially and it needs to be mitigated and monitored daily.
Integration of Data – In the majority of organisations, the data is distributed in disparate systems. Integrating a large volume of data from different sources in varying formats is a challenge that has to be overcome as the need of the hour is to provide insightful data for business leaders to make informed decisions.
Adoption of new technologies – Over the past many years, there has been a technological evolution with the introduction of newer technologies like AI/ML, IoT, Data Science, etc. The CIOs have to constantly address the ever-changing business scenarios and hence there is always a need of exploring and implementing newer cost-effective technologies.
Apart from the above, CIOs have to navigate the day-to-day challenges for managing risks, increasing costs, change management, collaboration, etc.
When asked how CIOs can overcome the challenges faced, he said, "Every CIO will have challenges specific to their environment and business needs and hence there is no one glove that fits all".
Typically, the following needs to be in place for mitigating any challenge:
Right organisation structure with focussed teams & investment in right skilled people
Well defined process and tools for governance & risk management
Prioritizing digital transformation by aligning to the business needs
Adopt agile practices for technology adoption rather than the big bang approach
Striking partnerships with OEMs as well system integrators for creating an alternate strategy for skill augmentation
Focus on innovation and its adoption
When asked about industry trends/best practices/his advice that he would like to suggest for successful professional journeys of other CIOs, he said, the technology landscape is changing fast and new solutions are being launched rapidly. A combination of newer technologies is now being used to increase process automation and virtualization. With the onset of the pandemic, the acceptance of digitization has increased multiple folds thereby leading to a lot of automation opportunities.
Hence, one must keep themselves aware of these changes in technology so that they can derive business advantage for their end-users by choosing the right technology depending upon the functional area of their respective organisation.
He highlighted, "To be a successful technology leader, one has to be aligned to the technological innovations to be relevant in today's scenario, also, lead by example and never shy away from being hands-on".
Also read: CIO News interviews Shri Wangki Lowang, Minister (IT) of Arunachal Pradesh
Do Follow: CIO News LinkedIn Account | CIO News Facebook | CIO News Youtube | CIO News Twitter
About us:
CIO News, a proprietary of Mercadeo, produces award-winning content and resources for IT leaders across any industry through print articles and recorded video interviews on topics in the technology sector such as Digital Transformation, Artificial Intelligence (AI), Machine Learning (ML), Cloud, Robotics, Cyber-security, Data, Analytics, SOC, SASE, among other technology topic