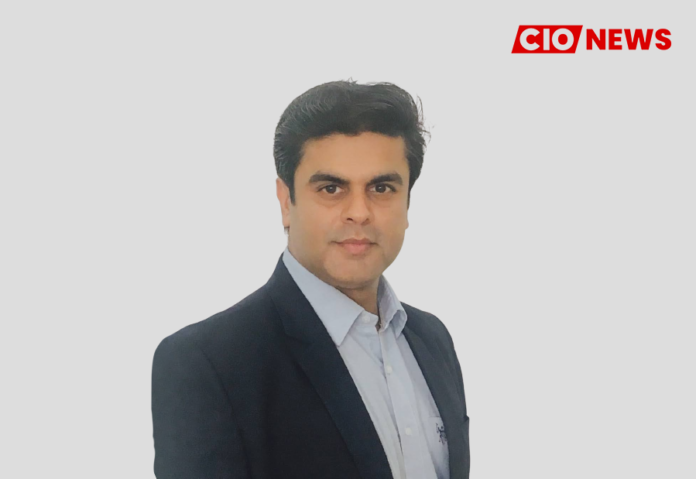 As a technology leader, you should consider where automation might be applicable in your organisation and work with your team to implement it
This is an exclusive interview conducted by the Editor Team of CIO News with Vipin Chopra, Head & Vice President – IT Infrastructure & Security at Xceedance
How did you plan your career path to be a successful technology leader?
There is no one-size-fits-all professional journey for a technology leader, as each person's path will be unique based on their skills, interests, and experiences.
The core principles throughout my career journey of over two decades have been:
Every opportunity is first a challenge, and how you deal with the challenge enables you to turn it into an opportunity.
Change is the only constant, and one must be open, flexible, and receptive to change to learn and grow in life.
A systematic approach that has helped me build a successful career and can be helpful to other leaders as well:
Define your goals: Think about what you want to achieve in your career and what kind of work you find most fulfilling. It can help you focus your efforts and choose the right opportunities.
Build your skills: Keep learning and developing new skills that will be valuable to your career, including technical, leadership, and business skills.
Network and make connections: Building a solid network of contacts in your industry can be extremely valuable. Attend industry events, join professional organizations, and connect with people in your field.
Seek out growth opportunities: Look for ways to take on new challenges and responsibilities that will help you grow as a technology leader. It could include taking on new work projects or seeking leadership roles in your organisation or community.
Keep an open mind: Technology and the business world are constantly changing, so be open to learning about and adapting to new technologies and ways of doing things. It will help you stay current and relevant in your field.
Follow your passion and embrace change: Following your passion and embracing change are both essential for personal fulfilment and success. This approach may take effort and self-reflection, but the rewards are well worth it.
Remember, building a successful career as a technology leader takes time and effort, so it's essential to be patient and persistent to keep working towards your goals.
What challenges you faced in your career path and how did you overcome them?
The tech industry is ever evolving and constantly changing, leading to multiple challenges in any technology leader's career.
As a leader, I have faced challenges such as the introduction of new technologies, complex digital transformations, aligning to business outcomes, new age skills, the talent gap, and emerging cyber security threats. In addition, there is also an industry-agnostic dimension that brings a new horizon of business expectations, customer behaviour, and deliverables, leading to a set of challenges. With the rapid pace of innovation, it is not easy to keep up with everything happening around us.
To overcome these challenges, one needs to be flexible, agile, and able to move and respond quickly to the changing environment, develop solutions to a variety of conditions, categorise and prioritise objectives and tasks, identify short- and long-term goals, take risks, and have an effective risk management plan in place. To aid in this, I allocate time for ongoing learning and professional development to overcome these challenges. I also stay connected with colleagues and peer groups who can share their knowledge and insights. My mantra for staying ahead of the game is continuing to learn.
Overall, the key to overcoming challenges in my career has been staying focused on my goals, persevering, excelling in my job, being flexible to change, being open to learning and growth, and seeking support and guidance from my network and leaders. By approaching challenges with a positive and determined attitude and a willingness to adapt, I have overcome various obstacles and continue to advance in my career.
What are the challenges faced by technology leaders today while implementing digital technologies?
Every technology leader encounters several challenges while enforcing digital transformation in an organization. Here's what I have encountered during my professional journey:
Ensuring that the technology is aligned with business objectives: It is vital to ensure that the technology being implemented supports the overall business strategy and goals.
Managing the costs of implementing and maintaining new technologies: Digital technologies can be expensive to implement and maintain, and it is important for technology leaders to manage these costs effectively.
Managing change: Implementing digital technologies requires significant changes to business processes and how work is done, which can be difficult for employees to adapt to immediately.
Staying up to date with the latest technologies: Technology is constantly evolving, and it is important for technology leaders to stay up to date with the latest developments to make informed decisions about technology implementation.
Ensuring the security and privacy of sensitive data: With the increasing reliance on digital technologies, it is crucial to ensure that sensitive data is protected from cyber threats and unauthorized access.
Managing the complexity of integrating new technologies with existing systems: Integrating new technologies with existing systems can be complex, and it is essential for technology leaders to manage this integration effectively.
Lack of skilled personnel: It can be difficult to find and hire employees with the necessary skills to implement and manage new digital technologies.
Complexity: Implementing new digital technologies can be a complex process involving a wide range of stakeholders, budgets, and timelines. Technology leaders must navigate this complexity and ensure that projects are completed on time and within budget.
Ensuring that employees are trained and able to use the new technology: It is important to provide employees with the training and support they need to use and benefit from the latest technology.
How can technology leaders overcome the challenges faced?
Technology leaders face various challenges in their roles, such as managing complex projects, staying up to date with rapidly evolving technology, attracting and retaining high-performing talent, and understanding the business to align with common objectives and deliverables. Here are a few strategies that have benefited me over the course of my career:
Stay current on industry trends and developments: Technology is constantly evolving, so it's important for technology leaders to stay current on the latest trends and developments in their field. It may involve continuing their education, attending industry conferences, or simply staying connected to industry news and updates.
Develop strong communication and leadership skills: Technology leaders need to communicate effectively with their teams and other stakeholders. In addition, they need to inspire and motivate their team to achieve success. Improving your communication and leadership skills can help you overcome challenges in managing complex projects, working with diverse groups, and navigating workplace politics.
Establish clear goals and priorities: Having a clear understanding of what needs to be accomplished can help technology leaders stay focused and prioritise their work effectively.
Be flexible: Technology leaders should be prepared to adapt their plans if circumstances change or new information becomes available.
Build strong relationships with co-workers and stakeholders: Building positive relationships with co-workers and stakeholders can help you overcome challenges related to workplace politics and conflicting personalities. Focus on building trust and respect, and work to create a positive and supportive work environment.
Seek out opportunities for growth and development: Technology leaders who are proactive about seeking new opportunities for growth and development are more likely to overcome challenges and advance in their careers. It may involve taking on new responsibilities within your organization, seeking additional education or training, or networking with other professionals in your field.
Seek out mentors and advisors: Technology leaders can benefit from the guidance and advice of more experienced colleagues. These senior professionals can serve as mentors or advisors who can provide valuable perspectives and help navigate challenging situations.
Foster a positive work culture: A positive work culture can help motivate and inspire your team, leading to better results. Try to create a supportive and collaborative environment that encourages creativity and innovation.
Any best practices/industry trends/advice you would like to suggest to fellow Technology Leaders for their successful professional journeys?
Several best practices and industry trends have helped me, and I have always recommended them to technology leaders in my network to consider in their professional journeys:
Focus on business outcomes: As a technology leader, it's important to remember that the goal of your work is to enable the business to achieve its goals. So make sure you align your efforts with the overall business strategy and be prepared to explain how your work contributes to the bottom line.
Focus on customer needs: Ultimately, the success of your technology depends on whether it meets your customers' needs. Make sure you regularly gather customer feedback and use it to inform your decisions.
Foster a culture of innovation: Encourage your team to be creative and think outside the box. It may involve setting aside dedicated time for experimentation and exploration or encouraging team members to participate in hackathons or other innovation events.
Focus on user experience: As technology becomes more integrated into our daily lives, it's important to remember that user experience is key. Encourage your team to think about how their work will impact the end user and work to create products and services that are intuitive and easy to use.
Embrace automation: Automation is increasingly important in the technology industry, as it can help to improve efficiency, reduce errors, and free up time for more value-added work. As a technology leader, you should consider where automation might be applicable in your organisation and work with your team to implement it.
Foster a culture of cyber and information security: Cybersecurity is more critical than ever as the number of cyber threats continues to rise. Cybersecurity is a vital concern for organisations of all sizes, and technology leaders are responsible for protecting their systems and data from threats. Make sure you have robust cybersecurity measures to protect your customers and your organisation's data and systems. Ensure your team is updated on the latest technologies, processes, and practises for security and encourage them to report any potential vulnerabilities they identify.
Embrace digital transformation: With the ever-evolving nature of the industry, it's important for technology leaders to be flexible and adaptable to stay ahead of the curve. Be open to trying new things and be willing to pivot when necessary. Digital transformation can help businesses be more agile, flexible, and responsive to market needs and keep organisations ahead in the value chain.
Invest in your team's development: Your team is your most valuable asset, so make sure you invest in their development. It may involve providing training and professional development opportunities or giving team members the time and space they need to learn and grow.
Embrace diversity and inclusion: Diverse teams are often more innovative and effective, so work to foster a culture of diversity and inclusion in your organization. It may involve recruiting a diverse workforce, promoting an inclusive work environment, and providing opportunities for professional development and advancement for all team members.
Foster collaboration and communication: Effective communication and collaboration are critical for success in the technology industry. Encourage your team to work together and share ideas, and ensure you foster an open and inclusive work culture.
Stay ethical: As a technology leader, you are responsible for acting ethically and ensuring that your team is doing the same. Make sure you are aware of relevant laws and regulations and that you are taking steps to ensure that your team is acting in a way that is consistent with your values.
Any other points that you would like to highlight?
In today's ever-evolving and multi-dimensional world, businesses are looking for techno-business leaders who are problem solvers with in-depth expertise in the business domain and can not only complement but accelerate the business growth journey through new-age technology investments.
Data is the new currency, and as technology leaders, we must leverage emerging technologies like AI, ML, blockchain, metaverse, and big data, which can help us understand consumer behaviour and provide useful insights to businesses in defining new strategies and making timely decisions.
Also read: Difference between enterprise-grade and consumer-grade technology needs to get diminished
Do Follow: CIO News LinkedIn Account | CIO News Facebook | CIO News Youtube | CIO News Twitter
About us:
CIO News, a proprietary of Mercadeo, produces award-winning content and resources for IT leaders across any industry through print articles and recorded video interviews on topics in the technology sector such as Digital Transformation, Artificial Intelligence (AI), Machine Learning (ML), Cloud, Robotics, Cyber-security, Data, Analytics, SOC, SASE, among other technology topics