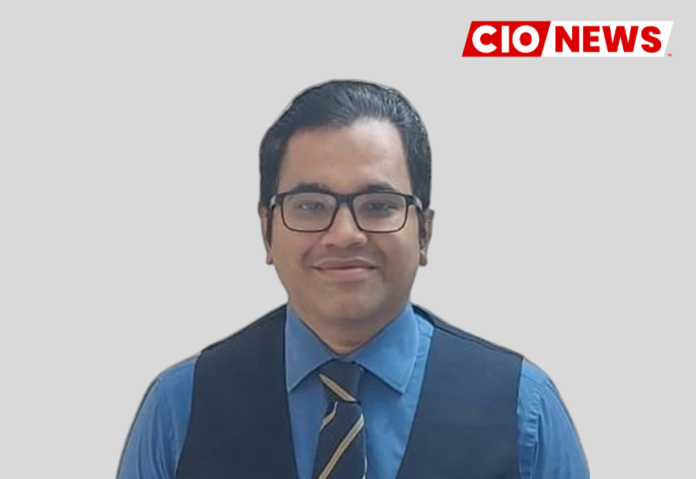 The first step in effectively implementing technology in marketing is identifying the business objectives and needs
This is an exclusive interview conducted by the Editor Team of CIO News with Sushant V Pai, Fractional Chief Marketing Officer (CMO) at  Axe Automation · Freelance
How did you prepare for a career as a Marketing Technology (Martech) leader?
As a professional with more than 13 years of experience, a background in chemical engineering, and a passion for technology and marketing, I have always been interested in combining my technical expertise with marketing and business strategy.
I also completed an Executive MBA with a focus on marketing, strategy, and entrepreneurship at the Quantic School of Business and Technology and a digital marketing specialisation at Columbia Business School Executive Education. These programmes helped me develop my skills and knowledge in digital marketing, strategy, data analysis, customer experience design, strategic planning, market analysis, and leadership.
I have always focused on gaining a solid foundation in marketing principles, staying on top of industry trends and technologies, and consistently seeking opportunities to grow and advance in my career to become a successful Martech and Business Leader.
As part of my professional development, I sought mentorships, formed relationships with industry leaders, made strategic career moves, and connected with other professionals in the martech industry.
I continuously developed my leadership abilities while gaining experience and building my network. I took on leadership roles whenever possible and worked hard to improve my communication, problem-solving, and team-building skills.
Throughout my career, I've constantly set new goals for myself and taken on new challenges. My diverse background and commitment to learning have contributed to my success as a Martech leader, and I am constantly seeking new ways to challenge myself.
What challenges you faced in your career path and how did you overcome them?
Despite my education and experience, I have sometimes found it difficult to find opportunities to utilise my skills and knowledge in this field. To overcome this challenge, I have sought out freelance and contract work as a fractional CMO for small businesses as well as early-stage startups in the martech sector. This has enabled me to gain valuable experience and build my portfolio.
In addition, I have made sure to stay active on social media and online professional networks and have regularly attended industry events and conferences to connect with others in the field. This has helped me to stay up-to-date on the latest trends and technologies and has also allowed me to network with potential clients and employers.
How do you plan to promote your company's technology or technology products?
As the MarTech and Business Leader, my primary goal will be to ensure that all marketing efforts are aligned with the overall business strategies and objectives set by the leadership team. To achieve this, I will be responsible for developing a clear, measurable marketing plan and implementing data-driven methods to deliver relevant, compelling messages to the target audience. I will also prioritise building relationships with influencers and thought leaders in the target market to establish our company as a thought leader.
In addition, I will work to enhance productivity in the sales operation through the implementation of tools, resources, systems, and processes. I will also focus on creating a seamless, positive customer experience at every touchpoint and gathering feedback to drive loyalty and retention. Building and maintaining a solid and engaged marketing team will be essential to the success of our marketing campaign, and I will prioritize implementing an effective onboarding program to help customers use our product effectively.
I understand the importance of aligning with other functions and teams within the organization, and I will work to leverage the expertise of the product team to drive maximum return on investment. With the support of the finance team, I will be responsible for optimising the marketing budget to ensure we are getting the best return on our marketing investments. Finally, I will be committed to monitoring and reporting marketing performance, including tracking key performance indicators (KPIs) and metrics used to measure effectiveness.
How do martech leaders intend to use technology in marketing, and what are the benefits to their organizations?
Martech leaders can present to stakeholders the benefits of implementing technology in marketing for organizations, including increased productivity and efficiency, more targeted and personalised campaigns, better measurement and analysis, and an improved customer experience.
For example, marketing automation software such as Hubspot or Marketo can improve the efficiency of email and social media marketing campaigns, enabling businesses to reach more people with less effort, save time, and reduce costs.
Companies can create more effective marketing campaigns by tailoring their messages to specific segments or individuals using personalization tools. In addition, data analytics tools such as Google Analytics and Adobe Analytics can provide insights into marketing campaign performance, enabling organisations to make data-driven decisions and optimise their strategies.
The first step in effectively implementing technology in marketing is identifying the business objectives and needs. CRM systems such as Salesforce or Microsoft Dynamics may be a good choice if the organisation seeks to increase its lead generation efforts. This way, the technology options can be narrowed down and aligned with business objectives.
The next step is to research and evaluate potential technology options. Assess different options, such as integrations, ease of use, and customer support. The organisation may be interested in selecting a technology that integrates well with its various marketing tools, such as Zapier or Make.
Once a technology has been identified, it is crucial to develop a detailed plan and timeline for its implementation. The training, integration with existing systems, and rollout should all be included in this step. This plan may consist of training sessions to teach employees how to use the new technology and a timeline for introducing it to different departments.
Communicating effectively with stakeholders, including employees and customers, is crucial so everyone understands the changes and their benefits. A company-wide email or town hall meeting can ensure everyone knows about the new technology and its benefits.
Finally, once the technology has been implemented, it should be monitored and optimised regularly. Ensure it is being tracked and measured, and make any necessary adjustments to maximise its effectiveness.
Technology implementation requires careful planning and execution, but its benefits to an organization make it a worthwhile investment.
What are the challenges faced by martech leaders today while implementing technologies in marketing?
When implementing technologies in marketing, martech leaders commonly face the following challenges:
Staying on top of the constantly changing technology landscape: New technologies and platforms are constantly introduced into the marketing technology landscape. Keeping up with these developments and ensuring your team is using the best tools for your marketing campaigns can be challenging.
Managing and optimising multiple marketing technologies: Many marketing teams employ a range of technologies, such as CRM systems, email marketing platforms, and social media management tools. It can take time to allocate sufficient resources to manage and optimise these tools effectively.
Justifying the cost of marketing technology: While marketing technology can be expensive, it is essential to explain the cost to stakeholders in terms of the return on investment it provides. Martech leaders may need to demonstrate how new tools can increase efficiency or revenue.
Integrating marketing technology with other business systems: Marketing technology often needs to be integrated with other systems, such as a CRM or website. Careful planning and coordination are required, especially if several marketing tools need to be seamlessly integrated. Another challenge is ensuring that the data shared between systems is accurate and up-to-date.
Getting executive support for using marketing technology: To ensure the success of marketing campaigns, executive leadership must provide the necessary resources and support to the team. Martech leaders must make a case for marketing technology's value and how it helps them achieve their business objectives.
How can Martech leaders overcome the challenges faced?
Keeping up with industry news and attending events and conferences is an excellent way to stay up-to-date on marketing technologies. It can help martech leaders stay on top of new marketing tools and platforms while inspiring new marketing ideas and approaches.
Ensure team members can access professional development and training opportunities to stay up-to-date with new tools and platforms. The team can be better prepared to support marketing efforts by becoming familiar with new technologies.
Defining a clear strategy and road map that identify the specific goals and objectives for the team to achieve is essential. This can assist in prioritising tasks and ensuring that the team focuses on the most crucial technologies and initiatives.
Tracking progress with project management software and assigning tasks. It can increase transparency and accountability while reducing confusion and duplication of effort.
A regular assessment process, such as conducting quarterly audits, should be in place to evaluate the effectiveness of different tools. As a result, any technologies that are not performing well or are not meeting the team's needs can be identified and improved.
Identify the best marketing technologies for your business by conducting a cost-benefit analysis. Stakeholders will appreciate this if new tools are justified based on their value to the organization. This can also be a beneficial method for identifying the technology that provides the most value to the organization.
Pilot programmes can be implemented to test the effectiveness of new technologies before committing to a full rollout. This can demonstrate the technology's value and build support for its widespread adoption.
In partnership with IT professionals, ensure marketing technology is well integrated with other business systems. It can ensure that data is transferred accurately and efficiently between systems while reducing the risk of errors.
Any best practices, industry trends, or advice you'd give to other Martech leaders to help them succeed professionally?
For successful professional journeys, Martech Leaders should focus their future efforts on the following trends or "best practices":
Improve campaign performance by automating tasks and leveraging artificial intelligence.
Enhance the customer experience by creating personalised interactions.
Make data-driven decisions using data and analytics.
Ensure compliance with laws and regulations regarding customer data protection.
Experiment with new channels, platforms, and technologies to find out what works best for your business.
Improve efficiency and save time with marketing automation.
Personalize your marketing efforts to make them more effective and targeted.
Reach customers across various touchpoints using an omnichannel approach.
Improve your marketing strategy and customer experience continuously through customer feedback.
Utilize mobile-first strategies to reach customers on the devices they prefer.
Using video marketing, you can engage your audience and capture their attention.
Use conversational marketing tools to improve customer interactions, such as chatbots.
Increase brand visibility by partnering with influencers.
Make use of retargeting techniques to bring back abandoned shopping carts or visitors who left your website.
Educate and inform customers about your products or services using content marketing.
Anything else that you would like to highlight?
Marketing technology is becoming increasingly important, which will drive the growth of the MarTech industry. Companies that successfully implement MarTech tools and strategies are likely to have a competitive advantage. A business' marketing efforts will be more successful if it stays up-to-date on the latest MarTech trends.
Also read: Difference between enterprise-grade and consumer-grade technology needs to get diminished
Do Follow: CIO News LinkedIn Account | CIO News Facebook | CIO News Youtube | CIO News Twitter
About us:
CIO News, a proprietary of Mercadeo, produces award-winning content and resources for IT leaders across any industry through print articles and recorded video interviews on topics in the technology sector such as Digital Transformation, Artificial Intelligence (AI), Machine Learning (ML), Cloud, Robotics, Cyber-security, Data, Analytics, SOC, SASE, among other technology topics