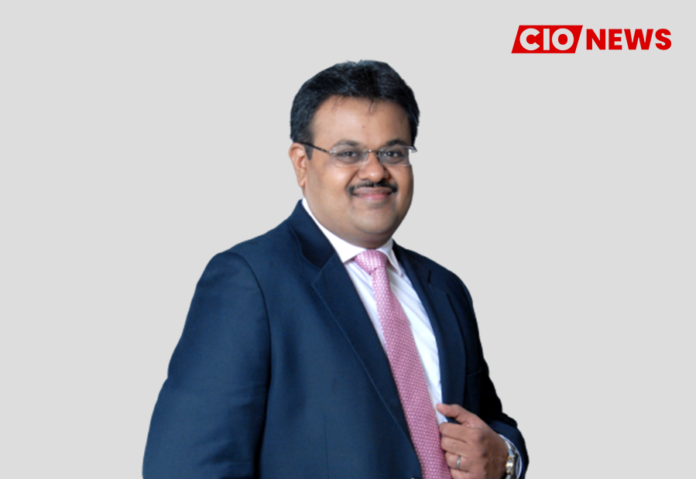 Every organisation will have its own IT maturity and appetite for new technology adoption
This is an exclusive interview conducted by the Editor Team of CIO News with Dharmesh Sanghavi, CTO – Portfolio management at MO Alternate Investment Advisors Pvt. Ltd. (a division of Motilal Oswal Group)
How did you plan your career path to be a successful technology leader?
As a teenager, my motto was to help the people I served and make their lives better. That passion has led me to pursue engineering, and with my teacher's guidance at school, I adopted computer engineering as a stream that was booming around the Y2K days. I started my career in 1999 as a tester of a new customised ERP solution that was being developed for the organisation, which helped me understand how the business ERP should work and give financial results in terms of trial balance, P&L, and balance sheets. Parallelly, I also learned about the aspects of IT infrastructure and data analytics that are required for the organisation. My mentor used to say that you need to be "Jack of All Trades, Master of None" to head the information technology (IT) department. At the young age of 23, I was heading a team of professionals who were older than me. When my college friends were pursuing careers in JAVA or Dot Net and travelling to the United States for projects, I used to wonder if I should get into the programming side rather than implementing business applications as an IT manager, but now that I am leading digital transformation for many organisations as an IT leader and assisting organisations in transitioning from IT-Enabled to IT-Driven businesses, I have no regrets for the decisions I have made.
What challenges you faced in your career path and how did you overcome them?
Challenges were always there in each of my career moves, and they are an integral part of any job anyone takes. People management is the key to success, and influencing people with your soft skills is one of the virtues a CIO should master to become a successful leader. There are always challenges in terms of seeing businesses from the different lenses of a promoter or MD, CFO, CEO, business heads, marketing heads, supply chain managers, operations managers, and all end users from various departments. I've always tried to understand their processes and what they expect from IT systems. Because I spent a significant portion of my career in retail, the challenges of ensuring that IT operations run smoothly 365 days a year were different. Over a period of time, I have realised that to successfully deliver projects one after another, there are SOPs or guidelines that need to be followed internally. PMP certification helped me refresh my project management approach to deliver results one after another. Continuous learning in terms of IT strategy or soft leadership skills assisted me in bridging the gap between senior management's expectations and IT delivery.
What are the challenges faced by technology leaders today while implementing digital technologies?
Users who will use new technologies will always face difficulties in digitising tasks that were previously done manually for long periods of time. We call it change management or transition management; this aspect of handling new ways of doing processes and making users comfortable with their adoption is a challenge in every digital technology project, large or small. Managing the stakeholder's expectations for the project during the project lifecycle and post-go-live is a challenge that is faced in each project by a technology leader today.
Another challenge is dealing with cyber security in the cloud era and ensuring that proper disaster recovery mechanisms are built in while designing the architecture.
How can technology leaders overcome the challenges they face?
In any organisation today, multiple and hybrid IT infrastructures are emerging. In this complex IT infrastructure, trying to look at the bigger picture by understanding the business strategy going forward and aligning the IT strategy helps in planning the IT architecture as well as the selection of business applications for me as a CIO. Every organisation will have its own IT maturity and appetite for new technology adoption. It is always advisable to understand the maturity of digital transformation and pace it accordingly.
Any best practices, industry trends, or advice you'd give to fellow technology leaders to help them succeed professionally?
A key to success is to understand your areas for improvement and keep sharpening your skills as a leader. You need to understand the business you are in and the organization's culture to make your project successful. If that understanding is still not there, then it is advisable to wait before starting any project to avoid failure. Have patience and have conviction in what you are proposing, as there will be instances where your decisions will be challenged. If you have deep knowledge of the subject, you will come out strongly as a winner. Be trustworthy and ethical; this will go a long way toward assisting you in overcoming any obstacles or challenges along the way.
Any other points that you would like to highlight?
I am very passionate about what I do, and this helps me with self-motivation and to make bold moves. Don't forget about your team members, who have worked tirelessly for you. If they require your help at any point of time in their life, always be the first one to offer them support. As a leader, building passionate IT professionals for our country who help various organisations and make people happy can be your small contribution towards our beloved motherland.
Also read: Difference between enterprise-grade and consumer-grade technology needs to get diminished
Do Follow: CIO News LinkedIn Account | CIO News Facebook | CIO News Youtube | CIO News Twitter
About us:
CIO News, a proprietary of Mercadeo, produces award-winning content and resources for IT leaders across any industry through print articles and recorded video interviews on topics in the technology sector such as Digital Transformation, Artificial Intelligence (AI), Machine Learning (ML), Cloud, Robotics, Cyber-security, Data, Analytics, SOC, SASE, among other technology topics