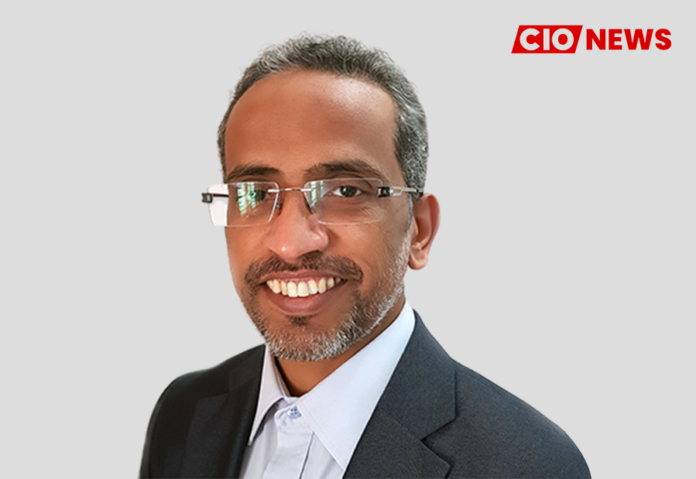 To be a successful technology leader, it is important to deeply understand the business and the industry that IT is serving
This is an exclusive interview conducted by the Editor Team of CIO News with Keshavamurthy Rajgopal, an IT Transformation Advisor and Strategy Consultant
How did you plan your career path to be a successful technology leader?
Actually, I did not plan for a career path in IT until after a couple of years working in IT. Initially, based on my education in electrical engineering, I was looking for opportunities in that domain, specifically in the area of my interest in renewable energy sources. Job opportunities were largely limited to state electricity boards and PSUs, both of which were not aligned with my idea of a career.
I started as a programmer purely by chance. Interacting with business users to understand their problems and guiding them through IT, as well as discovering that many of my personal values, such as helping others, work discipline, logical decision making, consistency, and so on, were aligned with these tasks. This influenced my decision to pursue a career in information technology further.
During the initial 2-3 years, I realised that to be a successful technology leader, it is important to deeply understand the business and the industry that IT is serving to be able to decide what success looks like and how IT can make it happen using a suitable choice of tools and technologies. Being in constant touch with developments in the industry and the technology landscape is very crucial to accomplishing that goal.
What challenges you faced in your career path and how did you overcome them?
At different stages of my career, I faced different challenges. Some of them were very specific to the context of the organisation I was associated with, and some were generic issues faced by many in the IT industry:
Need for Business Orientation or Domain Knowledge: If one is not familiar with or aligned with the processes and success criteria of the business, success in IT will be self-serving and convoluted. To be able to align with business, one needs to understand the domain, communicate effectively with non-technical stakeholders, and manage their needs and expectations in such a way that they treat IT as an enabling partner in their success rather than as an order-talking service provider.
I recognised this fairly early in my career and spent a significant amount of the project planning process working with the client's business users to be able to articulate requirements in a manner that they agreed with and could sign off on the project success criteria in terms that IT understood and implemented. This success led me to pursue my MBA a few years later, which gave me a much stronger business orientation.
Dynamic Technology Landscape: Keeping up with the ever-changing technology landscape is a big challenge. Gripped with never-ending deadlines and fire fighting, it's extremely difficult to be in touch with what's happening in the technology and tool landscape. Unless one has their own learning and development plan or their organisation forces them through planned training, it is impossible for one to be up to date.
For a couple of years in my career, my major responsibilities were away from core technology projects. When I completed them and returned to my technology-centric role, I felt so outdated and overwhelmed with all that's new that I had to push myself harder and work even longer to catch up.
What are the challenges faced by technology leaders today while implementing digital technologies?
Technology leaders today face a variety of challenges while implementing digital technologies. I have listed some of the most common from my experience:
Understanding Business Needs: I keep going back to this need for everything! It's difficult not to emphasise this for any IT success.
Mapping the Right Technology with the Needs: Keeping up with the latest and greatest in technological advancements is necessary to fulfil the needs without complicating the solution or making adaptation harder.
Lack of Skilled Resources: Implementing new technologies often requires significant resources with hard-to-find skillsets. Even training existing resources will take time.
Data Security and Privacy: Handling large amounts of data with privacy and sensitivity considerations while implementing digital technologies requires a lot of care. This is even more critical and expensive for organisations where "security is not first."
Change Management: Introducing new technologies that disrupt business as usual (BaU) processes will necessitate significant changes to organisational structures, roles, processes, and KPIs. Employees tend to resist changes in technology and processes, and it can have a substantial impact on business operations. Personally, I think this is the most critical KPA that can make or break a digital transformation program.
Defining and Measuring ROI: When the project is changing the way the organisation functions or business is done, it's hard to articulate the ROI of the initiative and even harder to measure it.
How can technology leaders overcome the challenges they face?
To overcome the challenges listed in the previous question, technology leaders should have a clear understanding of their organization's goals and objectives and work closely with all stakeholders to develop a strategic plan for implementing new technologies. It's also important to have strong leadership with committed cross-functional leaders with complementary skills to continuously monitor and take swift action on emerging challenges. Plan and execute change management ahead of the IT project, if not along with it. Also, organisations need to look out for external help, as many of the skills required in the entire programme might not exist in most organizations.
Any best practices, industry trends, or advice you'd give to fellow technology leaders to help them succeed professionally?
The COVID-19 pandemic has given us an impetus to re-look at ourselves personally and organizationally. Based on what I have been observing for the last couple of years, these are at the top of my list:
Reinvent Work Location: As employees (or anyone contracted to work, as more and more gig workers are given work rather than employing more), working from anywhere is real and persistent, and everything that organisations have devised as applications, processes, and measures needs change. This includes how we meet, measure attendance and leave, collaborates, performs, etc., and needs a fundamental re-look and adjustment.
Build a Strong Network: Building a strong network of contacts within the industry can be beneficial for both career advancement and professional assistance. Power has already shifted from individuals to networks.
Continue to Build Your Brand: Add New Skills to Your Portfolio of Skills Expand your domains of influence by recognising and developing transferable skills. Develop your networks.
One point of serious consideration for senior IT leaders: Unlike in the west, IT professionals in India are discriminated against based on their age, irrespective of the value they bring to the table. Investing in your brand is a powerful deterrent to this problem. This leads to my next piece of advice.
Promote Learning: Encourage a culture of learning within the organization, support employees' professional development, and provide opportunities for them to learn new skills and technologies across age and functional groups. This would provide constant support for business dynamics.
Any other points that you would like to highlight?
As I move past 2022, after 2+ years of hardship across the globe personally and professionally, I need to recognise the increasing trend of specialisation across professions. Consider the types of specialisations that have emerged within IT since the early days of cloud computing. What used to be a cloud migration project where an architect designed for or migrated to the cloud and drove implementation through developers now has a dozen roles: Azure/AWS Architect, Infrastructure Engineer, UX Designer, UI Developer, DevOps Engineer, Cloud Engineer, Data Analyst, etc.
Imperative to this illustration is to think of restructuring the IT organization, providing for growth and learning for everyone, including yourself. Thank you.
Also read: Choose technology solutions that are flexible, scalable, and can integrate with existing systems
Do Follow: CIO News LinkedIn Account | CIO News Facebook | CIO News Youtube | CIO News Twitter
About us:
CIO News, a proprietary of Mercadeo, produces award-winning content and resources for IT leaders across any industry through print articles and recorded video interviews on topics in the technology sector such as Digital Transformation, Artificial Intelligence (AI), Machine Learning (ML), Cloud, Robotics, Cyber-security, Data, Analytics, SOC, SASE, among other technology topics