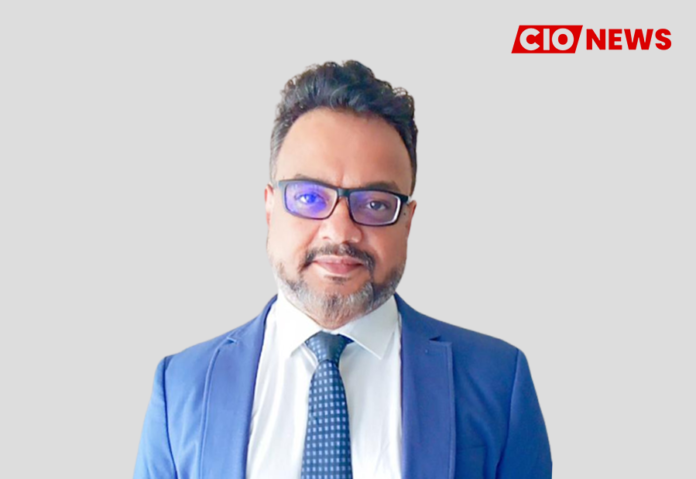 It's very important that digital courses be introduced in all colleges and educational institutions
This is an exclusive interview conducted by the Editor Team of CIO News with Biswajeet Mahapatra, CIO Advisor, Principal Analyst at Forrester
What is digital literacy, and why does it matter?
Literacy is the ability to read and write. Digital literacy means using digital means to read and write. However, "digital" as a word is a loaded one, and in the digital world, you don't just read and write; you also create, communicate, discover, search, manipulate, evaluate, and propagate. Hence, digital literacy is the ability to search, discover, create, manipulate, evaluate, and propagate information or data using digital methods.
It is important these days because most business operations that affect daily life are shifting to digital platforms, whether it is opening an account, checking your balance, paying your fees, searching for good colleges, attending classes, verifying records, lodging complaints, expressing your views, booking a ticket, transferring money, and so on.
As an IT leader, what are your views on digitally upskilling the youth in the post-COVID era?
COVID taught everyone that business can be done completely online using digital technologies. Indian youth were up for the challenge and took it head-on. Kids and parents learned digital technologies like working with Zoom, Teams, and Google Docs to attend classes, complete homework, attend exams, etc. Youth was also on the forefront, helping the older generation with online payments and requesting online services like medicines, doctors, groceries, food, etc.
However, post-COVID, we need to add method to this madness. The method would come from learning more and doing so in a structured manner. Youth need to now climb up the ladder and do more with digital technologies. I'm glad some of them are already doing it. Last night I met a freelancer around 24–27 years old who was editing some corporate online banners while boarding a flight. This means the youth of this country have realised the potential of digital technologies and how they can have alternate livelihoods using digital tools. Those who have not already learned new digital tools should go ahead and enrol in online classes (many of which are free) in the areas they want to build their careers in and start a new life.
How can the youth be digitally empowered? What kind of exposure and engagement opportunities in the educational curriculum can educational institutes implement to raise the interest of youths in upgrading their digital skills?
The youth of this country are very intelligent; all they need is a little bit of compassion and support from the government and corporations, and I am glad this is happening. As I previously stated, once students identify their areas of interest, they must pursue a career in those fields, which will allow them to pursue their dreams while also opening up new avenues for earning.
Most of the educational institutes have started adding digital courses to their curricula. Eg., digital marketing is a standard subject in every marketing course, and they teach everything, including social media marketing and influencer marketing, etc. I myself have the honour of teaching digital marketing as a visiting faculty member at XIM Bhubaneswar and am happy to see that 80% of the students I have in the class are not only aware of social media marketing but have their own websites using the latest tools as well.
Should it become a must for schools, colleges, and other educational institutes to conduct workshops or crash-course programmes to drive home the importance of technology for businesses?
Absolutely, it goes without saying. Colleges and institutes that do not provide digital courses will no longer be in demand. It's critical for educational institutions as well to provide the latest courses on digital technologies so that they stay relevant and attract the right talent. Businesses would not like to recruit students who do not have digital skills. It's very important that digital courses be introduced in all colleges and educational institutions.
As an IT leader, what advice would you give to the youth considering a career in the technology industry? What should they know about the industry before starting their career? What challenges they could face in and how do they overcome the challenges?
I think students should first look at IT as one of the many options available to them. I have seen people who had no inclination for IT (especially coding) take up IT courses just to get a good salary or go abroad. This is a classic story of failure. It does not imply that coding and IT should be viewed through a single lens. There are different aspects to IT and it is now all pervasive. There is no function that can work without IT, yet IT is not all.
Students must first identify their interests and strengths before looking for courses that will help them develop skills in those areas. While acquiring skills, they should ensure they add those relevant IT skills that are essential for them to excel in their space. Marketing is incomplete without digital marketing, so anyone who wants to be a great marketing manager should know the basics of digital marketing, which include using digital tools and techniques. Similarly, a banker needs to know about retail banking, online banking tools, core banking tools, etc.
So before anyone gets into a field, they need to do thorough research on different aspects of the industry, the tools being used, and how they can learn those tools. Challenges could be the initial ignorance about these tools, the lack of training institutions that give training in these tools, etc., but these should be overcome by either getting a good mentor who can guide to the required resources or joining courses that provide a lot of digital exposure as a part of the curriculum itself.
Any other points you would like to highlight?
I think I have said everything. The current generation is quite tech-savvy, and they don't like manual work. They know how to complete tasks using digital tools. They just need the right mentors and courses to be successful.
Also read: An Introduction to Digital Lending Software: Making Lending Easy & Efficient
Do Follow: CIO News LinkedIn Account | CIO News Facebook | CIO News Youtube | CIO News Twitter
About us:
CIO News, a proprietary of Mercadeo, produces award-winning content and resources for IT leaders across any industry through print articles and recorded video interviews on topics in the technology sector such as Digital Transformation, Artificial Intelligence (AI), Machine Learning (ML), Cloud, Robotics, Cyber-security, Data, Analytics, SOC, SASE, among other technology topics