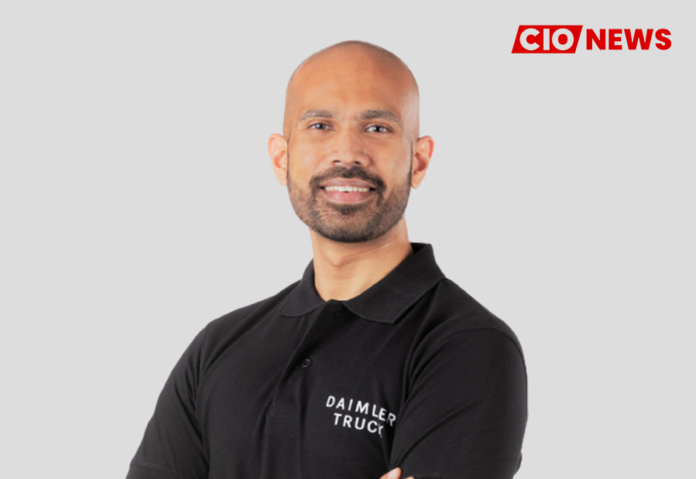 Prioritize the right balance specific to your organisation based on your digital and tech maturity
This is an exclusive interview conducted by the Editor Team of CIO news with Chulanga Perera, Chief Transformation Officer & Head of Strategy at Daimler India Commercial Vehicles
How did you plan your career path to be a successful technology leader?
Becoming a technology leader was quite an unforeseen, yet very organic, career path for me. To elaborate, my educational background is in mathematics and finance, and I started my career in investment banking. However, I had always had a digital bent of mind in the field I worked in. Daimler, my current organization, swiftly recognised this digital mindset coupled with my background in mathematics and roped me into IT, where I went on to put together the Big Data and Analytics team, which I would say is the starting point of my tech leadership journey. Following that, as the CIO of Daimler India Commercial Vehicles, I worked on a variety of projects, including truck connect, and connected vehicles, and so on.
Once I got started on this path, I quickly realised that being a technology leader entailed more than just having a strong foundation in IT know-how; it also required comprehensive business understanding and a highly strategic mind. I found myself becoming increasingly passionate about the field. I upskilled myself through certifications and trainings to better understand how technology can contribute to my organisation and more importantly, add value to our customers. When passion and hard work meet, I believe one is set on the best path to success as a technology leader.
What challenges you faced in your career path and how did you overcome them?
For me, my initial career challenge was learning on the job as I did not have a background in IT. I had to learn rapidly as I was very keen on bringing my digitalization vision for the organisation to life. This challenge has now groomed me to be agile and resilient and equipped me with an open mind to acknowledge gaps with humility and learn with childlike curiosity.
Another challenge that took several years of practise is unlocking elite execution. It may take one good mind to generate an idea, but several great hands working together to achieve it. Take the opportunity to improve daily execution. Numerous people talk about execution and claim it as the reason their organization's plan was met with failure for yet another year. This just proves that not many really understand it and need to focus on execution.
What are the challenges faced by technology leaders today while implementing digital technologies?
Budgets, talent pipelines, and cyberthreats—there is no shortage of challenges facing tech leaders now and in the near future. As the pandemic has shown, tech leaders and their teams are often called on to provide solutions for industries and communities at the drop of a hat. Every organisation is different. A large, global company with a dozen offices spread out across three different continents is going to have different needs and experience unique points of friction when compared to a start-up or a small organization. However, if we look at the big picture, the industry overall at the moment, and analyse the sweeping trends, it becomes apparent that today's tech leaders are facing many of the same issues. Here, I would like to zero in on two major challenges.
Firstly, managing the rapid digital transformation while maintaining business performance it is the balancing act between disruptive transformation and day-to-day business. Quickly onboarding new technologies without optimising processes creates growing issues that you need to make sure are addressed before they hinder productivity. Disruptive technology transformation fails when it is not done in a holistic manner. It is critical to consider every aspect of the supply chain and ensure that every corresponding process and governance model is compatible with the transformation.
Secondly, organisational-wide digital literacy is incredibly challenging. Technology intervention without people fully understanding, adopting, and utilising the technology to its fullest potential will do more harm than good for the organization. It is important to take the entire organisation and the associated eco-systems along on the digitalization journey, which is an incredibly challenging ask.
How can technology leaders overcome the challenges they face?
The first challenge of mastering the balancing act of digital transformation and sustained business performance can be done through prioritisation and proper management buy-in. Tools like the RICE framework enable flexibility in prioritisation and resource management across a wide array of investments we can use to accelerate short- and long-term growth. Prioritize the right balance specific to your organisation based on your digital and tech maturity.
In order to address the challenge of ensuring organisation-wide digital literacy, IT leaders should create and nurture an environment that encourages learning. They should encourage their own team to upskill and promote the benefits of digital training in the organization. IT leaders must also be flexible and adaptable to accommodate learning.
Co-creating with the business is key to obtaining buy-in and accountability from both sides. Constantly remind yourself and the business of the purpose and long-term benefits of your technology strategy.
Any best practices, industry trends, or advice you'd give to fellow technology leaders to help them succeed professionally?
Hire for culture fit. This advice might sound like a no-brainer, but you will be surprised at how many of us are carried away by the tech buzzwords thrown around in a resume. Personally, I hire candidates who I believe have the right mindset to learn, are ambitious, have a holistic outlook on business problems, and are agile. They should be someone I would potentially want to follow in the future. Having co-creating minds on the team is crucial to a technology leader's success. After all, our success is not ours alone.
Also read: Technology leaders have to always be in a learning phase
Do Follow: CIO News LinkedIn Account | CIO News Facebook | CIO News Youtube | CIO News Twitter
About us:
CIO News, a proprietary of Mercadeo, produces award-winning content and resources for IT leaders across any industry through print articles and recorded video interviews on topics in the technology sector such as Digital Transformation, Artificial Intelligence (AI), Machine Learning (ML), Cloud, Robotics, Cyber-security, Data, Analytics, SOC, SASE, among other technology topics