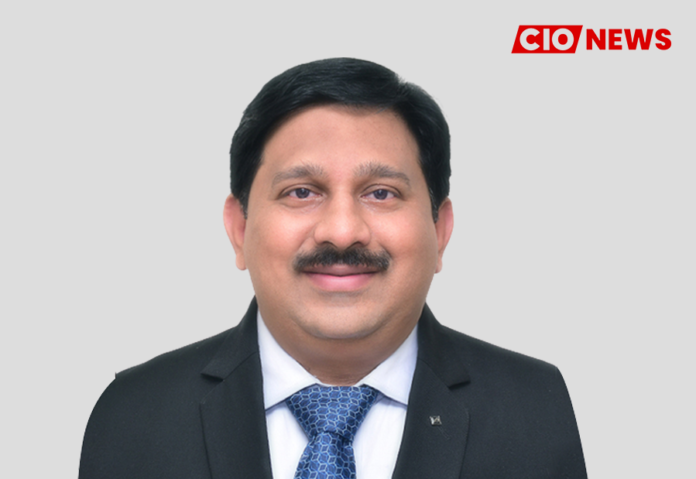 Technology leaders should have empathy and respect for their team members and ensure sincere efforts for their professional growth
This is an exclusive interview conducted by the Editor Team of CIO News with Neelesh Shinde, Group CTO at Jupiter Hospital
How did you plan your career path as a successful technology leader?
After completion of BE (Biomedical) degree, I started my journey with "ELSCINT" as a Biomedical engineer way back in 1997.
Later I worked for Jupiter Scan centre (Thane), L&T and GE Medical Systems. During my tenure in GE I installed 70 CT scanner & 10 MRI scanners.
"Life is all about making a choice & believing that you have made a right choice". According to this fact I took bold decision of leaving multinational company & starting my career in hospital industry under the guidance of Dr. Ajay Thakker (Chairman & MD – Jupiter Hospital).  It is a proud moment as a Biomedical engineer to become first member of any new hospital project. This is unique example in industry. Started my career at Jupiter hospital as Project coordinator & a Biomedical engineer.
Successfully completed Green field projects of tertiary care hospitals –  Jupiter Hospital Thane & Jupiter Hospital, Pune.
Jupiter Hospital, Pune project has been awarded by ministry of power for implementation of various innovative technologies in energy efficient field.
Headed the project of Asia's finest Neuro Rehabilitation Centre which has a luxurious rehab lab, spread over 2000 sq. ft., with all the advanced rehabilitation technologies like Robotic rehabilitation, Computer-assisted rehabilitation, Sensor-based rehab & Virtual reality
Executed the project of installation of new Robotic Operation theatre in span of 7.5 days which has become fastest installation across India. State-of-the-art robot is installed in Jupiter Hospitals for joint replacement surgeries.
This is one of the best ways to use technology for achieving high precision and help patient to get back to their normal life and mobility.
Successfully done commissioning of tertiary care Vishesh Jupiter Hospital at Indore.
The journey of working on different technologies in various  timely  bounded projects with clear ideology  of ''Patient First''  led my path to become a Group Chief Technology Officer (CTO) in the company.
What challenges did you face in your career path and how did you overcome them?
Integrity, honesty & time management is always part of my Life but when I started my career, I used to work & perform everything single handedly. Obviously there was lack of hands on experience, so never able to think "Out of the Box" & never had courage to take drastic decisions.
Gradually, when I got a certain amount of on-field experience, I realised the importance of PROJECT for implementation of innovative technologies. My definition of project is:
P: Positive thinking
R: Rapid action
O: One team concept
J: Judgemental approach
E: Effective communication
C: Chase to achieve goal
T: Timeline management
This is how I was able to overcome my challenges in career path. So, always accept new ideas from your team and do not rule like a boss but lead them to do a team work.
What challenges are other technology leader in a similar industry are facing while implementing digital technologies? How can technology leaders overcome these challenges?
My personal opinion is if I want to add some new technologies or change some of the existing ones, there will be restrictions from all the end users. This mindset has to change. Why the end users want to work on the old technologies is because they are used to it.
So, how can technology leaders make this happen? Whenever technology leaders do Kick Off project meeting, the leader has to give a dead line or a completion date for the project and address the team members to implement the project instead of giving them a chance to discuss if the project will be a success or not. For this, the leader has to have a clear vision & very good rapport with his team.
Also, every milestone should be defined and there should be a back-up plan in case things do not work out as per the plan.
Sometimes leader needs to take courageous drastic decisions instead of doing long discussions & meetings without any output.
Any best practices, advice, or industry trends you would like to suggest to other technology leaders for their successful professional journeys?
"Technology leaders have to always be in a learning phase." You have to learn from your colleagues, subordinates, team members, who may not have enough experience but may have good ideas. You have to learn, adopt and implement those ideas.
While having a meeting with your team regarding a project make it conversational for everyone, let your team members have a chance to speak and give their ideas so that they feel that they have a part in it and everyone is creating a new technology together.
Integrity is very important. In the working phase of the project, if something goes wrong, inspirational talks from the technology leaders to motivate their teams are very important.
Also, technology leaders should have and spread a thought process that there is a scope of improvement in every technology.
Technology leaders should also have empathy and respect for their team members and ensure sincere efforts for their professional growth, whenever the time comes.
Also read: Martech leaders today have too many good options
Do Follow: CIO News LinkedIn Account | CIO News Facebook | CIO News Youtube | CIO News Twitter
About us:
CIO News, a proprietary of Mercadeo, produces award-winning content and resources for IT leaders across any industry through print articles and recorded video interviews on topics in the technology sector such as Digital Transformation, Artificial Intelligence (AI), Machine Learning (ML), Cloud, Robotics, Cyber-security, Data, Analytics, SOC, SASE, among other technology topics