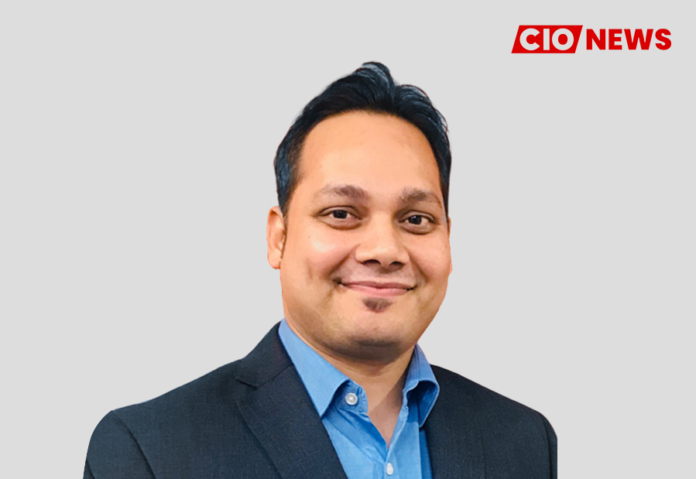 Deploy and ensure that marketing technology is well integrated to give you a unified view
This is an exclusive interview conducted by the Editor Team of CIO News with Kapil Lad, Global Head of Marketing at Azeus Systems Limited.
How did you plan your career path to become a successful marketing technology (Martech) leader?
I don't think anyone can plan that well in advance, so honestly, I would be fooling myself if I said that I planned to be a marketing leader and it worked out well. Honestly, my journey has been a mix of passion, inspiration, determination, and wanting to learn and unlearn things as technology advances.
Technology has always been at the core of what drives me.
After college, I was fascinated with emerging web technologies like the digital marketing boom in India with the rise of Google and Facebook, further enhanced by SEO technologies, marketing automation, etc.
Initially, I decided to invest my time and efforts in learning the functionalities of each one. I spoke with industry experts, participated in blog posts, attended forums, and joined an enthusiastic group that was keen to learn about tools like Omniture, Pardot, Eloqua, and Hubspot. Some of these even required coding skills early in the day. Of course, as time passed, tools evolved and were acquired by larger corporations, but my learning never ceased.
I believe that for success in any field, one should be flexible and adaptive to learn, unlearn, and relearn to stay connected and stay relevant with the latest advancing technologies.
What challenges have you faced in your career path and how did you overcome them?
One of the greatest challenges I have ever faced was in the earlier part of my career when I had to convince management to invest in digital and make them believe that digital works. However, once people started seeing results, they were eager to invest more. In large part, this was due to technology, which transformed marketing by making it more measurable, transparent, and cost-effective compared to traditional marketing methods.
Lately, I have been facing a rather unique challenge. Many organisations invest in technology but not in people. What follows is a struggle with managing these technologies. Additionally, some organisations may have the technology and the required skillset, but this doesn't give them a holistic view, as these disparate tools work in silos, are not interconnected, and cannot share data or insights.
While skilled resources are a key success driver, identifying organisational needs and determining how to marry technology with these needs are extremely critical for any business. At the same time, ensuring you have one single dataset (CDP) that unifies data points and gives you a comprehensive picture from end to end is equally crucial.
Such situations demand that leaders like us streamline, modernize the overall MarTech stack, redefine processes, and align resources to ensure that technology works seamlessly for everyone.
How do martech leaders intend to use technology in marketing, and what are the benefits to their organizations?
MarTech is a critical component in driving marketing objectives, serving as the backbone for all marketing activities.
However, one needs to be extremely vigilant while building the martech stack.
It's important to remember that a CRM or automation tool is not martech; rather, it is one component in the overall martech stack.
Let's take a step back and understand the importance of marketing technology and why this can be a game-changer.
Martech provides you with insights into your customers' behaviours and journeys.
You can also automate more labor-intensive tasks.
With a robust martech stack, you can adopt a data-driven approach.
It creates a unified view as a single dashboard for all your marketing activities.
Using martech, you can increase your marketing efficiency for a more agile approach.
If you are creating your martech plan, I suggest having a phase-wise implementation approach. My 10-point plan or best practises while implementing martech would be as follows:
Identify your marketing needs and goals.
Make an estimated budget.
Create a list of tools that would work best for you to achieve your marketing goals.
Take stock of the marketing technologies the organisation has already invested in.
Identify any upgrades and modernised tools required for an existing stack.
Learn about the useful features and challenges, or gaps, with the existing technologies.
Ensure your project plan has realistic timelines because even six months aren't enough.
Give due consideration while phasing out tools, especially the automation ones.
Line up or estimate sufficient resources, if needed.
Deploy and ensure that the martech stack you use is well integrated for a single, unified view of all your marketing and business activities.
What are the challenges faced by martech leaders today while implementing technologies in marketing?
Today's martech leaders often face a myriad of challenges such as —
Identifying the right technologies to build a martech stack may be difficult due to too many dominant players
Recruiting and retaining experts in cutting-edge technologies
Close integration to ensure inflow and outflow of data
Apprehension and hesitation to change for the better
Limited budgets
Above all, a very misleading and incorrect "one-size-fits-all" approach
How can martech leaders overcome the challenges they face?
The only things required are:
A long-term vision
Alignment with the organization's philosophy and goals
An objective approach
Avoiding implicit costs
Investing in technology but also in people
Always have a Plan B
Are there any best practices, industry trends, or advice you'd like to give to other Martech leaders to help them succeed professionally?
In my perspective, one should always be flexible, open-minded, and ready to take calculated risks in his or her professional journeys. The pandemic has taught us many things, and one of the most important is patience.
My suggestions for martech leaders on these transformative and technology-driven journeys are:
Be adaptive and progressive
Learn, unlearn, and relearn—tthere is nothing wrong with learning from children
Determination and hard work go a long way
Be patient
Believe in yourself
Also read: Martech leaders today have too many good options
Do Follow: CIO News LinkedIn Account | CIO News Facebook | CIO News Youtube | CIO News Twitter
About us:
CIO News, a proprietary of Mercadeo, produces award-winning content and resources for IT leaders across any industry through print articles and recorded video interviews on topics in the technology sector such as Digital Transformation, Artificial Intelligence (AI), Machine Learning (ML), Cloud, Robotics, Cyber-security, Data, Analytics, SOC, SASE, among other technology topics