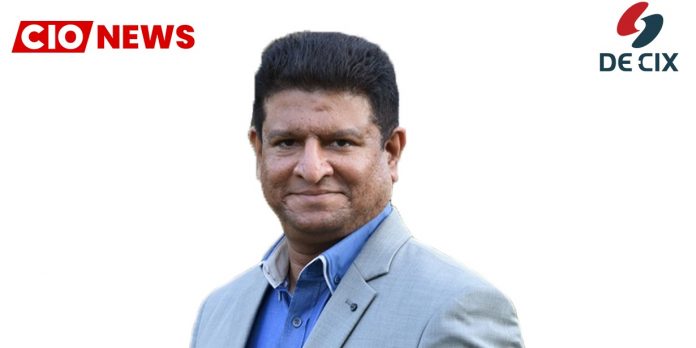 The car of the future will be differentiated by the seamless functioning of its many digital applications
When asked about the state of digitalization in India, Sudhir Kunder, Country Director at DE-CIX Interwire India, said that India will become the single destination for digital transformation and the largest capability centre in all industries, including Automotive, Edutech, Fin-tech, Gaming, and Financial Services. We have digital skills, low-cost resources, and are the preferred outsourcing country for MNCs, so we will see tremendous digital traction.
Because the government has approved a production-linked incentive scheme to promote the transition to encourage and technology, India has the potential to become an integrated manufacturing hub for global automotive supply chains.
When asked about DE-CIX's thoughts on the connected car concept in India's automotive industry, he said, Indian automakers have begun rebranding themselves as technology automakers, indicating that India's auto industry has begun its digitalization journey.
We are witnessing massive opportunities for the automotive industry, and automakers are also recognizing the potential of digitalization and connectivity. As a result, they have shifted their emphasis to technology and software development. Manufacturers have begun to prioritize investments in technologies such as autonomous and connected vehicles. As a result, companies such as MG Motors, Mahindra, and Tata Motors have begun to offer a Single Dashboard that includes features such as infotainment, safety, security, geo-fences, car performance, faster road assistance, and many more.
Because the Indian connected car market is in its early stages, now is the time for manufacturers to improve their technology and software skills, as well as to form alliances with trusted partners who have the required skill sets. Manufacturers must jump on board with the connected car journey as soon as possible. The automotive market in India will provide a cornerstone of post-pandemic economic recovery. India has the skills – both from the hardware and the software perspective – to create a booming industry.
When asked if India's automakers need to make the transition from the hardware industry to the software industry, he said, it is important to understand that software is the key to customer experience, and to future innovation.
The automotive industry is undergoing significant transformation. Automakers are in the process of transitioning from traditional cars to EVs and digital cars. New entrants recognized the opportunities and began moving faster to capitalize on them, but others are still testing the waters. Multinational software corporations such as Apple, Intel, Microsoft, Cisco, and others are collaborating with car manufacturers on various aspects of connected car technology, attempting to improve the systems to meet consumer expectations.
But automotive manufacturers are also moving into the software business. Volkswagen, Tata Motors, and Bosch have reduced R&D spending in their automotive-tech business units and are investing a significant portion of their profits in in-car software, the Internet, semiconductors, and telecommunications to add more features. The car of the future will be differentiated by the seamless functioning of its many digital applications.
Few manufacturers yet see new entrants as competitors, but from a strategic point of view, they need to understand that these companies are partners who can add value to the connected car market. Automakers outsource engineering services to KPIT, L&T Technology, Tata Elxsi, TCS, Wipro, HCL, and IBM to collect data, analyse it, and create new features. This data needs to be transmitted via a secure, high-performance, and resilient infrastructure that automotive makers can trust.
Along with automotive manufacturers turning their sights on software, new software companies will be joining the already burgeoning ecosystem of automotive industry partners. This will create healthy competition and further enhance the potential of the ecosystem. Members of this ecosystem need to interact, collaborate, and interconnect securely and efficiently to tap the potential of the connected car market.
The key to success in India's connected car revolution will be a collaborative approach.
When asked about the cost considerations he sees in the Indian automotive industry's adoption of technology, he said, in the Indian market, safety, security, geo-fences, and other features have become mandatory for both luxury and regular cars, so there is a strong push for adoption. The collaborative approach, as well as new products and ideas, are emerging from a variety of channels. And the technological trends we see in the Indian market are rapidly increasing.
Auto manufacturers in the country have begun to incorporate premium luxury car features such as ADAS, Remote Vehicle Status, Monthly Health Report, and Live Car Tracking, etc. into regular cars such as the Mahindra SUV 700, the MG Hector, etc. Previously, the aforementioned features were only available in premium/super-premium luxury cars costing more than 40 lakhs.
Mass market adoption and government regulation have increased market demand and established the Indian automotive industry at a significant cost.
But no matter whether we are talking about a luxury car or a family sedan, the challenges will be the same: car makers need to ensure that their digital systems operate flawlessly, that their connectivity is seamless, and that the data from the car and the occupants is well protected.
He said that customers have begun to ask the below questions to connected car manufacturers:
In the automotive industry, do we have any reservations about data protection?
Who has access to this data, with or without my permission?
Where will this data be stored, and for how long?
Can I have access to this information?
Connected cars have numerous sensors and cameras to improve vehicle performance, road assistance, and infotainment. If the appropriate level of protection and measures are not implemented, we will face a major problem that will impact the automaker's reputation as well as individual privacy.
When asked what data a connected car will collect, he said, it will save personal data, phone numbers, vehicle and service history, battery and gas usage, and so on. Data collection, according to some data analysts, will ensure constant car efficiency improvements.
The public is worried about connected car data security. Automakers must store vehicle data locally and obtain regulatory approval before exporting critical data. Soon, connected cars will be as useful as smartphones. Consumers' data will be used across platforms once granted access. But how will they limit data sharing?
Data security concerns would be alleviated if Indian customers agreed to share their data with manufacturers or software developers. A Deloitte survey found that 65 per cent of Indian consumers are curious about how their data will be used.
As a result, data privacy and security are major influences on purchasing decisions. Therefore, car manufacturers cannot afford to gain a bad reputation when it comes to data security.
When asked about DE-CIX's relevance in today's connected car adoption, he said, as we've seen, connected car manufactures face challenges in terms of their connectivity, the performance of their digital systems, and the security of the data. To achieve the necessary levels of innovation, they need to work with skilled partners, and they need to ensure they interconnect with them securely and efficiently. Applying the logic of secure interconnection within a vibrant digital ecosystem, such as DE-CIX Mumbai, Asia Pacific's largest Internet Exchange, can solve many of the challenges that car manufacturers face in implementing connectivity for the digital car.
If the car manufacturer implements a closed user group on the DE-CIX India platform, they can bring together their partners in one clean environment – a secure, private, and simplified platform – to interconnect with all the participants in the data value chain in a high-performance, low-latency environment, using the very efficient principle of one-to-many or many-to-many, and controlling for compliance. The participants can then interact in a single protected and highly efficient environment located within a secure, resilient, neutral, and high-performance Internet Exchange.
As a result, automakers can prepare for the bright future of the digital car, the network on wheels.
Also read: CIO News interviews Shri Wangki Lowang, Minister (IT) of Arunachal Pradesh
Do Follow: CIO News LinkedIn Account | CIO News Facebook | CIO News Youtube | CIO News Twitter
About us:
CIO News, a proprietary of Mercadeo, produces award-winning content and resources for IT leaders across any industry through print articles and recorded video interviews on topics in the technology sector such as Digital Transformation, Artificial Intelligence (AI), Machine Learning (ML), Cloud, Robotics, Cyber-security, Data, Analytics, SOC, SASE, among other technology topics.